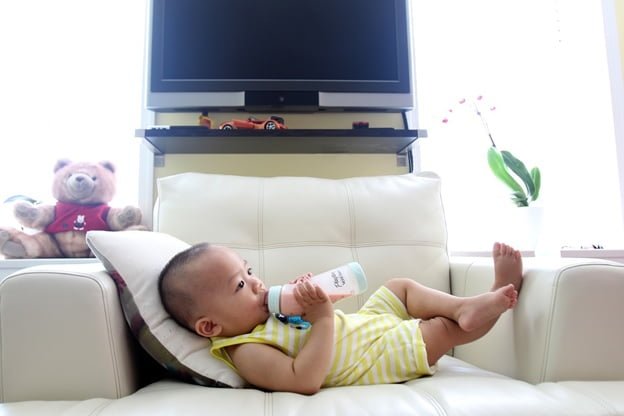 Baby Formula: What to Choose and What to Lose
Parents who decide to switch to baby formula after breastfeeding should be familiar with a couple of things before doing so. Not all baby formulas will be good for your little one, so make sure you do your research and check which one is the best choice. There are formulas based on different ingredients, and some of those ingredients might cause allergies or other reactions.
Below we'll explain a bit more about these formulas and help you figure out which ones are good for your little one.
Dairy and soy baby formulas
Although breast milk is the best for newborns, not every mom can or chooses to breastfeed, so they turn to infant formula to provide their baby with all the nutrients they need. FDA-regulated baby formulas come in 3 main forms: powders, liquid concentrates, and ready-to-use baby formulas. They're usually milk-based or soy-based formulas, but there are also other specialty baby formulas. But, why do parents want to avoid dairy and soy formulas?
Dairy-free formula
Dairy formulas are usually created so they can mimic the nutrients and chemical compounds found in breastmilk. They're the most common choice for baby formula among parents unless there's an obvious reason to avoid them. But, this type of formula may not be ideal if your little one is lactose intolerant, has a milk protein allergy, is at higher risk for reflux, or you just want to feed them with a plant-based formula.
If your infant is experiencing some of the symptoms that indicate you should switch to a dairy free formula, don't hesitate to try them out since they are incredibly healthy and considered appropriate for infancy. Dairy-free formulas are great for lactose intolerant kids and those who are allergic to dairy products. Choosing a hypoallergenic formula is best for babies with severe allergies to milk proteins casein or whey.
Also, children with a higher risk for reflux are not necessarily allergic to milk proteins, it can mean that they're simply sensitive to dairy. So, switching to a dairy-free formula may alleviate some of their discomforts. The symptoms of acid reflux include frequent vomiting, slowed or halted weight gain, wheezing and coughing, stool changes, and many more.
Soy-free formula
Soy-based formulas are usually an alternative for those who want to avoid dairy-based formulas since they're made of soy protein, corn syrup, vegetable oils, and sometimes iron. They're good for babies with lactose intolerance and those who have allergies or are on a veggie-based diet. However, they're not recommended to low-birth-weight babies.
But, why do some parents prefer a soy-free formula? There are some concerns that soy contains phytoestrogens which could affect a baby's reproductive development, especially for those who drink only soy-based infant formula. Also, there may be some cross-reactivity between milk and soy formulas, mostly if the baby is allergic to milk-based formulas.
Babies who have soy intolerance may also have allergies, so choosing a soy-free formula is certainly the best choice. The symptoms of soy intolerance include diarrhea, bloating, vomiting, rash, and fussiness. These formulas may also contain more added sugar and can be harmful to babies with corn allergies. This is another reason why some parents decide on a plant-based shake instead of dairy or soy formulas.
Choosing the right formula for your baby
There are various types of infant formula including milk-based formula, soy-based formula, partially or fully hydrolyzed formula, and extensively hydrolyzed formula. Figuring out which one is the best for your little one can be quite overwhelming, so the best would be to consult with a pediatrician for recommendations. You can also sample different types and then choose the right one.
No matter which one you start with, it might be helpful to know that all formulas in the U.S. are met with strict FDA guidelines for nutrition. The only thing you should pay attention to is the expiration date and look for non-damaged bottles and cans. Later, you'll figure out which ones are good and which ones don't suit your baby well. Here are some of the signs you should consider switching baby formulas:
Excessive spit-up
Extra fussiness after feeding
Slow weight gain
Rash
Bloody stool
Severe constipation
Vomiting
Extreme fatigue
Final thoughts
Not choosing the correct baby formula, in the beginning, is not something you should feel anxious about, because it's good to sample them so you can choose the right one accordingly. If you're concerned about some severe reactions and the use of baby formula, consult with a pediatrician for a more specific diet. Following a plant-based diet might be best for parents who want to avoid using dairy or soy-based formulas.