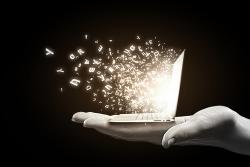 Content Marketing or Brand Publishing: What's the Difference?
Companies in science, healthcare, and technology-related industries, particularly those focused on B2B communications, have been slower to embrace content and inbound marketing compared to those in consumer products, food, or entertainment. While the momentum is building, I am seeing more life sciences and technology clients embracing the enormous strategic value of content and inbound marketing to their sales and marketing departments. The increasing competition is pushing companies to implement tools like sales enablement platforms for life sciences and AI-driven customer relationship management software to increase productivity and boost sales. I'm still sometimes faced with blank stares from marketing executives and senior management in boardrooms across the land when I start using these terms.
First, for those who still may find these terms confusing, let's define them.
Content Marketing
The Content Marketing Institute defines content marketing as:
"…a marketing technique of creating and distributing valuable, relevant and consistent content to attract and acquire a clearly defined audience ? with the objective of driving profitable customer action."
Inbound Marketing
Wikipedia defines inbound marketing as:
"…promoting a company through blogs, podcasts, video, eBooks, enewsletters, whitepapers, SEO, social media marketing, and other forms of content marketing which serve to bring customers in closer to the brand, where they want to be."
To put it in more simple terms, content marketing is channel-agnostic. It can be digital, print, website-driven, social media-driven, magazine or newspaper focused, newsletters, corporate publicstions, blogs, webinars, videos, white papers, podcasts, or (at its best) a mix of all of the above.
Inbound marketing is usually focused on digital channels, with the company or brand website used as a sales and marketing engine to increase traffic, connect to social media channels, collect, nurture and close leads by providing valuable content that builds relationships with ideal customer personas. Adding blogs to your website, enabling visitors to download white papers and articles, posting video tutorials, offering free ebooks, and engaging on social media channels are all examples of inbound marketing tactics.
And Now for Something Completely (Not Very) Different: Enter Brand Publishing
As a professional communicator, and a business development leader, my first objective (after the introductions, coffee and bear claws have been passed around) is to make sure that the client and agency are on the same page. So when I see that a prospect or client isn't fully understanding what we mean when we talk about content marketing or inbound marketing, I try to find other ways to paint the picture for them in a way that they find accessible.
I find that "brand publishing" is sometimes a more accessible and easy to understand term.
The days of "media" being in between the company, the brand and the consumer are long gone. Smart companies, with access to resources (budget) and talent (both in-house and agency) can own their own content, and many of the distribution channels too. In other words, companies (and brands) are now publishers–at least the smart ones.
Does that mean that advertising (paid media) and public relations (earned media) are dead? Far from it. They are now part of a rich marketing mix, and an arsenal that also includes owned media (web sites, brand sites, blogs, branded social media, corporate magazines, newsletters) and shared media (shared social media, co-sponsored content).
Strategy, and the content that flows from it, dictates which channels should be used.
Whether you call it content marketing, or brand publishing, the key point is that science, healthcare and technology companies should embrace the 360 degree approach that these strategies offer.
We are all publishers, with the ability to communicate, and interact, directly with those who mean the most to us, personally and professionally.
For business, this is an incredible opportunity, but also (for those companies that believe in authenticity and responsibility to those they serve) a daunting challenge. Building true relationships through marketing begins with providing content that helps serve your audience, either by teaching them something they don't know, or showing them a better way to do what they do.
Content marketing and brand publishing are powerful ways to build relationships that drive business. Healthcare organizations in particular can really benefit from the much deeper levels of engagement and interaction that a powerful content marketing strategy can create.