Editor's Note: Dan Munro is a contributing editor to Forbes. His columns are collected under the heading, "The HealthCare Compass."
Editor's Note: Dan Munro is a contributing editor to Forbes. His columns are collected under the heading, "The HealthCare Compass."
Last year I wrote a piece that referenced a study released by Xerox. The study itself highlighted what Xerox found was often a missing element in healthcare – the human element.
This last December, an emergency room doc (thought to be female based on the handwriting) wrote a note to the widow of a patient she had treated in the Emergency Department of New York Presbyterian Hospital. Over the course of this last week, the note itself (names redacted) surfaced through one of the family members on Reddit – and went viral. At last count it had over 2 million hits.
The compassionate letter itself (original link here) continues to resonate with a large number of people as a gentle reminder of that critically important element of healthcare – the human element.
12/7/12
Dear Mr. ______________,
I am the Emergency Medicine physician who treated your wife Mrs. __________ last Sunday in the Emergency Department at the New York Presbyterian Hospital. I learned only yesterday about her passing away and wanted to write to you to express my sadness. In my twenty years as a doctor in the Emergency Room, I have never written to a patient or family member, as our encounters are typically hurried and do not always allow for more personal interaction. However, in your case, I felt a special connection to your wife __________ who was so engaging and cheerful in spite of her illness and trouble breathing. I was also touched by the fact that you seemed to be a very loving couple. You were highly supportive of her, asking the right questions with calm, care and concern. From my experience as a physician, I find that the love and support of a spouse or a family member is the most soothing gift, bringing peace and serenity to those critically ill.
I am sorry for your loss and I hope you can find comfort in the memory of your wife's great spirit and of your loving bond. My heart felt condolences go out to you and your family.
___________________, MD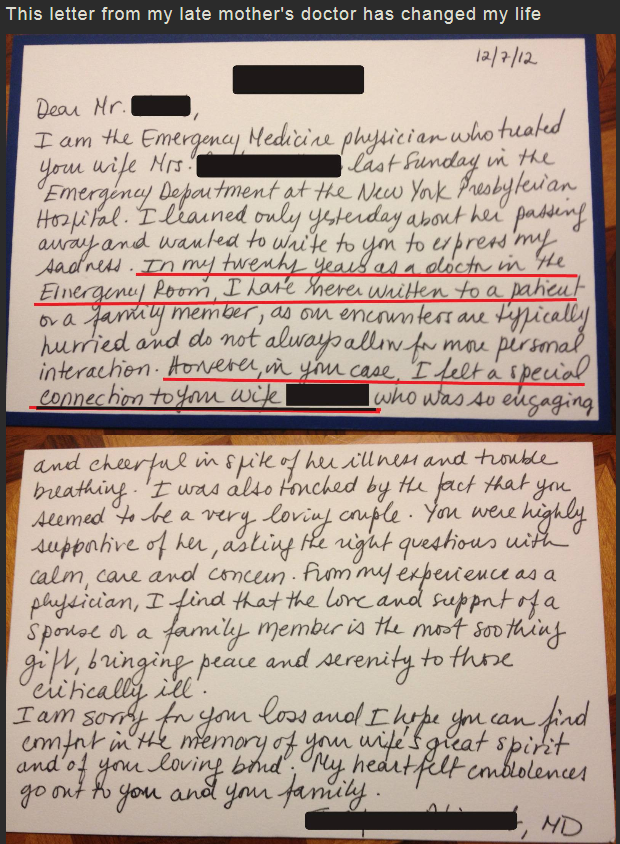 If you like this post, please read other posts in the series on the Person-Centered HealthCare main page. And if you have a story to tell that may be a fit with our series, please comment below or email me at joan@socialmediatoday.com