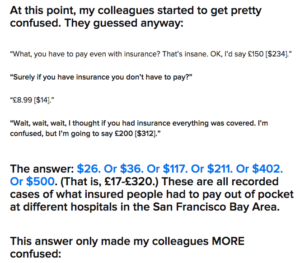 Brits Tried To Guess The Cost Of U.S. Healthcare And Got Really Confused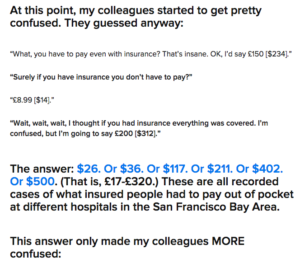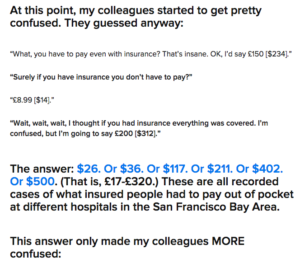 Summary: "Most British people have never had to think about paying for medical procedures. But what would happen if they did? I decided to find out by asking my British colleagues at BuzzFeed UK to guess what different health procedures would cost them if they were in the US," Hannah Jewell of Buzzfeed UK wrote today. "I then revealed the answer to each question based on data from the website Clear Health Costs. This is how it went down." This entire story is so funny it made me laugh until I cried. Highly recommend.
---
Here's a taste: "1. How much would an "urgent care" walk-in appointment for something like a burn, a sprained wrist, a sore throat, a sinus infection, or a UTI (such as cystitis) cost without insurance?
The Brits' guesses were all over the map: "Wait, that's not free?" "Probably very naive, but I'd guess £100 [$156]." "Well, you shouldn't go to doctors will a sore throat (according to my mum). Hmmm, I'll say around $50?" "£15 [$23]." "Probably too much to make it worth going? Like, $50 maybe? Just put some cream on it instead. Whatever's wrong, just put cream on it." "I would guess like, $3,000." The answer: IT DEPENDS. A survey by Clear Health Costs in New York found it could cost you between $75 and $351 (£48 and £226) if you don't have insurance. This is called the "self-pay" or "cash" price…. Brits Tried To Guess The Cost Of American Healthcare And Got Really Confused