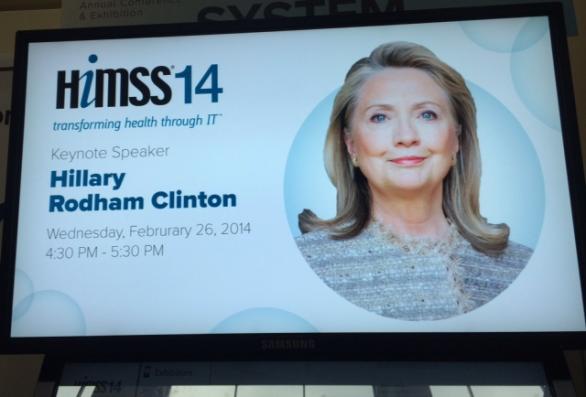 Orlando may be the home of the Magic Kingdom, but the real magic was in the Orange County Convention Center yesterday in the person of Hillary Rodham Clinton.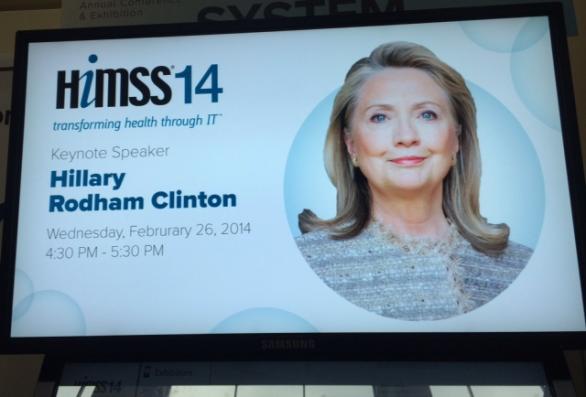 Orlando may be the home of the Magic Kingdom, but the real magic was in the Orange County Convention Center yesterday in the person of Hillary Rodham Clinton.
Mrs. Clinton delivered the starring keynote at the HIMSS14 annual meeting and exhibition and, over the space of an hour — a 20-minute address followed by a Q and A — she praised the importance of facts and evidence, both in delivering health care and in political debate. "I want to see a full debate on healthcare reform — leaving the blaming, the gaming, the shaming, and the point scoring at the door, " she said to applause. When HIMSS CEO Steve Lieber asked her what presidential candidates should be talking about, Clinton laughed and demurred. "This is hypothetical," she said, adding that candidates needed to bring the country together and find areas of common agreement.
"Let's talk about what really matters," she said, speaking to 5,900 attendees in a packed ballroom. Even with 4,500 in overflow rooms, the total was a mere dent in the 37,537 registered for HIMSS14.
Earlier yesterday, a New York Times/CBS News Poll revealed that more than 8 in 10 Democrats say they want Mrs. Clinton to run for president in 2016, showing a level of interest in her that no other potential candidates – Democrat or Republican – come close to matching among their party's voters, according to a New York Times/CBS News Poll.
Does anyone doubt she will run? As a veteran of Washington journalism, I took note of another telltale, a message from the HIMSS media directorate that said: "Per HIMSS' agreement with Secretary Clinton, press are not allowed to cover or attend her keynote as press." We bloggers took it to heart. Not.
Walking and talking on the auditorium stage, her theme seemed to be that it takes a "village" of data to produce good health care. "I'm a believer in the idea that good data makes good decisions" and not ideology or past practice, she said. "Too many debates in Washington take place in an evidence-free zone." She said the "hyper-politicized" debate on the Affordable Care Act was based more on ideology and not data.
She defended the ACA, to a point, saying that her experience showed that many Americans approve of the reforms in the law. "There's a lot of misinformation and anxiety, which I also ran into in '93 and '94," referring to her failed effort as First Lady to galvanize healthcare reform. "I would be a great tragedy to take away what's already been provided" by the act, she said, adding that "the glass is slightly more than half full" for what the act does and totally "empty" based on political debate.
Clinton appealed to the HIMSS audience for their help "in looking over the next horizon." She said "provider-led, community-based care" needs to replace the classic fee for service system
The Q and A, thanks to Lieber, allowed the former Secretary of State to strut her world-class stuff, as she expertly discoursed on Russian leader Vladimir Putin, the crisis in Ukraine and the ever-popular capture and dispatch of Osama bin Laden. "You have to deal with him from a position of strength and firmness," she said of Putin, "but not push him into a corner."
In the end, Mrs. Clinton would not be cornered on the question of her presidential ambitions. She will decide in her own time, in her own way, on the basis of "data" and "evidence" and that unmeasurable quality — desire.