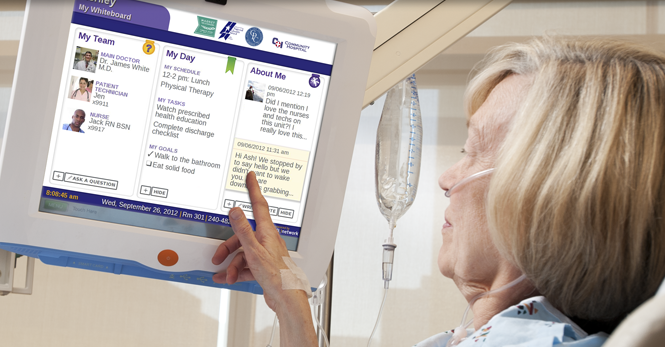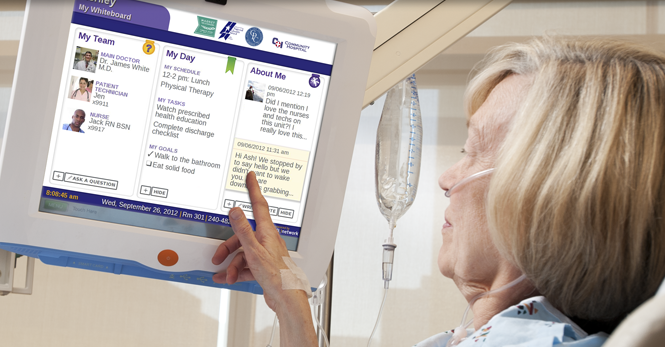 The GetWellNetwork interactive patient care system is about as patient-centric as you can get. This system is sold to hospitals to be used by patients on their TV monitor (it can also be used on patient laptops or tablets). The system can be customized by the provider as to actual content and can contain educational materials, specific video programs, information about the hospital, hospital employees or anything else that the provider chooses.
Patient engagement is crucial to better care. When patients take an active role and actually participate in their healthcare, the results are better outcomes, better patient satisfaction and better provider performance.
GetWellNetwork can offer patients certain 'pathways' that help them better understand and manage their illness.
A Heart Failure Care Plan empowers patients to understand their condition and better care for themselves at home.
The Medication Teaching educates patients about the medications they are taking, helping them understand and greatly increasing the chance of good medication adherence.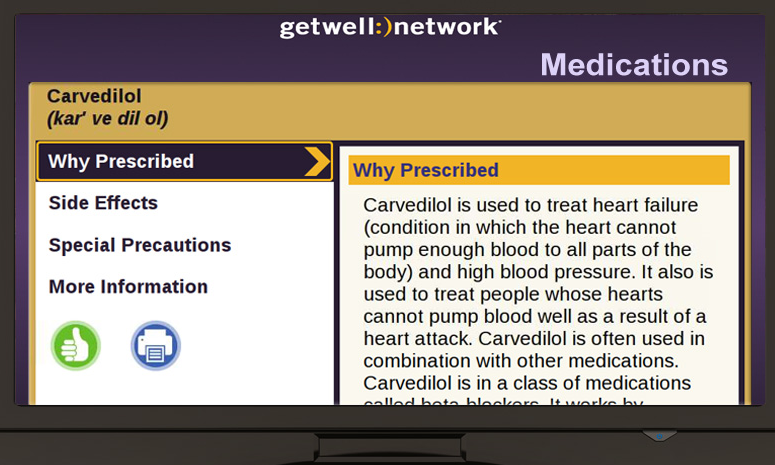 Discharge Planning helps patients set expectations and complete the necessary forms and surveys so that discharge can be seamless.
Pain Management assures that the patient's pain is assessed within the hour and eliminates unnecessary trips to the patient's room when they are not in pain.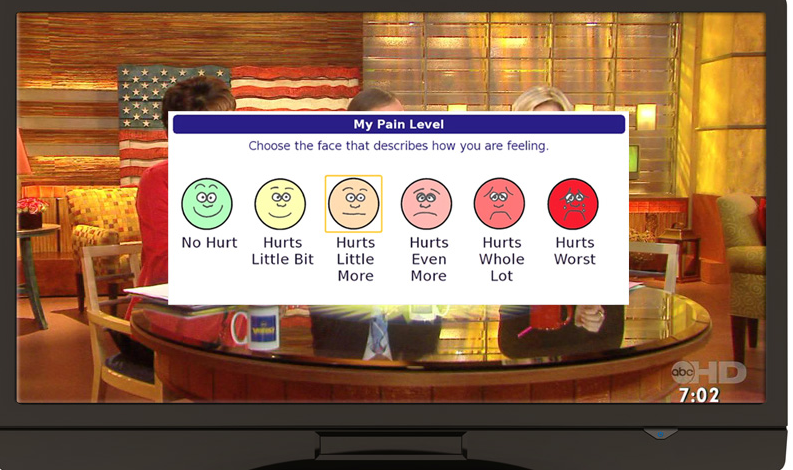 Falls Prevention helps evaluate the risk of falling for each patient at the bedside. This evaluation can be done by staff, patient, and family and is entered into the patient's EMR. Quality administrators can then look at risk reports ensuring that the hospital is compliant with Joint Commission safety guidelines around risk prevention.
GetWellNetwork also offers an interactive WhiteBoard for better communication between patients and caregivers. From the website:
"The Interactive Patient WhiteboardTM brings to life the industry's first customizable, collaborative patient whiteboard that improves patient satisfaction and quality of care by helping patients, families and caregivers easily share meaningful and up-to-date information on the most pressing patient concerns.
Using the in-room television and the GetWellNetwork system, the Interactive Patient Whiteboard serves as a central communications exchange between patients, families and care team members – providing up-to-date and personalized care plan information that's easy to navigate and understand."
And there is a "QuickCare" feature for staff-only use that allows for completion of service tasks at the bedside, an Executive Dashboard for nursing managers and hospital administrators, a Mangement Console for access to data-at-a-glance, an Outcomes Achievement Plan Dashboard that tracks the hospital's strategic goals for performance improvement, and more. Please visit the excellent
GetWellNetwork website
to get the full picture of this system.
Provider and patient feedback has been excellent. Watch this news video for a great testimonial:
If you like this post, please read other posts in the series on the Person-Centered HealthCare main page. And if you have a story to tell that may be a fit with our series, please comment below or email me at joan@socialmediatoday.com