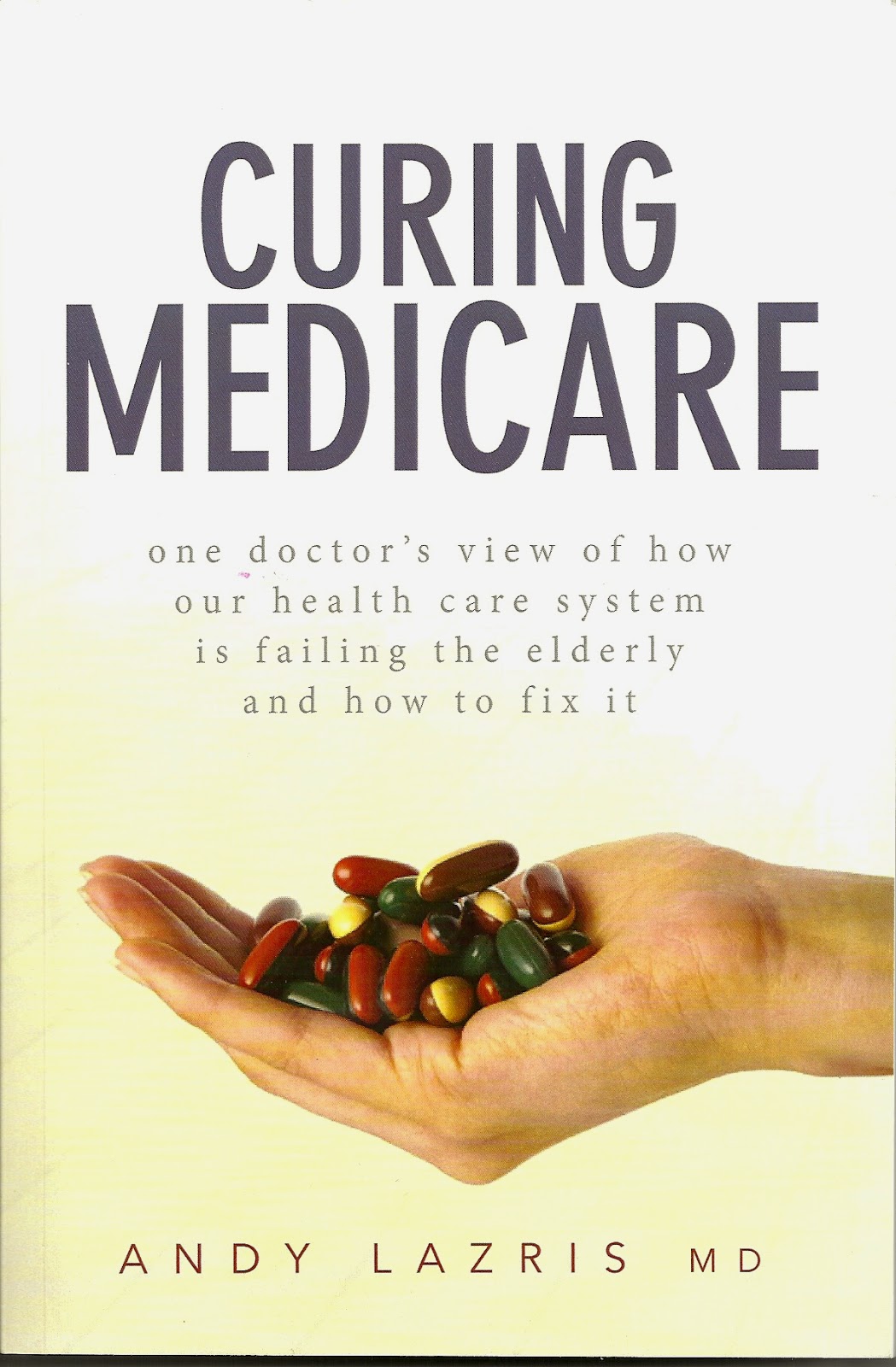 This might seem like a curious title for a blog post but it reflects a very serious national need.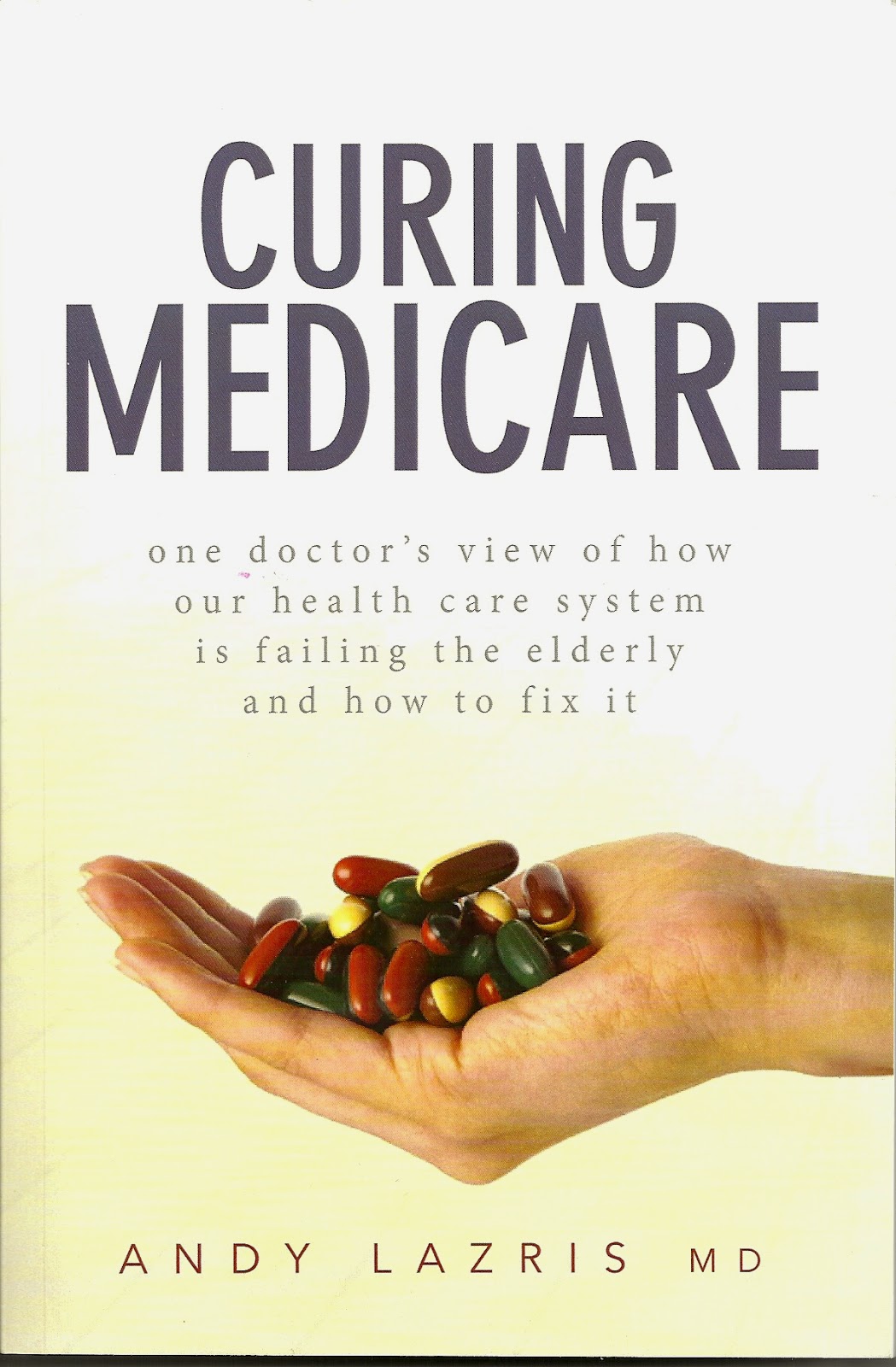 This might seem like a curious title for a blog post but it reflects a very serious national need. Medicare is the central method for financing medical care for those over 65. It brings major value but it has serious deficiencies. We are frequently reminded that the
Medicare Trust Fund
will shortly run low of money. Enter Dr Andy Lazris, a gerontologist with over 25 years of experience caring for the elderly. In his book –
Curing Medicare
– he lays out the issues that truly need to be addressed if America's seniors are to "
Age Gracefully
."
Dr Lazris and I live in the same community but had never met nor knew of each other. A retirement community executive, knowing I was writing a book about primary care, urged me to meet him. Before our meeting the next week, I ran into an acupuncturist I have known for some time. He also spontaneously suggested I meet Dr Lazris and so did the CEO of a major nursing home chain. Each said Lazris was a terrific doctor, a humanist, a real "gem" and an all-around nice guy. With such a buildup it would have been easy to be disappointed. But I certainly was not.
Although he sees any adult patient, his practice is largely composed of elderly individuals living in retirement communities, assisted living or nursing facilities. He limits his practice to about 600 patients so each can get the time needed and deserved. He is at once humorous and wise, light hearted and dead serious. He clearly understands the needs of the elderly and likewise understands how Medicare works – including how it impedes care and encourages aggressive care when a more benign or palliative approach would be better medicine and certainly more humane. As he puts it, "sometimes less is more."
Curing Medicare
should be a must read by anyone who is over 65 and anyone who has loved ones that are growing older, in other words it is important for most of us to understand what he teaches us.
Medicare
has been a major medical and financial boon to most elderly individuals but it has some serious deficiencies and it behooves us to understand them. Dr Lazris writes from his personal experience and gives many patient vignettes to back up his observations. A major point is that it is often best to not diagnose and treat aggressively (or "thoroughly" as he puts it) but to use a more palliative approach. But Medicare in both its payment systems and its regulatory approach essentially dictates aggressive medicine, indicated or not. Whether in the home, an assisted living facility, a nursing home or the hospital, the pressures are for being "thorough", often to the patients' detriment if not outright harm. And such aggressive diagnosis and therapy are what make costs go sky-high. These and other problems are fully presented and discussed in a way that we can all understand and appreciate along with his commonsense recommendations for reforming Medicare.
Recently, Health and Human Services secretary Silvia Burwell
announced
that Medicare will shift from the current fee for service reimbursement methodology to one that rewards value, i.e., reduced costs yet improved quality. On the surface that appears like a responsible direction. But is it? In an
Op-Ed
in the Baltimore Sun, Dr Lazris lays out some critical issues that lead one to question the HHS rationale. He uses points and concepts discussed in detail in his book so a quick read at this link will be of interest to many potential book readers.
Overall, Dr Lazris presents us with an elegant approach to the care of the elderly, one that he personally uses as best he can despite the restrictions imposed by Medicare's payment and regulatory dictums. He offers us commonsense suggestions on how Medicare could be vastly improved, offering patients much better quality of care yet at the same time offering Medicare (and our tax dollars) enormous savings. I recommend his book highly.
Next Time – Another book review – I Am Your Doctor by Jordan Grummet