The global healthcare system is poised at the brink of a data-driven revolution to deliver value-centric care that is backed by a clear digital and analytics strategy. In an industry that is rich with data flowing from various disparate sources, many challenges crop up when it comes to developing data aggregation and governance policies. According to a report by IBM, big data in healthcare analytics plays a significant role in reducing high-risk healthcare problems and is bringing about a study-based format of prescribing personalized medications to patients. As a result, the healthcare industry is grappling with a massive demand for data science professionals who can leverage patients' data to drive maximum efficiency. While a multitude of data science courses are churning out skilled data analysts round the clock, let's take a more in-depth look at how the integration of big data in healthcare analytics is driving the overall efficiency of the industry:
What is healthcare analytics?
Healthcare analytics is an umbrella term that holds different meanings for different stakeholders associated with the healthcare industry. For instance, in the case of health care providers like hospitals, it can mean automating tasks and minimizing diagnosis errors by using image processing to generate x-ray reports and using algorithms to create the first-level diagnosis of patients. For doctors, healthcare analytics has more to do with clinical analytics like data-driven decision making for providing personalized treatments to patients, and also suggestions for the next course of treatment for a particular patient to minimize errors. Similarly, for government organizations, healthcare analytics has more to do with collating various patients' data to identify patterns of occurrence/recurrence of a particular epidemic.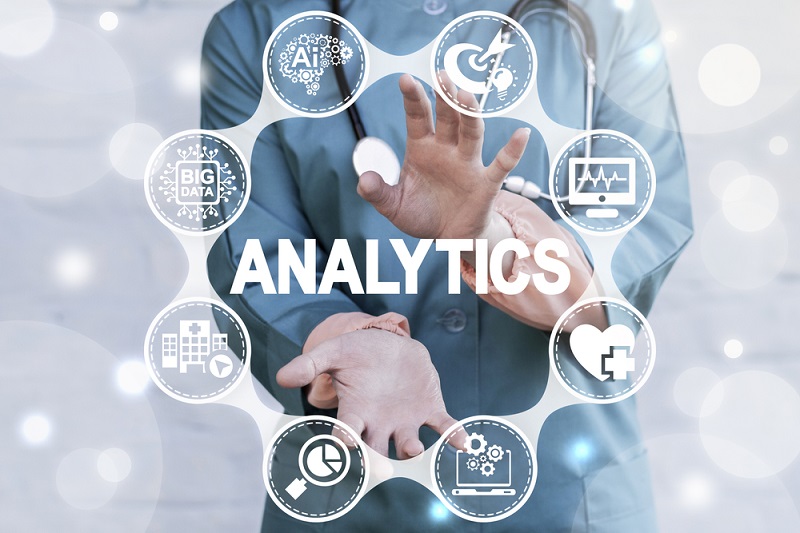 Apart from the examples mentioned above, the amalgamation of big data and healthcare analytics can play a role in some applications, some of which are discussed below:
Disease mapping
When it comes to medical practice, insights derived from big data analytics can better inform doctors about more effective treatment methods for their patients. For instance, a team of researchers at the University of Chicago analyzed a dataset of 480,000 patients to determine whether a drug designed for the treatment of a particular condition could have more than one use.
By grouping seemingly unrelated diseases, the results that were derived made these researchers question a lot of conventional disease classifications. In one of the findings, they discovered a genetic correlation was found between type 1 diabetes and hypertension, even though both the ailments have different ages of onset and affect different body systems. Therefore, through the use of big data, data scientists in the healthcare sector can map different diseases and can use it to deal with the problem of the slowing of drug discovery timelines.
Machine-to-machine integration
Wearable health care trackers have a billion dollar sector of their own in the global healthcare industry. These trackers are synced with cloud-based applications and sensors that are connected to each other and continuously keep updating data about user actions and health statistics. Provided that there is no hindrance in this machine-to-machine interaction, this information can be used by healthcare providers for functionalities like coordination of appointments, health monitoring, generating general wellness reports, etc. without any need for the individual to visit a health care center. Since data scientists are proficient in understanding mathematics and computer programming, they can incorporate machine-to-machine engagement with healthcare organizations' data to further optimize the process of healthcare provision.
Big data for a step towards the cure for cancer
The impact that big data has had on the modern healthcare industry is illustrated by another vital domain, the discovery of a treatment for cancer. The former U.S.  President Barack Obama launched the Cancer Moonshot program with a goal of performing extensive research and analysis on cancer patients' records to identify certain patterns that would derive useful insights. Researches thus make use of data of all factors like cancer patients' treatment plans, medications, chemotherapy sessions, recovery rates etc., to narrow down on alternative trends and treatment plans that have had the highest rates of success in real-world applications. Analyses of this patient data had led to some unexpected discoveries. For instance, in one of the results, it was found that a drug called Desipramine, which is mostly an anti-depressant, can provide a cure for individual variations of lung cancer.
Prevention of epidemics
Big data analytics can be used to form programs that can be used to collect population data, health statistics, and real-time migration of population to track the origination and spread of global epidemics. The tools can be efficiently used for predicting the onset and spread of diseases, and are also adept at suggesting preventive steps to prevent the spread of a potential epidemic. For instance, the Centers for Disease Control and Prevention (CDC) has a significant data program called BioMosaic that made use of big data analytics to combat Ebola and prevented it from becoming a global pandemic.
Big data analytics gathers information from a comprehensive set of sources and delivers far-reaching insights that can transform the entire face of an operation. It analyses data from all facets to uncover trends and patterns which could not have been revealed otherwise. So, when it comes to a field as diverse and ubiquitous as the healthcare industry, big data analytics has a rather far-reaching potential.
Thanks to big data analytics, hospitals are now finding it more comfortable to normalize patient data, discover new trends, and clear up bottlenecks that prevent quick and immediate action. In an industry that has an average per capita spending of $10,000 in a single year, there is a need for a more structured approach to administration. Healthcare is a sector in which the stakes are always high, the insights provided by big data analytics award a sense of stability to doctors while deciding the best course of treatment for their patients.