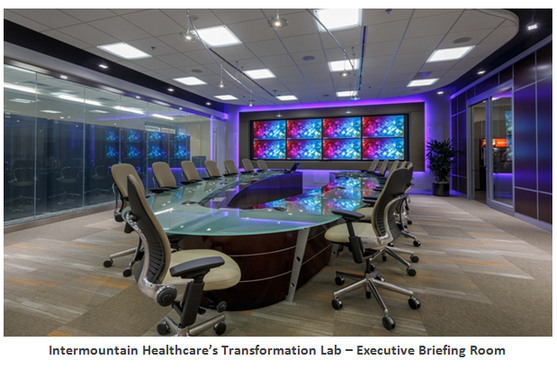 (Editor's Note: Dan Munro writes for Forbes under the heading, "Healthcare Compass")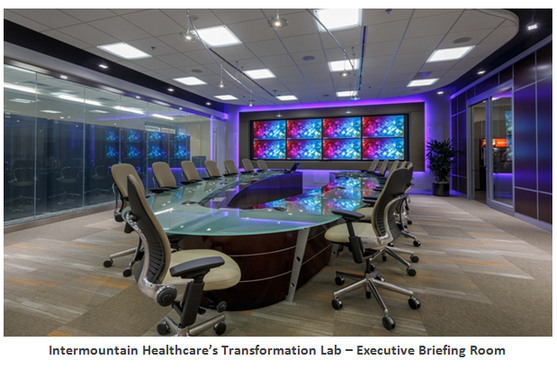 (Editor's Note: Dan Munro writes for Forbes under the heading, "Healthcare Compass")
On the one hand, healthcare's newest address for innovation will come as a bit of a surprise to many. On the other hand, it probably shouldn't. This last week, Intermountain Healthcare formally announced the opening of their Transformation Lab in Murray, Utah – a suburb about ten miles directly south of downtown Salt Lake City.
Spanning two fairly nondescript single story buildings, the lab itself is adjacent to Intermountain's flagship hospital and medical center campus. There's a sub shop (yes – sandwiches) that occupies a small footprint of the administrative office building and the lab itself still has letters etched on the brick façade from its former tenant – a local patio furniture dealer.
Inside, however, is an entirely different story – one that belies the understated exteriors and showcases the significant commitment – which really started in earnest over three years ago. That trajectory culminated in last week's official opening – and press release (here).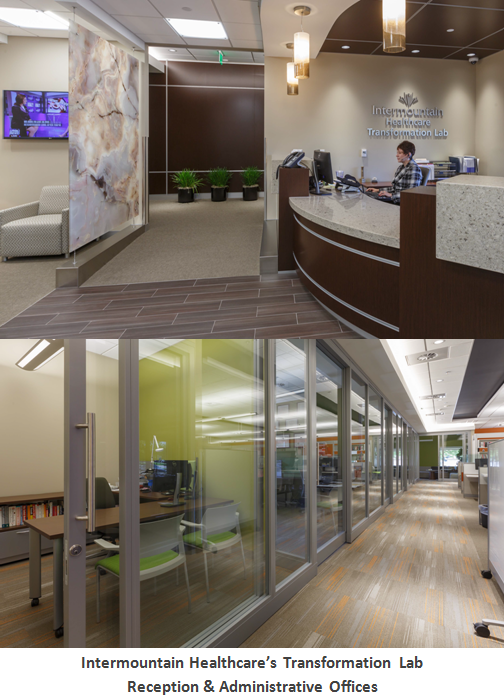 "Intermountain has a long and rich history as true technology innovators – most notably in the development and use of software and data in healthcare. The Healthcare Transformation Lab emerged in the wilderness of wanting innovative technologies to come to the patient bedside quicker and more efficiently. Funded by forward-looking strategic partners, the Healthcare Transformation Lab is ideally positioned to incubate transformative technologies that will improve patient care, healthcare delivery and make costs sustainable." Marc Probst – VP and CIO Intermountain Healthcare
Healthcare innovation labs aren't new. Kaiser, Mayo, Cleveland Clinic – and others – all have similar innovation labs built specifically to prototype and develop new solutions around healthcare delivery. That doesn't make Intermountain's new or novel, but their success around innovation is well known – and documented. They were among the first to recognize the value of a computerized Electronic Health Record system – and deployed their first version in 1972 (here). More recently, President Obama referenced Intermountain specifically (here) as one of only three examples in the country that consistently delivers higher quality healthcare at substantially lower cost. Another independent authority – the Dartmouth Atlas – suggested (here) that hospitals could lower their spending by 43% under an Intermountain benchmark.
As a further testament to Intermountain's pioneering spirit, last week's announcement also included commitments from key strategic partnerships – including Intel INTC +2.57%, Dell DELL +0.33%, CenturyLink CTL +0.4%, NetApp NTAP +0.59%, Sotera Wireless and another Salt Lake City based startup – Xi3.
"Real healthcare innovation must come from an intense attention to creating more efficient and context-aware care flows for patients and clinicians. Our team of user-experience researchers and healthcare solution architects look forward to collaborating at Intermountain's new Healthcare Transformation Lab to help define and then deliver these care experiences of the future." Eric Dishman – General Manager of Health and Life Sciences at Intel
"Intermountain Healthcare understands that better information leads to better healthcare, and that technology is the key to unlocking that potential. Dell is excited to provide technology, resources and domain expertise to the new Healthcare Transformation Lab, but the true thrill comes from seeing innovation move rapidly from the lab to the bedside."Andrew Litt, M.D. – Chief Medical Officer, Dell
Xi3 Corporation (founded in 2010 here) brings both fresh engineering and architectural design to the decades old PC, Server and Storage form factors.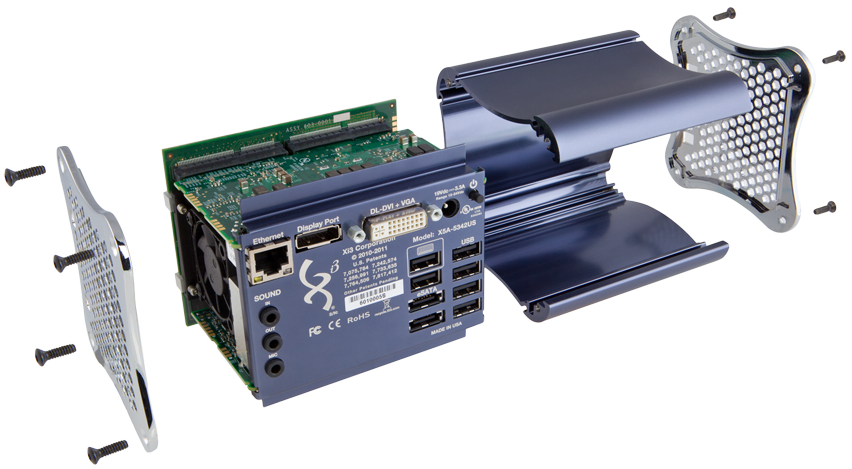 "Only by understanding the problem from the clinician's perspective can we begin to build Information Technologies that will truly drive the human condition forward. When you combine the strengths of a world-recognized leader like Intermountain Healthcare with the award-winning innovative products and technologies from Xi3, what you end up with is the best way to solve complex life science problems." Jason A. Sullivan – Founder, President and CEO of Xi3 Corporation
In combination with the partnerships, the lab has already begun to focus on several critical areas for rapid development and prototyping:
* Hospital Room of the future
* On premise 3-D printing of medical devices
* A hand-washing sensor+watch with easy to see (patients and caregivers) visual queues
* In-room telemonitoring and remote telehealth solutions (for both inpatient and remote care)
A few weeks ago, legendary startup icon Steve Blank offered this sage advice to early stage ventures in the healthcare space (here):
"Unless you're being escorted out of a hospital you're not testing your digital health idea hard enough." Steve Blank – Retired Serial Entrepreneur, Author and Lecturer
That's great advice, of course, but it's missing one key component. Of the more than 5,000 hospitals in the U.S., which ones are the best candidates to target? Which ones have both a track record and commitment to innovation? It's too early to say for sure, but at least one of those addresses could well be in a suburb 10 miles south of Salt Lake City, Utah.