Technology may be revolutionizing the healthcare industry but while mobile health applications and cloud-based management are convenient, many think they may be compromising the privacy of healthcare data. The debate, which is so multifaceted there isn't one way of looking at it, centers around how the healthcare industry can embrace mobile health while still securing patient data. In light of the Anthem breach earlier this year, the issue is becoming even more of a hot topic.
Balancing Convenience & Privacy
Did you know that Pricewaterhouse Coopers' Health Research Institute marked balancing privacy and convenience when it comes to healthcare data as a key hurdle for healthcare systems in 2015? It wasn't too far off either. While patients are craving more real-time ways to access their data, they are also demanding more protection when it comes to how healthcare organizations store and transmit that data. This building tension between convenience and privacy is something healthcare organizations may be forced to focus on in the coming year. Unfortunately, it isn't a simple task of just choosing privacy over convenience either. According the PWC report (Top Health Industry Issues of 2015) "healthcare organizations must not neglect the demands of today, from reducing hospital readmissions to fully integrating data from electronic medical records. In the near term, many healthcare organizations must straddle two worlds."
Still as much as people may want for more convenient, do-it-yourself methods from their providers, PWC reports they still are very hesitant about giving up that data. See the data from the PWC report below.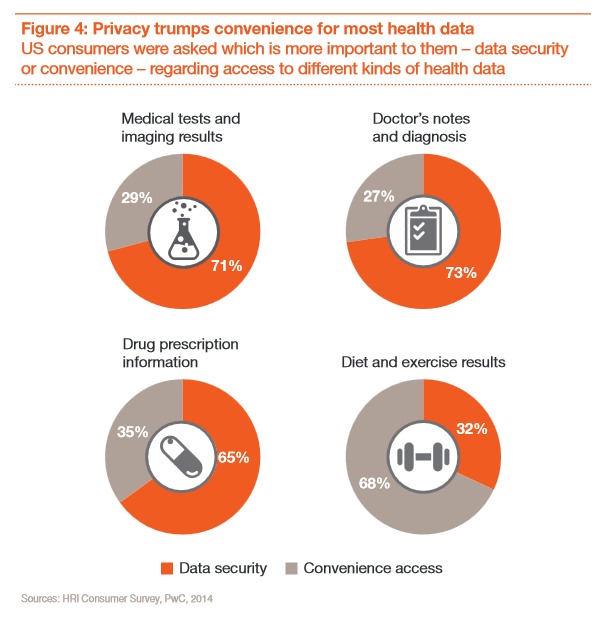 It's also important to note that mobile health isn't just for patients either. MobiHealth News pointed out that providers are just as eager to utilize mobile health and do-it-yourself benefits. Referring to the same PWC study that reported "one-third of US consumers said they would use a home urinalysis device, while more than 50 percent of physicians surveyed said they would use data from such a device to treat patients or decide whether they need to come in for a visit."

Preventative Measures
The balance between convenience and privacy really comes down to preventative measures and how healthcare companies can safeguard data for the future of mobile health, in addition to helping increase convenience for their patients and employees. Pricewaterhouse Coopers' report suggests implementing these three strategies:
1. Key a close eye on data and watch for internal and external threats. Hire cyber security and keep the right safeguards in place.
2. Know your data. Keep a record of all devices that record patient data and make sure they are safeguarded properly.
3. Look to other industries. Learning how banks or financial institution safeguard data and work with mobile applications could be helpful to moving forward.
The Future
We know this issue won't be settled easily but here is some food for thought. In interview with MedCity News, Robert Neivert of Private Me (consumer privacy company) brought up the idea "both government and healthcare should take a chapter out of the online banking sector by adopting closed-network systems." Could this be the solution or will this still sacrifice convenience?  Tell us what you think.
Can the healthcare industry properly balance convenience and privacy in the digital age?