(Editor's note: Excellent interview of Dr Angelo Volandes by Sarah Sonies, Associate Editor for the Wing of Zock health care innovations blog and an Innovation Fellow at the Association of American Medical Colleges.)
(Editor's note: Excellent interview of Dr Angelo Volandes by Sarah Sonies, Associate Editor for the Wing of Zock health care innovations blog and an Innovation Fellow at the Association of American Medical Colleges.)
Angelo Volandes, MD, a physician and researcher who is on the faculties of Massachusetts General Hospital and Harvard Medical School, is co-founder and president of Advance Care Planning Decisions. ACPD is a non-profit organization that makes videos to help patients understand advanced care interventions and to be better informed while planning their end-of-life care. Volandes was profiled in a May 27 article in The Atlantic, "How Not to Die."
What motivated you to create these videos?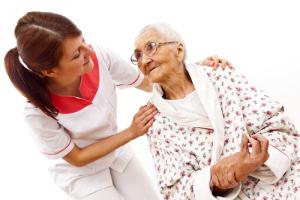 The very first day of my internship in medical school 15 years ago, I admitted a patient to the hospital with widely metastatic cancer. It was the first time anyone had spoken to her about goals of care, code status, or CPR. On that first day, I looked at her and I said, "What would you want if your heart stops beating now that you have advanced cancer?"
And I was met with a blank look.
I then asked her to take a walk with me to the ICU. I showed her a patient on a ventilator. Suddenly, a Code Blue was called. I took her out, but she saw a few seconds of CPR. She looked at me and said, "While I understood the words you were saying, I had no idea what you were talking about until I saw that procedure."
After that, I began taking my patients on tours of the hospital, which the nurses loved but quickly put an end to, due to concerns about doctor–patient confidentiality. That's when I came up with the idea of creating short films to help patients and their loved ones better understand the interventions and decisions that we often share with them in making.
Who creates the videos, and how do you include patients?
I work with a team of several hundreds of doctors and video artists at 10 academic medical centers (AMCs) across the United States as part of the VIDEO Consortium, short for "Video Images of Disease for Ethical Outcomes." All of our videos use real patients and real doctors. No actors. No special effects. All patients and family members must give their consent to be filmed. Many people participate in our filming because they want to empower patients and their families to make informed decisions.
You speak frequently about the importance of standardizing end-of-life conversations. What does that mean?
We often talk about the variability of care at the level of geography. What we are concerned about in this specific instance is the level of variability at the level of the physician. Every time I'm on duty, I usually have two interns, two med students, and a resident; I pull them each aside and ask them how they would talk to a patient with metastatic cancer about advanced care options.
The variability in answers is shocking, ranging from very gentle approaches to overly direct to overly in-the-weeds with the medical language. The videos give providers a tool to standardize the conversation regardless of their biases or communication abilities.
We talk about standardization of care, but we do not talk as much about standardizing of conversations. Providers often forget to have these conversations; when they do have them, they often do it poorly. These videos help standardize the process to ensure that patients have access to the information they need to start thinking about these issues.
Can standardized conversations help to reduce health care costs?
Advanced medical care is expensive and some of it is avoidable. These videos work toward the triple aim by reducing the number of costly medical procedures for patients at the end of life. In that sense, the videos achieve the sweet spot of the triple aim: high-quality care through population health and the wise use of resources to ensure that patients get the right care at the right time on their terms. Our studies of these videos have found three key takeaways:
Patients and families who use our videos have a more accurate understanding of their options.
Patients with life-limiting conditions who use our videos tend not to want a lot of life-prolonging treatments they could obtain while they are in the hospital, surrounded by strangers.
Patients are overwhelmingly comfortable with these videos. They find them much more informative than written information. We are a visually literate society; videos offer tools that empower patients to make informed decisions.
How can the videos be used in medical education?
These videos are part of the see-one-do-one-teach-one thought process, where you get to see a physician having a goals-of-care conversation through video that can be replicated and practiced by educators and learners. Additionally, we are developing a Massive Open Online Course (MOOC) for medical students and residents so they can learn how to have these conversations and help patients navigate an often complex and byzantine health system.
We live in a time where just walking into the hospital can be a confusing experience. We need to leverage technology to help patients and caregivers navigate all these difficult decisions and we feel that MOOCs and our videos are our way to get this information out there on a larger platform to a larger population level.
How do you plan to expand the project?
Our biggest project right now is a statewide implementation in Hawaii. We are working with Hawaii Medical Services Association—the largest insurer in the state—in addition to 14 hospitals, and 600 physician groups, as well as community centers and religious institutions. Currently, 1.4 million Hawaii residents have access to our videos through multiple devices. We are a year and a half into the project and it has been phenomenal.
End-of-life decisions are an uncomfortable subject for many people. Have you drawn any criticism?
We have never been accused of rationing care or anything like that. Our videos help empower patients to tell their doctors what they want. It's in that sharing and that collaboration between patients and their doctors that we really, truly achieve patient-centered care. The videos are one step in the right direction. We are fortunate that we live in an age of video technology where we can utilize visual technology to better inform our patients. It's time for medicine to move beyond written materials and to start using visual technology to deliver patient-centered and patient-empowered care.
We know that the videos help touch a difficult subject. What we are finding is that the conversation takes place more frequently and in a more informed way when the videos are part of that conversation. We hear that routinely from patients, their loved ones, and even from many doctors. The videos, just within a few minutes, are able to convey information in a tone and in a way that improves upon what physicians usually do.
What's next?
Part of our five-year plan is to make these videos part of the standard of care in medicine. It is a difficult topic, but if we empower patients and their loved ones with the information that they need to make an informed decision we can change the health care system for the better.
In many ways, this is disruptive technology because it flips the doctor—patient interaction and put the power in the patient's hands. We hope these videos continue to flip the power dynamic and empower patients with the knowledge they need to start the conversation with their physicians.
Video Extra: A sample video provided courtesy of the Advanced Care Planning Decisions team to provide insight into the conversations ACP encourages care providers and family members to have.
(end-of-life decisions / shutterstock)
If you like this post, please read other posts in the series on the Person-Centered HealthCare main page. And if you have a story to tell that may be a fit with our series, please comment below or email me at joan@socialmediatoday.com