(Editor's Note: Dan Munro writes for Forbes under the heading HealthCare Compass)
(Editor's Note: Dan Munro writes for Forbes under the heading HealthCare Compass)
Of all the companies that specialize in big data analytics, the real pioneer (at scale) has always been SAS – headquartered in Cary, North Carolina. Earlier today, in a big, bold bet on moving one of the larger needles in healthcare, SAS announced a collaborative effort with drug giant GlaxoSmithKline aimed squarely at the global pharmaceutical industry.
In a nutshell, SAS is sponsoring the ongoing support and management of a globally accessible private cloud where the pharmaceutical industry can securely collaborate around anonymized clinical trial information. GSK has made the bold commitment to be the first to contribute anonymized clinical trial data.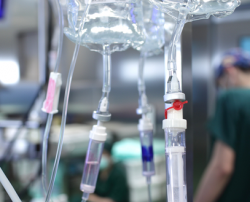 In development over the last two months, the SAS-led initiative started with GSK (one of the world's Top Ten pharmaceutical companies), but quickly led to discussions with other big pharma companies who will likely join – and benefit – from an entirely new private cloud for clinical trial information globally.
As more companies sign on, the potential scale of the pooled clinical trial data is unprecedented – especially for an industry that is often cloaked in controversy or mired in headlines announcing billion dollar fines.
Not surprisingly, the press release (here) was strategically aimed to coincide with the Drug Information Association's 49th Annual Meeting being held this week in Boston (here). The organization (known simply as DIA) was founded in 1964 and has served as:
"… a neutral, global, nonprofit association that provides professionals at all levels and across all disciplines access to timely and authoritative information to advance career skills and innovation in the pharmaceutical, biotechnology, medical device and related fields." DIA website
For the healthcare industry globally (and big pharma specifically), this one has the potential to be a big data (and cloud technology) blockbuster.
"Liberating this data will help advance scientific understanding and empower the scientific community to learn from the research and more quickly and effectively improve care for patients with all kinds of diseases and disorders, from diabetes to ADHD. The value has the potential to be greatly enhanced as researchers are able to gain access to data from multiple companies through a single site." Matt Gross, Business Director, SAS Health and Life Sciences
"This movement toward transparency is part of a larger industry trend and we're in discussions with other pharma organizations that also plan to publish their data to a broader system where researchers and others are able to access the information from clinical trials conducted by multiple companies." Graham Hughes, MD, Chief Medical Officer, SAS Center for Health Analytics and Insights
The use of the word "liberating" struck me as a reminder to Todd Park's clarion call and personal crusade which he often delivers with great animation during presentations – where he'll often shout his signature phrase "Data Liberacion!"
The GSK quote was equally compelling:
"In sharing our data with researchers around the world, we hope to further scientific research and increase understanding about our medicines. Our goal is to see this initiative transition to a broader system allowing researchers to access data from trials conducted by multiple organizations. Our belief is that this is the right thing to do for our industry and society – so let's get started." Perry Nisen, GlaxoSmithKline Senior Vice President for Science and Innovation
GSK's foundational and pioneering commitment to making anonymized clinical trial data available to the industry was announced last October (here) with a follow-on announcement last month (here).
While the scale and scope of this private cloud initiative is new, the depth and breadth of healthcare leadership at SAS clearly isn't. Earlier this year, the company hosted their 10th annual SAS Health Care & Life Sciences Executive Conference (here) and this is now the second high profile collaboration by SAS with big pharma around big data and analytics. The first one is Project Data Sphere – an initiative led by the CEO Roundtable on Cancer's Life Sciences Consortium. An excellent overview of this initiative (and deep commitment) is made in this 6 minute video by Charles Hugh-Jones – Chief Medical Officer at Sanofi (as a representative of the Life Sciences Consortium).
Recognizing the critical nature – and huge business value – of big data, SAS was founded over 30 years ago by a team of North Carolina State University colleagues led by Dr. James Goodnight (Forbes Billionaire #154). SAS remains one of the icons in the software industry and has recorded annual revenue growth for each year since its inception in 1976.
The reality, of course, is that any of these collaborative efforts by big pharma will likely take years to produce tangible clinical results. They often do. But there were also some seismic takeaways from today's announcement:
1) Technology visionaries like Dr. Goodnight are ideally positioned to help forge new data paths in heavily entrenched (or regulated) global industries like healthcare
2) As the global leader in analytics (with customers in 135 countries across 65,000 installations), SAS is strategically well positioned to deliver huge ROI across the healthcare ecosystem – at scale
3) Collaboration and transparency – especially around big data – is an enormous challenge for healthcare around security and privacy – but an even bigger opportunity
The list is much longer, of course, but perhaps the biggest single takeaway is simply this – a key word search for the phrase "big pharma" with "data collaboration" will no longer result in the banner proclamation of "404 – Page Not Found."
image: Pharma/shutterstock