Well, June is almost upon us and with June comes our third gathering of The Walking Gallery!!!
I have three major asks within this blog and I know many of you are pressed for time so:
3.
Donate to the Medstartr fund to create a Mini-Documentary on the Walking Gallery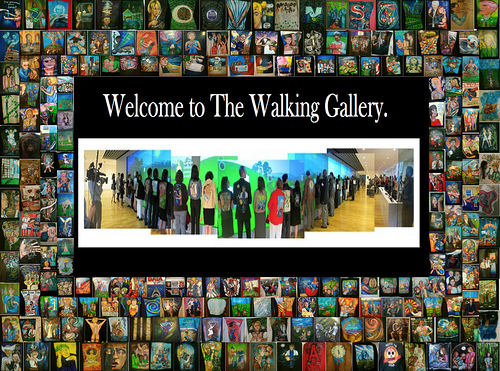 For the past two years The Walking Gallery gathered in the Kaiser Permanente Center for Total Health. It was a great venue for the first two years. Thank you Kaiser Permanente for your gracious support! The first year we had 54 Walkers wearing their jackets. The second year we had over 80.
In our third gathering I hope to see over 100 Walkers and many additional guests. I attended quite a few conferences this past year where thought leaders in medicine wondered how to activate regular people within their communities. I also attended a lot of conferences hosted within nice governmental buildings or grand hotels; those individuals running these meetings asked how we could involve people of faith and places of worship in the larger dialog of patient rights and engagement.
So… The Walking Gallery 3 will be held in St. Paul's Lutheran Church in Northwest DC one block from the Mural 73 Cents. My younger son was baptized in this Church and we held my husband's memorial service here. The school beside the Church is Murch Elementary. Both my son's attended this school and I have volunteered there to help with many art projects in the last nine years. I am so glad to welcome the world of medical advocacy into our local community.
We will gather at June 2nd, 7:00pm have light refreshments. We will share our stories. At 8:30 we will walk across the street and re-dedicate the mural 73 Cents. It will be a Blast!!! This will also give us a moment to recharge and reflect on why we care so very much about patients and positive change in healthcare.
In case any of you wondered why we have our biggest gathering in the beginning of June each year, it is because we host it right before the first day of Health Data Palooza since so many like minded folks would like to attend both events.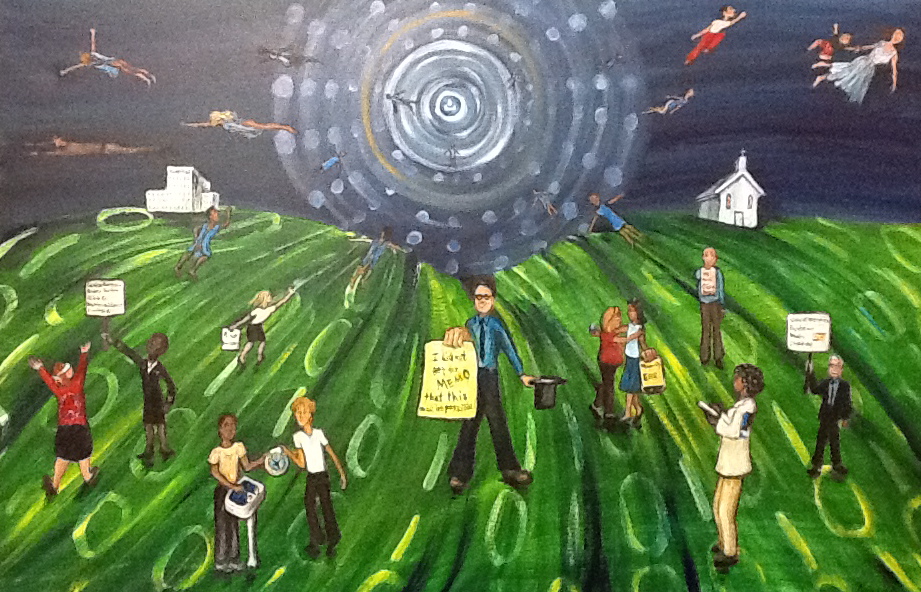 Everybody Walks at Health Data Palooza
(This is a flash mob kind of action so we are not endorsed by Health Data Palooza)
On June 3-4, we will gather on the Rock Creek Park walking trail beside the Omni Shoreham Hotel for scheduled networking walks during Health Data Palooza.
I love HEALTH DATA PALOOZA! The first year June 2010 I entered a painting as a type of app development. I got an honorable mention and Roni Zeiger walked onstage in his gallery jacket!
The second year 2011, I missed it because tickets sold out in a matter of hours but we began The Walking gallery and promoted both through social media.
The third year 2012, the tickets were affordably priced and there were many tickets available so I went as an attendee/exhibitor. I painted a painting on site: Health Data Palooza.
Sadly, this year the ticket prices were out of reach of many patients, many professionals and myself.
What to do?
The Walking Gallery and Partnership with Patients to the rescue!!!
We will have scheduled walks throughout Health Data Palooza on the Rock Creek walking trail so patients, doctors, governmental employees, techies, venders, nurses and regular folks can walk and talk about the amazing positive change we can wreck upon healthcare if we just get up out of our conference chairs and decide to act.
So Health Data Palooza attendees if you want something better than a coffee break come out and join us for a short walk.
We are taking donations to help pay for a cool down room at the hotel as June in DC is very hot and many of our patient walkers will need a respite. Funds will also help pay for water. Kaiser Permanente has offered to provide umbrellas/parasols.
I hope to see you there!

The Walking Gallery: Mini- Documentary
Finally, I began a new Medstartr campaign to fund a mini-documentary of the Walking Gallery Movement. These funds will pay the amazing film-makers for Eidolon Films: Tessa Moran and Ben Crosbie as they create a piece that will include interviews with walkers, conversations with artists and explain the technical process of creating a gallery jacket.
Thank you everyone who can support these amazing causes! Onward and Upward!