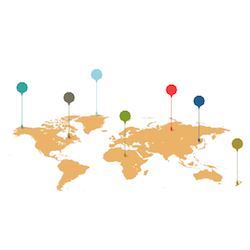 When It Comes to Health Rewards, It Seems the World Is Flat
Health Reward Programs Throughout the World
Health Reward Programs Throughout the World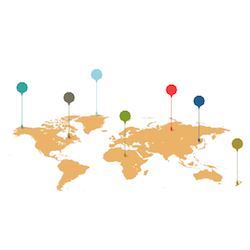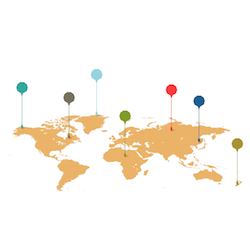 Ten years ago, rewards for healthy behavior barely existed in the United States and certainly were not prevalent throughout the world. When we founded IncentOne and started talking to the healthcare community in the mid-2000s, reward programs in healthcare consisted of discounted gym memberships and perhaps a $25 gift card for participating in a maternity program or completing a health risk assessment. Ten years later, consumer rewards for patient behavior and rewards for providers have become a cornerstone to any effective patient or provider engagement strategy.
This was largely driven by the private sector, as self-insured employers and health plans that bore the risk of poor consumer health and heath choices. Today, 74 percent of employers use health reward program, 93 percent expect to increase their spending on rewards over the next three years and average reward values have increased from $260 in 2009 to $594 in 2013.
The public sector in the United States has been catching up, slowly but surely. 2008 brought us what is known as the E-prescribing Incentive program that rewarded providers for e-prescribing. In 2011 came the Medicare/Medicaid EHR Incentive Program that rewarded (and ultimately penalized) the "meaningful use" of electronic medical records. Finally, in May 2014, CMS promulgated regulations expanding the use of rewards in Medicare, removing the long-standing $50 per year and other significant limitations. Needless to say there is not a sector of the US healthcare community that is not deploying rewards as part of their overall engagement strategy.
But what about across the globe? Until recently, with the exception of South Africa, health rewards were few and far between. However, in the last year, countries with all types of health systems – pubic, private and mixed – are deploying health rewards. Even less developed countries have been using health rewards. Many countries have developed multi-year strategic roadmaps to fix their healthcare systems and in each case the roadmap includes as one of its key tenets the use of financial rewards for patients and providers. In the end, whether the risk and cost is born by the private sector or the public sector, the world has come to realize what we now know here in the US – without financial rewards it is difficult to engage patients and providers to change behavior.
United Kingdom: In the United Kingdom, in April 2014, 20/20 Health, a prominent think tank, recommended that a national health rewards program be put in place to reward healthy behaviors as a way to address the massive healthcare costs threatening the solvency of the National Health Service. "We propose 'payment by results', a financial reward for people who become active partners in their health, whereby if you, for example, keep your blood sugar levels down, quit smoking, keep weight off, or take on more self-care there will be a tax rebate or an end of year bonus." http://news360.com/article/236724085

In October 2014, National Health Service announced that it was launching a program to reward citizens for losing weight. The program is part of its Five Year Forward View, the strategic roadmap for the NHS. Details of the program are:
Consumers who lose weight rewarded with cash or shopping vouchers
Incentives higher/lower based on weight loss – amounts still unclear
Must have a job to qualify
Employers receive tax benefits/funding to set up weight or exercise classes
Tax cuts – 10% up to £200 – volunteers who feed elderly in hospitals or home
Tax cuts for volunteers and breaking boundaries between GPs and hospitals

In addition to the program by the NHS, the private sector has also been launching health reward programs. Some UK insurers have been launching programs in an effort to retain customers and drive health outcomes:

Max Bupa Health: its Heartbeat policy has two loyalty options — increasing the sum insured every year or using loyalty points to buy products and services from the list of partners. The options are available irrespective of the customer's claims history.
Cigna: Cigna TTK has launched 'healthy reward points', 'health maintenance benefits' and 'proactive living programme' from February this year. With every premium paid, a customer accumulates 'healthy reward points' which the policyholder can reimburse against future premiums
UK employers have even gotten in the mix. http://dld.bz/dxMN4
Australia: in the public sector, Australia's Blueprint for a Healthy Australia outlined 11 initiatives to improve the health of Australians. Among the eleven recommendations was providing financial incentives for health behavior and/or better health choices. They noted that Financial measures (page 72) acknowledges that economic measures will influence the choices people make and details useful incentives to increase rates of active travel and physical activity. "Through financial incentives and disincentives we can promote healthier behaviors. In turn, adoption of healthier behaviors creates savings for the country."

In the private sector, Medibank, the country's largest insurer, rewards for a variety of health behaviors including eating fruits and vegetables and engaging in physical activity. Chief Medical Officer Dr. Ian Boyd – Medibank survey "a lack of motivation and time to exercise are the main barriers to Australians living in good health." The Australian Heart Foundation has backed the initiative, which aligns with its own initiatives to boost the level of activity amongst Australians.

http://www.heartfoundation.org.au/SiteCollectionDocuments/Blueprint-for-an-active-Australia-Second-edition.pdf

The government has also been looking into this. It polled Australians and 84% Aussies would cycle to work if rewarded with money. http://goo.gl/jdlvmY
South Africa: efforts in South Africa have been underway for some time in the private sector. Insurance companies such as Discovery and its Vitality product have been in the market for several years. In fact, like the growing competition in the US between insurance companies, competition has driven multiple insurers to have different type of health reward and loyalty programs. The following are what are considered the top five:
Program
Description
Discovery: "Vitality"

Encourages members to know their state of health and improve upon it
Assigns points for healthy behaviors
Partners Virgin Active, Planet Fitness, Curves, and fitness devices.
25% cash back on healthier foods, personal wellness products and services and Adidas and other active or sports gear

Momentum: "Multiply"

Activity level (gym visits organized through Multiply)
Discounts on travel, leisure, shopping and a range of health-related products

Liberty: "Own Your Life"

General health activities
Discounts from partners Virgin Active, NuMetro, Avis, Col'Cacchio, Hertz, Sun Hotels, books and Vodacom.

BestMed: "Just Rewards"

Instant incentives to get fit-without having to accumulate any points
Weekly specials on everything from food and magazines, to plumbers, electricians, concerts, sport events, hotels and flights

Resolution Health: "Zurreal4Life"

General health activities
Discounts at select stores and for services.
Legal assistance and various competitions.
Pets included in the rewards
Japan: in April 2014, a panel recommended the use of incentives to improve the health of the nation. The Industrial Competitiveness Council submitted a proposal to the Health, Labor and Welfare Ministry including the following recommendations:
Dubai: Authorities in Dubai are offering gold in return for weight loss in a scheme to encourage healthier living. Called Your Weight in Gold the scheme was announced by Hussain Nasser Lootah, director general of Dubai Municipality. For each kilogram lost, participants will receive a gram of gold, which is currently worth about $45 (£30). Those interested can sign up from Friday for the initiative which lasts over the next 30 days and coincides with Ramadan, a month of fasting. Those taking part – dubbed "golden losers" – need to lose at least two kilos to receive the payout. The three participants who lose the most weight will be entered into a draw to win a gold coin worth $5,400. http://www.bbc.com/news/business-23373186
Netherlands:policy makers are currently engaged in debate on the ethical aspects of policies to change lifestyle and differentiation in health premiums. The debate focuses on two specific issues:

Influencing the lifestyles of individuals to make them healthier. Does a government that promotes healthy lifestyles act paternalistically or is one that fails to do so guilty of neglect?
Whether people with an unhealthy lifestyle should pay a higher premium for their health insurance or whether this is unjust.
Outside the developed world, rewards are being used as well, but often for more fundamental health services such as use of a national health system for births. These programs often, although not exclusively, take the form of Conditional Cash Transfers, or CCT. The following is an outline of some of these efforts in the developing world:
Country
Behavior
Key Program Elements
Cambodia
Refer malaria cases to public facilities

Monthly lottery for USD $20 to $30 in prizes (audiotapes, watches, fans, and various other prizes)

India
Antenatal care and institutional deliveries

Rs 600-1,400 (USD $13-31) for three antenatal care visits and delivering in public hospital or private accredited facility
Eligible for up to two live births
Rewards providers that refer complicated births for C- sections.
In the first five years, institutional deliveries rose from 20% to 49%, with higher increases in select states.

India
Delay marriage and birth spacing

Rs.10000 and Rs.19000 based on the sex and number of children

Pakistan & Nicaragua
Med. compliance – tuberculosis

High-tech urine test strips and mobile phone SMS texts to monitor adherence and rewards them with mobile minutes

Philippines
Enrollment in national health programs

Aggressive house-to-house campaign to increase enrollment in existing health programs, providing monetary rewards to the recruiters based on how many households they enrolled.

Vietnam
Enroll in national health programs

Identify and enroll unreached members of the eligible population in the national social health insurance scheme.
China has even gotten on board – although not exactly rewarding for healthy behavior. Kaohsiung residents will be able to turn pests into positivity, as the city plans to reward those who have caught the most mosquitoes by Saturday. "Instead of fining people who fail to remove standing water and other breeding sites around their homes, we think this program could raise greater community participation," said Ho Hui-ping, chief of the section in the Health Department responsible for the campaign. The No. 1 mosquito keeper will be rewarded NT$3,000 (US$100), while the top 10 contestants will each be given free bug spray and mosquito nets, according to Ho.
http://www.wantchinatimes.com/news-subclass-cnt.aspx?id=20141102000018&cid=1103
Regardless of the country, it comes down to consumer behavior. While in many systems there are economic reasons for consumers to act, the bottom line is that like the US, with every consumer facing initiative, rewards are key. With healthcare, the behavior we are looking for them to take is far more complex than in the airline, hotel, retail or credit card industries. Is it just a matter of time before every country has a health rewards program to drive consumer behavior?
health rewards / shutterstock