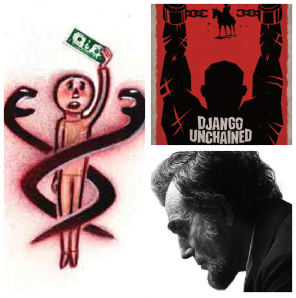 Hang on to your hats – this one might wade into controversy.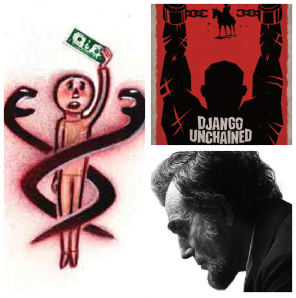 Hang on to your hats – this one might wade into controversy.
As I write this (3:30pm EST on January 1, 2013), I'm listening to a conversation on NPR about the Emancipation Proclamation, which was signed into law by Abraham Lincoln 150 years ago today. I'm also reflecting on a couple of movies I've seen in the last 45 days: Lincoln (over Thanksgiving weekend) and Django Unchained(on Christmas Day).
Is it time for an emancipation proclamation for patients? Or should we just saddle up and have a shootout at the plantation … um, hospital instead?
Too many healthcare transactions are still conducted over the patient's supine form. Doctors, hospitals, and other entities in the "provider" column horse-trade with health insurers, including Medicare, in the "payer" column. That means that the patient winds up shackled. No say in how much something costs, no real voice (yet) in what happens next, little interest on the part of the two trading entities in clueing us in to what's happening.
Some of my connections in the participatory medicine/e-patients movement use a driver-rider metaphor for transforming healthcare, with the patient moving from passenger to driver in healthcare. It's a less controversial/confrontational metaphor than referring to patients as chattel on the medical plantation. However, I'm sticking with that plantation metaphor for the moment, because too many in the provider and payer camps are still viewing patients as meat puppets, not as full participants.
Does healthcare need an emancipation proclamation? Yes. Here's where the metaphor shifts: let's not wait for someone to proclaim us (patients) emancipated. Let's break our own chains, and be our own liberators.
Let's demand that the providers and the payers give us an equal seat at the table, and then let's …
LEARN EVERYTHING WE CAN TO BE PRODUCTIVE CONTRIBUTORS TO THE HEALTHCARE SYSTEM.
That last statement is the core of what will emancipate healthcare: patients, providers, payers, caregivers, everyone. Shared decision making – along with "patient-centered", that's the new hot phrase in healthcare – can only exist if all parties are able to participate in sharing the decision-making. We must learn how to understand the language of medicine, including research statistics (by the way, many doctors aren't great at that, either). We must learn to apply critical reasoning to what we see/hear/read in the media about risks and trends in health and disease. We need to work on getting a seat at the research table to give a hard shove in the direction of making clinical research less ivory-tower and more boots-on-the-ground.
Some recommended reading for those who'd like to emancipate themselves:
Society for Participatory Medicine blog
and our movement's own Rosa Parks (or, dare I say it, our own Django?):
Let's liberate ourselves, shall we?