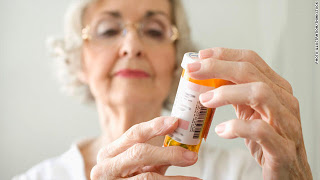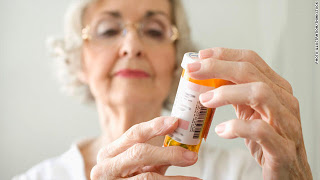 Good or Bad? Hmmm.
Certain widely prescribed medications can trigger or slow the progress of Alzheimer's disease, according to recently published research.
A Mount Sinai Medical Center team screened 1,600 FDA-approved medications, using a computer algorithm to determine which drugs are associated with blocking or stimulating beta amyloid accumulation. Amyloid plaques build up in the brains of Alzheimer's patients.

Of the screened drugs, 800 reduced amyloid beta content more than 10% in primary neurons from mice, the researchers found. About 240 drugs promoted amyloid beta.
While many classes of drugs were found to impact amyloid beta production, the researchers focused especially on those used to treat cardiovascular conditions. Certain blood pressure medications, such as propranolol (Inderal) and nicardipine (Cardene), reduced amyloid beta production, while drugs including furosemide (Lasix) had the opposite effect. Experiments with mice confirmed that some CV medications, particularly carvedilol (Coreg), hold promise as Alzheimer's drugs.

"This line of investigation will lead to the identification of common medications that are potentially beneficial or detrimental to [Alzheimer's disease] as a reference for physicians to consider when prescribing the most appropriate drugs for their patients, particularly for treating chronic disorders among the growing geriatric population," the researchers wrote.
Source: McKnight's LTC