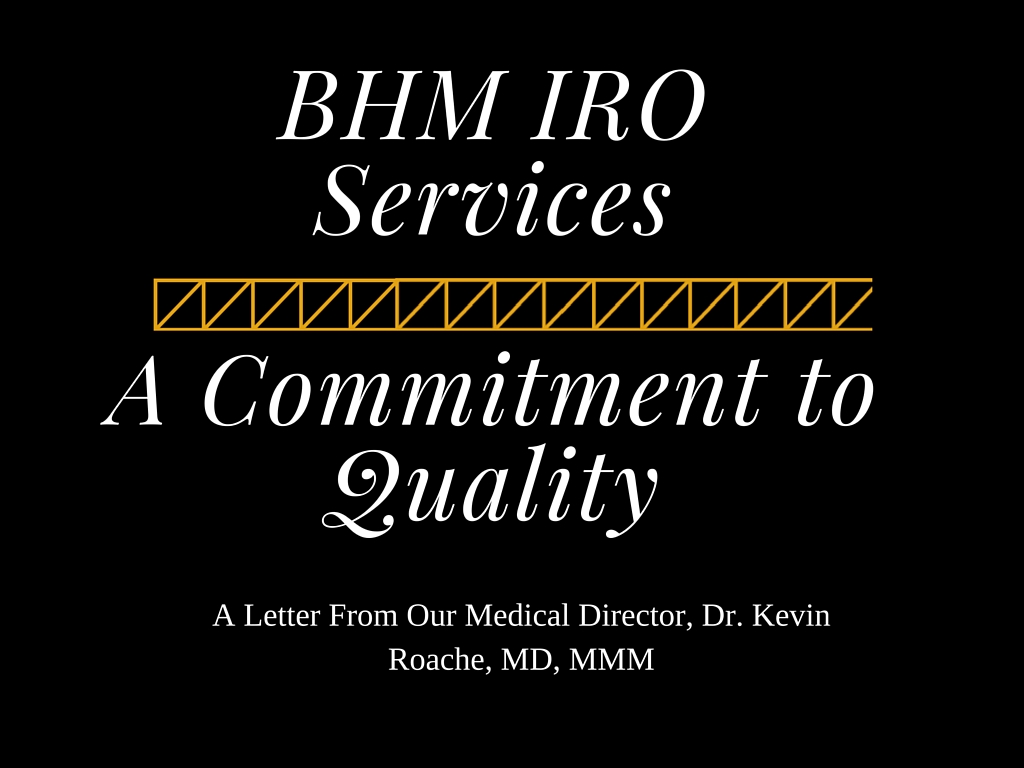 A Commitment to Quality IRO Services – A Letter From Our Medical Director
A Commitment to Quality IRO Services – A Letter From Our Medical Director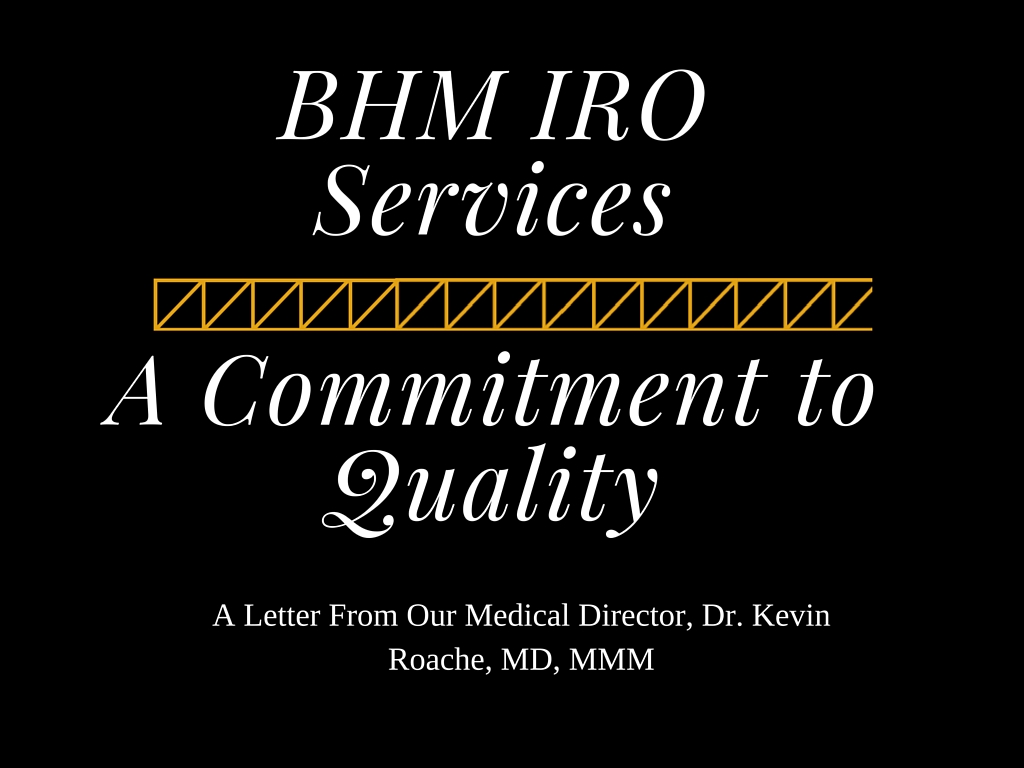 Hello,
My name is Dr. Kevin Roache, and I am the Medical Direcor of IRO Services at BHM Healthcare Solutions.
A Commitment to Quality IRO Services – A Letter From Our Medical Director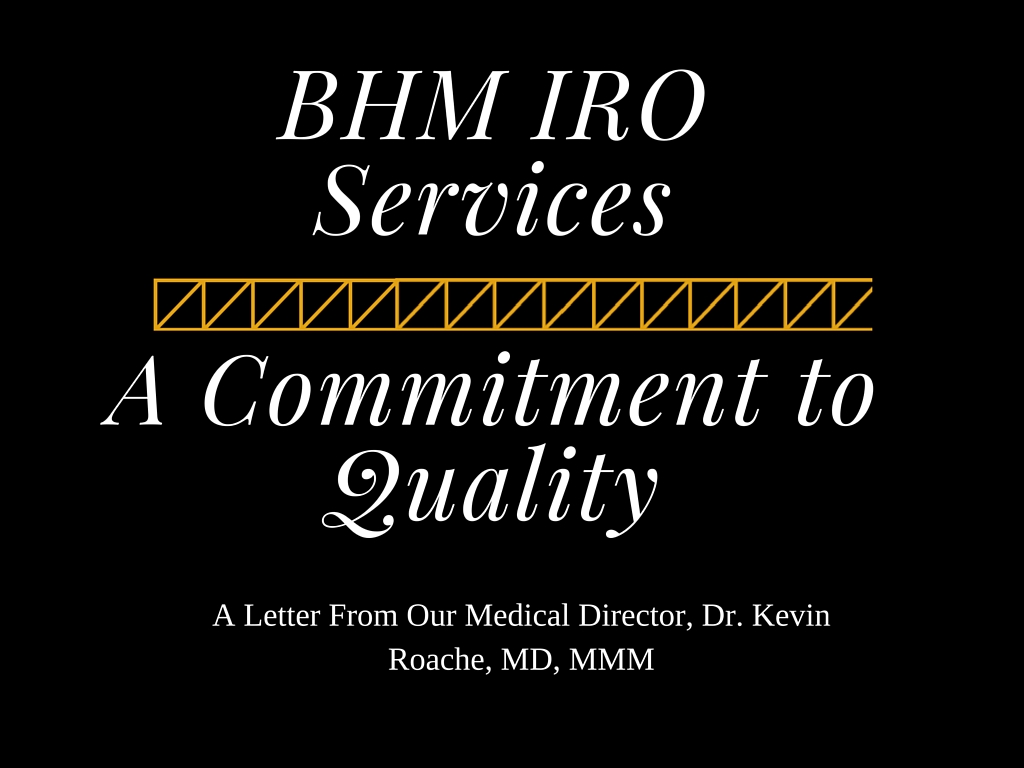 Hello,
My name is Dr. Kevin Roache, and I am the Medical Direcor of IRO Services at BHM Healthcare Solutions.
BHM Healthcare Solutions' mission is, "to provide clients with expert guidance that results in an improved financial and operational efficiency demonstrated through enhanced clinical care, compliance and profitability with better-quality outcomes."
The Quality Management Program (QMP) is the vehicle through which BHM Healthcare Solutions, Inc. analyzes data collected by operational staff from the electronic Peer Review System (PRS) or through manual tracking. Such data analysis involves continual systematic measurement, monitoring, evaluating, and implementing changes in operations to improve performance of our IRO Services. The Quality Management Program (QMP) objective is to promote fulfillment of the BHM mission in relation to IRO Services.
The scope of the QMP is ever-changing in order to maintain the spirit of continuous quality improvement. Techniques for monitoring, evaluating, and improving services offered by the Independent Review Organization(IRO)/External Review Organization (ERO) program are in a constant state of adjustment, fine-tuning, and testing. This allows for continually improving IRO Services.
BHM's commitment to high-quality IRO Services is dependent on recruiting experienced, board-certified physician reviewers, maintaining rigorous credentialing standards for these physicians, providing them with appropriate education on the IRO/ERO program, ensuring compliance with Policies and Procedures and evaluating the quality of reviews by auditing the reviews provided by these clinicians. Additionally, Physician Reviewers are provided ongoing mentoring and counseling opportunities from senior BHM Medical Directors.
BHMs IRO/ERO Department is staffed by highly-qualified individuals who provide support for physician reviewers, internal and external stakeholders and clients. The IRO/ERO Division has extensive experience in Behavioral Health reviews, Clinical reviews and is planning to expand its services to Medicare Advantage Part D reviews. The Peer Review System (PRS) is a BHM proprietary software program that allows for consistent, rapid, turnaround times for client requests, outcomes tracking, client customization and auditing capabilities to ensure that BHM maintains the highest quality standards. The Program has consistently received high client satisfaction ratings.
BHM Healthcare Solutions (BHM) conducts reviews ensuring the process is independent of all affected parties. BHM reviews cases upon request from the referring entity to determine if a healthcare service is medically necessary or experimental, or to address administrative issues. BHM utilizes a network of board-certified physicians and other peer healthcare professionals with diverse specialties, who have appropriate experience and expertise to render a decision for each independent review request.
BHM has achieved ongoing URAC accreditation to ensure that the QMP and the IRO Services Program meet the standards of quality and excellence for that accrediting body. In August 2015 BHM received a three year Certificate of Full Accreditation from URAC for compliance with Independent Review Organization: Comprehensive Review (Internal & External) Accreditation Program. The URAC accreditation is a testament to BHM's commitment to quality.
It is the goal of the BHM Healthcare Solutions, (BHM) to manage and ensure that services provided are appropriate and timely. The management of these services requires BHM to provide the oversight, auditing, and monitoring necessary to ensure compliance with BHM's client contracts and with applicable local, state, and federal laws and regulations. The Regulatory Compliance Program is developed to provide guidance to all appropriate parties in fulfilling its contractual requirements and in following all regulatory requirements. The Compliance Program ensures that state license or certifications are obtained as required by state law. The Regulatory Compliance Program demonstrates BHM's commitment to legal and ethical behavior and to effectively communicate the expected code of conduct to all responsible parties.
To learn more about BHM IRO Services, or to schedule a demo of our system email us at results@bhmpc.com or simply click below.

Best Regards,
Kevin Roache, MD, MMM
Medical Director IRO Division
The post A Commitment to Quality IRO Services – A Letter From Our Medical Director appeared first on BHM Healthcare Solutions.