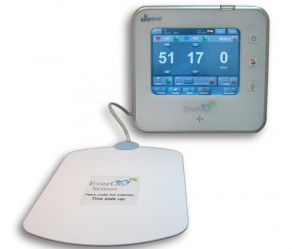 Person-Centered HealthCare; FDA Approves EarlySense Bedside System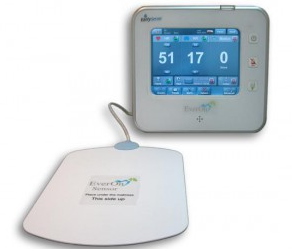 A new monitoring system can dramatically improve hospital patient care and even save lives, according to its manufacturer.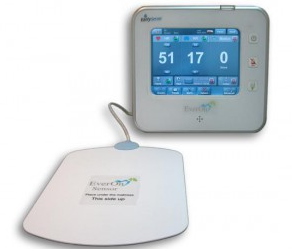 A new monitoring system can dramatically improve hospital patient care and even save lives, according to its manufacturer.
The EarlySense System reports respiratory signs, heart rate and motion in real time via a sensor placed under the hospital bed's mattress.
The information is transferred immediately to a monitor in the patient's room, the system's Patient Care Manager installed at the nurses' station, as well as to the nurses' handheld devices.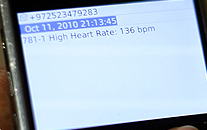 The benefits to such a system are many. On duty nurses will be able to supervise multiple patient statuses simultaneously. Motion and vital sign information is transmitted in real time, allowing caregivers to act immediately instead of waiting for a scheduled nurse's visit.
Among the common hospital maladies the EarlySense system aims to reduce or prevent are:
• Pressure ulcers
• Patient falls
• Escalations to a higher level of care and longer stays
The system also eliminates the discomfort associated with monitoring for the patient, as it is able to read and report vital signs with no leads or cuffs attached to the patient.
Furthermore, the system gives patients instant access to their own medical information, which can help patients make more informed decisions in conjunction with their physicians.
Here's How it Works:
EarlySense is part a wave of mobile devices, including smartphone apps and wireless sensors that may revolutionize the way healthcare is provided as well as the patient's involvement in it.
"It helps clinical teams in hospitals and nursing homes to identify the earliest warning signs of deterioration and intervene in time," said Avner Halperin, CEO of EarlySense, in an interview with the Web site Medgadget.
"That means you are no longer waiting for four, six or eight hours between vital sign checks. It's an immediate detection of deterioration in a patient," Halplerin said.
"It dramatically improves outcomes of patients, saves lives, reduces transfers to ICU, reduces code blues and falls out of bed."
Halperin said the device is the result of seven years of research and development, and 1,000,000 hours of patient data. It measures hand and leg motion, to ensure patients are not lying too long in one position, which can result in pressure ulcers; chest motion, which gives respiratory readings; and the cardioballistic effect, which allows detection of heart rate and heart rate patterns.
In October, EarlySense was granted Food and Drug Administration approval for an updated system that includes oximetry integration.
According to Halperin, the new system gives hospitals "the ability to monitor the oxygen saturation of a patient … . The oximetry component, meant for post-surgical patients who require a higher level of supervision, seamlessly integrates into the existing EarlySense system, including the central display station. The combination of deliverables provides clinicians with a flexible tool to facilitate individualized care plans for optimal clinical outcomes on the medical surgical floors."
Watch the product video:
The new system will be unveiled in November in Germany at Medica, a medical wares trade show.
Based in Israel, EarlySense was founded in 2004. Its U.S. operations are located in Waltham, Mass.
Sources: EarlySense.com, Medgadget.com, Boston.com
If you like this post, please read other posts in the series on the Person-Centered HealthCare main page.
And if you have a story to tell that may be a fit with our series, please comment below or email me at joan@socialmediatoday.com