Folding
There are a few members of the press who are also members of the Walking Gallery. Over the past year I have asked many to join us in this movement, but there are those who feel they cannot. Some seem afraid to share the power of their story. Some feel constrained by the rules of their profession. The latter reason is used by many in the press to explain their inability to join us.
I am glad Don's jacket recently finished its download. Here is "Folding."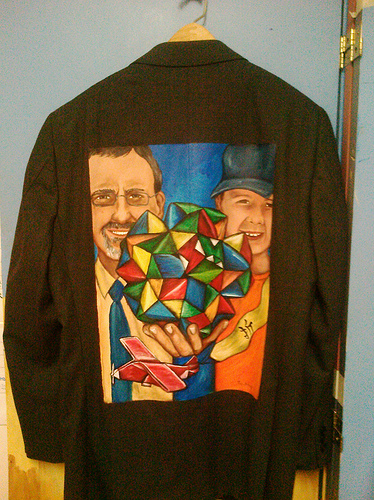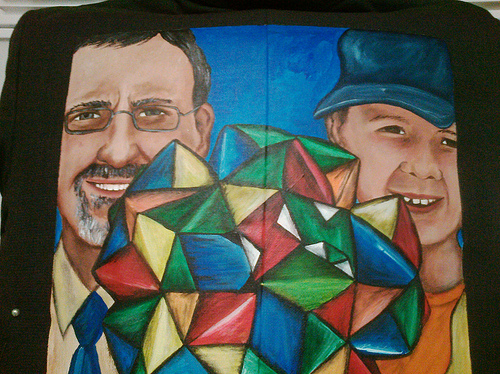 Patrick loves to fold origami paper into intricate designs. He has even created a little origami garden for his father's desk. So within this painting Don holds an amazingly complex origami shape known as a truncated icosahedron. Patrick cannot fold this yet, but he is already trying. If you look at the center of this mass of folded paper you will see the letters DSM. Here is an image of autism spectrum disorders defined in paper; it hard to see which paper folds press in and which out. Only one thing is clear about this bright shape as it folds in upon itself: it is labeled DSM.
Below father and son an origami paper airplane flies, for Don himself has a title within the DSM. Don, the brilliant reporter that I have spoken with in cities throughout our great nation, is afraid to fly. Every time he boards plane he fights against himself and his own anxiety. I have always appreciated my conversations with Don, but now I doubly cherish them knowing the stress he experiences every time he flies.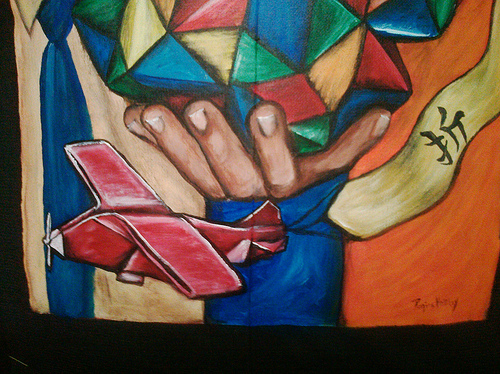 Or is folding something one little boy does really well? Perhaps we do not always need words to send messages on paper. Sometimes the shape of itself can speak louder than any spoken word or bold font. Sometimes the folding itself can say I love you.