I wanted to post an update in the continuing saga of my request for Hallmark to create hospice cards.
I wanted to post an update in the continuing saga of my request for Hallmark to create hospice cards. At this point the
petition has over 4,000 signatures on Change.org.
While Hallmark has yet to create a card to fill this gap, Greeting Card Universe has created 24 hospice cards for friends and family of the hospice patient to use. I was overjoyed to hear this! This is another step closer to getting such cards in stores.
You order Greeting Card Universe Cards online, but you can pick them up in your local Target store. Isn't that wonderful? Mindy Rosso-Gaemi, community manager at Greeting Card Universe heard our original plea and decided to do something about it. She created the hospice category and several fields of card types. She then asked her artists to use their talent and life experience to create some cards. These lovely cards are the result.
I loved the heart-felt truth and honesty of this card: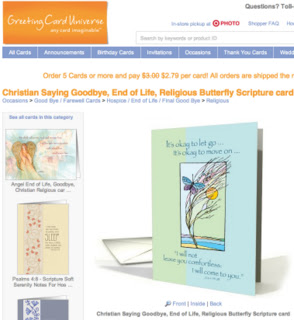 And though it may have not been the intent of the author, this one with "You Are Not Alone" made me chuckle and would warm the heart of any Doctor Who fan. So my friends Michael, Rebecca and Will if you ever enter hospice I am totally sending you this card!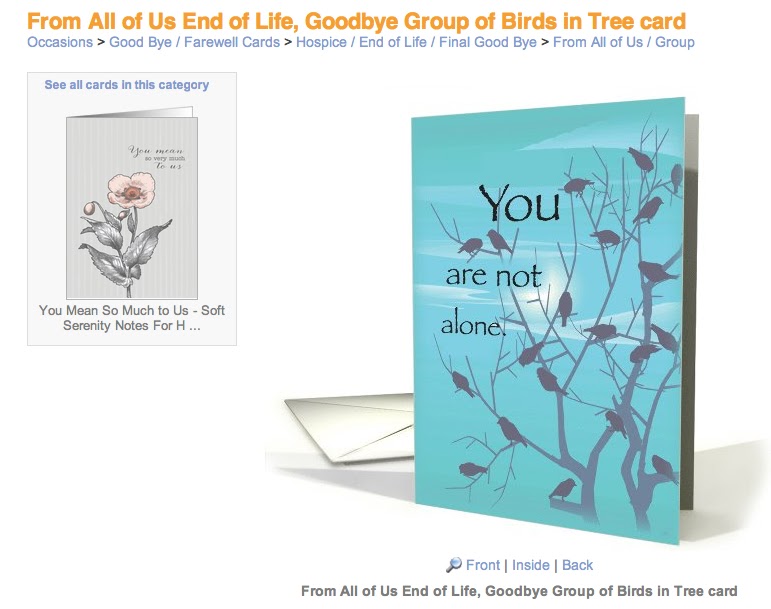 Thank you Mindy and all the artists at Greeting Card Universe for making the end of life a little brighter.
Full press release below:
Greeting Card Universe Offers Greeting Cards for Final "Good-Bye" to Hospice Patients & "Thanks" to Hospice Nurses
San Francisco, CA – (May 1, 2013) – In celebration and support of National Nurses Day on May 6th, Greeting Card Universe, the world's largest greeting card store, announces its new collection of hard to find and uncommon cards for patients in Hospice Care – affording loved ones the words and sentiments to say a final "good-bye".
"Together with regular nursing duties, hospice nurses provide palliative care to terminally ill patients," says Mindy Rosso-Gaemi, Community Manager at Greeting Card Universe. "A hospice nurse not only helps a dying patient going through a distressing and often times frightening period, but shows the same level of caring and compassion in comforting the patient's family and giving emotional and spiritual support when it's needed most. A special 'thank you' card for a nurse or caregiver is a wonderful way to express gratitude to these special individuals". Greeting Card Universe has a popular collection of over 1,000
Nurses Day cards
.
Hospice care was first established in the 1970s. At the time, cancer patients made up the greatest number of recipients. Today, thanks to advances in medicine, less than 50 percent of hospice admissions are due to cancer. An estimated 1.65 million patients receive hospice care in the United States each year.
"Hospice patients need to hear from family and friends," says Rosso-Gaemi. "They need to know they're loved and won't be forgotten, and that it's okay to let go. For most people coping with a dying loved one is too difficult. They fear of saying the wrong thing and are at a loss for words so say nothing at all at a time when any words would mean so much. Not taking the opportunity to connect is a regret they'll likely carry for the rest of their lives."
Greeting Card Universe offers sympathetically designed
Hospice Good-bye / End of Life cards
created especially to give to hospice patients, providing a starting place for a loving, therapeutic conversation or a final good-bye. The new collection of cards was inspired by
the plea of Regina Holliday
, artist, widow and healthcare advocate, who publically petitioned Hallmark to create a collection of Hospice End of Life greeting cards.
"Where Hallmark stumbled, Greeting Card Universe has risen to the occasion offering a new collection of cards to serve this niche market," shares Rosso-Gaemi. "It's not always about what's politically correct or the size of the market, but instead if there's a real need for expression. Once shoppers discover the variety of cards we offer, they'll never shop anywhere else. "
Greeting Card Universe put the request for hospice cards out to their community of 5,900 artists. Within two weeks the new collection emerged with over two dozen cards and more to come. Many of these artists drew upon emotions and experiences of hospice care and their own lost loved ones. The creations carry their tender words of thanks, good-bye and prayer for others to express when the words don't come easily.
Ordering online from Greeting Card Universe's collection is easy and convenient. An added convenience for last minute shoppers, cards can be ordered online and picked up— usually within one hour—from most Target stores across the country.
Greeting Card Universe's traditional and niche offerings of over 589,000 cards gives nod to the importance of choice and personalization in today's marketplace and stays true to its tagline "any card imaginable."
Explore more uncommon holidays and occasions on the
Greeting Card Universe blog
. Mindy Rosso-Gaemi is available for guest blogs, radio and TV interviews on this topic and other uncommon occasions and holidays.
About Greeting Card Universe
Greeting Card Universe (
www.greetingcarduniverse.com
) is a division of BigDates Solutions, a private company that provides consumers with unique, personalized services for any holiday or occasion. Greeting Card Universe is the world's largest paper greeting card store, offering an unlimited selection of custom greeting cards, birthday greeting cards, photo cards, invitations, and note cards. BigDates Solutions is the leading provider of Online Reminder Service Solutions, powering gift-reminder services, including 1800Flowers.com and FTD.com. The company is also the owner of Birthday Calendar, a Facebook application with over 42 million installs.
Contact: Mindy Rosso-Gaemi Mindy.Rosso@bigdates.com