To succeed with social media, healthcare marketers must understand existing and future trends. Several reports were released last month which analyzed internet and social media data from 2014; these provide key insights on how to leverage social media to support your healthcare marketing. In today's article I will draw on research collated from Global Web Index, Pew Research Center and We Are Social to determine what this means for your healthcare social media marketing in 2015.
Numbers at a Glance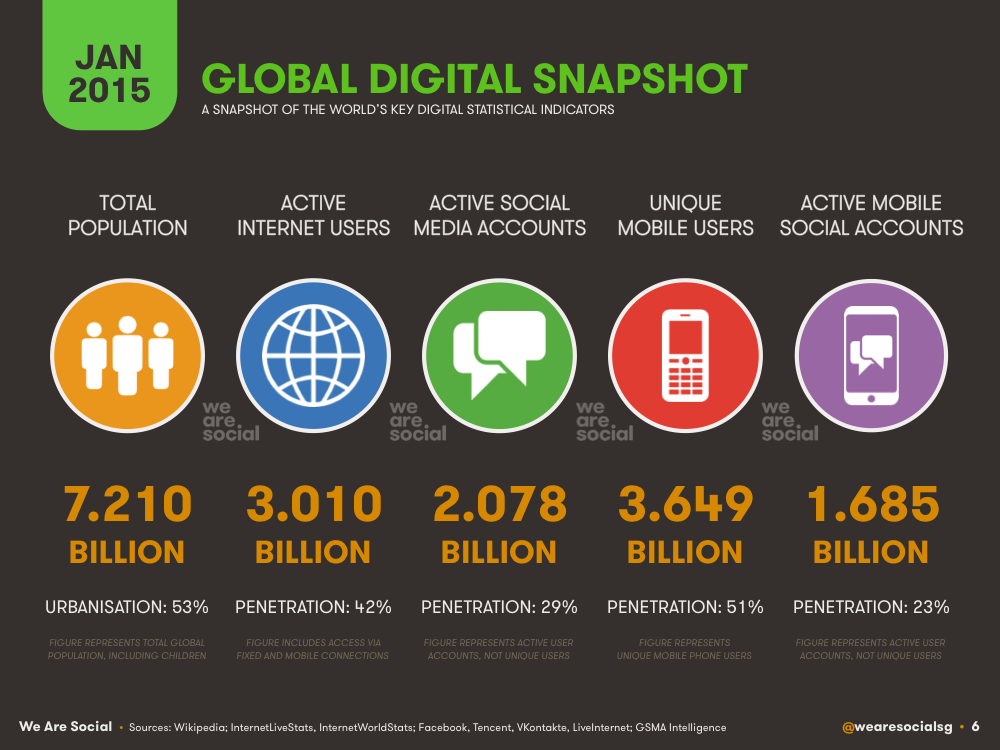 The number of global internet users passed 3 billion, while worldwide social media users exceeded 2 billion in 2014.
Mobile's share of global web traffic leapt 39% since the same time last year, with one-third of all web pages now served to mobile phones.
Almost 42% of the world's population has access to the internet in January 2015, representing a significant jump in reported numbers since last year's report, when the same figure was just 35%.
The average internet user spends around 4 hours and 25 minutes using the net each day.
The average social media user spends 2 hours and 25 minutes per day using social networks. 
The Internet is playing a more important role. You may need to ask to update a stat to 2020 to make sure data is up-to-date.
Key Findings
Facebook Dominates Social Media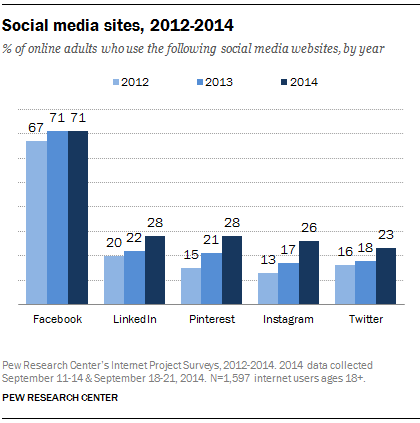 Facebook continues to dominate the global social media landscape, claiming 1.366 billion active users in January 2015. Nearly 1.4 billion people around the world use Facebook every month; 890 million people visit it daily.
71% of US Internet users are on Facebook
70% of Facebook users engage daily with the social network
45% of Facebook users engage with the social network several times a day
Take Action: Facebook is an important element of your healthcare social media strategy because of its reach; if you haven't already set up a Facebook business page for your practice, do so now. Facebook's demographic is getting older; more than half of all online adults 65 and older use Facebook. This represents 31% of all seniors so tailor your content accordingly.  Consider using targeted Facebook advertising to reach key demographics.
Twitter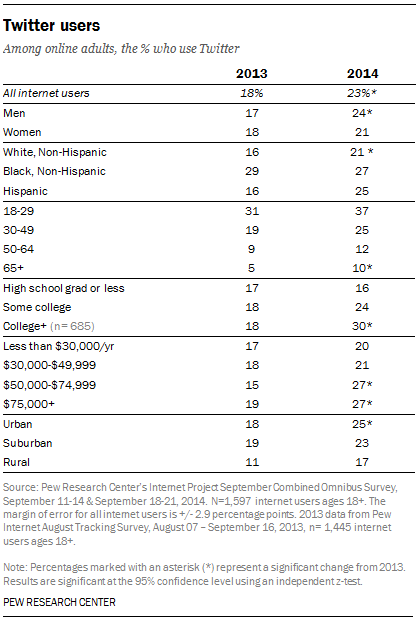 Twitter now claims 284 million active users around the world, demonstrating steady growth. Twitter is particularly popular among those under 50, college-educated, and urbanites.
Take Action: The beauty of Twitter lies in its simplicity and speed of delivery which facilitates the dynamic sharing of ideas and collaboration in healthcare. Doctors, nurses, health researchers and patients are using the social network to educate and build a global healthcare community. While there is undoubtedly a lot of noise in the constant stream of tweets (every second, on average, a staggering 6,000 tweets are tweeted), Twitter can be better managed by using some tools and techniques to tame it. Read this guide to healthcare tweeting to learn more.
LinkedIn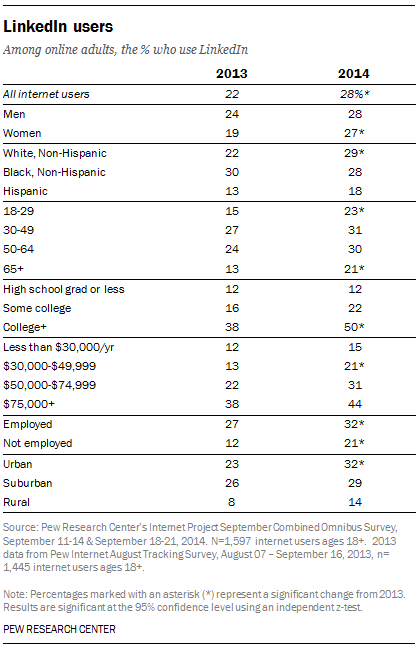 28% of online adults are LinkedIn users, up from 22% in August 2013. College graduates continue to dominate use of the site.
Take Action: Optimize your profile with relevant keywords so that you will show up in search results. Start publishing content on LinkedIn Pulse.
Mobile Usage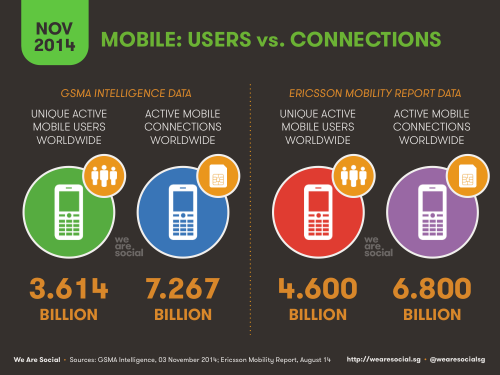 Mobile is no longer a secondary channel; it's fast becoming a first-choice, and this trend is set to grow in 2015; mobile app usage grew by a staggering 76% in 2014. Almost half of Facebook's 1.89 billion mobile users now check the social network exclusively on their phones and tablets. India's web traffic is dominated by mobile devices, with phones alone accounting for 72% of all web pages served in the world's second most populous nation.
Take Action: If your website isn't optimized to be viewed on a mobile phone, now is the time to make changes. We already know that Google penalizes sites that are not mobile friendly and in November 2014 Google announced that it is experimenting with giving sites a mobile friendly label which will boost the site's Google ranking. It is going to be critical for businesses to optimize their mobile site for SEO so they can rank well on Google.
Get Appy
With the growth of mobile, more users are turning to apps for on-the-go access to social media. The highly visual Pinterest and Instagram apps are among the top five apps in use.
42% of Pinterest users are female
49% of Instagram users visit the platform daily
Take Action: Create your own infographics. Infographics are valuable tools for healthcare providers to present complex information, educate patients, and brand and market a healthcare service in a creative and visually attractive way.  Use Instagram to share photos of your conference and events. Host photo contests, for example ask people to post their pictures of healthy eating. Use a hashtag to link the images.
Multi-Platform Use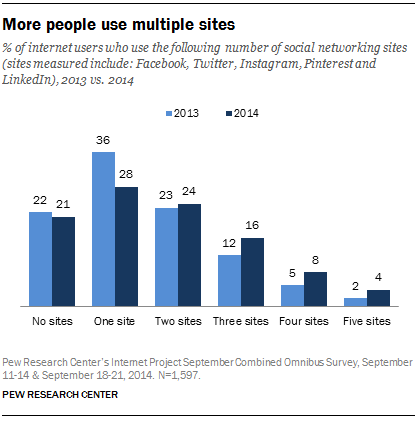 The number of online adults who use more than one social media site is on the rise. 52% of online adults now use two or more social media sites, a significant increase from 2013, when it stood at 42% of internet users.
Take Action: Identify where your key audiences are most active and devise a strategy for multi-platform use. Be mindful to tailor content to each site's audience whch differs from platform to platform.
Conclusion
As the Internet increasingly becomes the medium of choice for researching health information, social media has become an important channel for connecting with patients and disseminating and expanding the reach of healthcare information. Using these insights you can guide your social media activity to achieve your healthcare marketing goals in 2015.