The Evolution of the Medical Director
As healthcare continues to change, so do some of the roles within the industry, but no role has perhaps experienced a shift quite as significant as the Medical Director.

The Evolution of the Medical Director
As healthcare continues to change, so do some of the roles within the industry, but no role has perhaps experienced a shift quite as significant as the Medical Director. This position has taken on a dramatic evolutionary shift in responsibility and scope due to the rise of Managed Care Organizations and Accountable Care Organizations, coupled with healthcare reform and an industry which is now focused on efficiently driven quality care.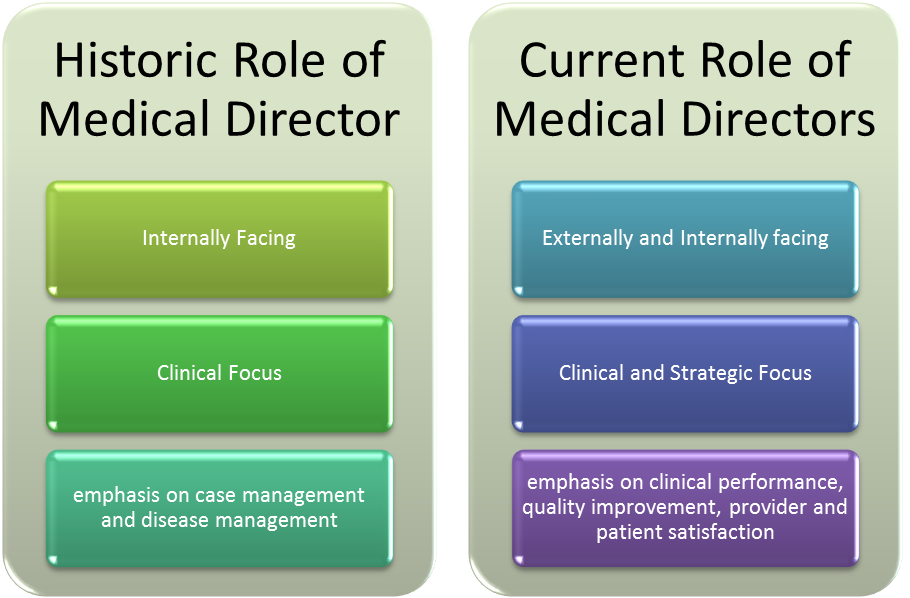 Clinical Scope and Direction Replaced By Global Organizational Perspectives
One could state that the clinical emphasis of the position of Medical Director is a thing of the past, and that today's Medical Director needs to embody a newly rounded individual who is not singularly focused on clinical decision making and policy creation, but really is a leadership bridge and driver across multiple aspects of the organization, including: Clinical Areas, Financial Departments, Quality Improvement groups, and Provider Networks. The Medical Director is often the organization bridge who has a high level of knowledge and understanding about all departments as well as patients and providers, and is able to synthesize this information and connect it to make it meaningful from a management perspective. The type of leadership required of today's Medical Directors necessitates that they be "financially, politically, and clinically savvy" states Stephen J. Kratz, a member of the American College of Physician Executives.
Politically- The Medical Director needs to know how to navigate complex situations and work with varying groups of people to design, discover, and successfully implement solutions for organizations.
Financially- The Medical Director can no longer focus solely on clinical direction, but must ensure that they are advocating for Clinical Policies that drive the best outcomes through efficiency, and they must understand the financial impact on the organization. This also creates the need for a Financially savvy Medical Director who is in touch with the financial perspective of the organization and is able to conduct basis balance sheet and cash flow analysis ensuring that the organization is aligning their clinical approach with their financial goals
Clinically- The Medical Director will continue to shape clinical policy within the organization, but now must do so from a standpoint that simultaneously achieves great results for the patient, but accomplishes this in a fiscally responsible manner. They must understand utilization and the denial process of their organization, and also must be well versed in the legalities of care provided in a MCO/ACO environment
Characteristics of Success:
With a significant shift in the role it is becoming a challenge for organizations to find a Medical Director who contains the required characteristics for success. According to Stephen Kratz in an article entitled "The Changing Roles of Medical Directors" there are five crucial areas that can predict the success of a Medical Director which are: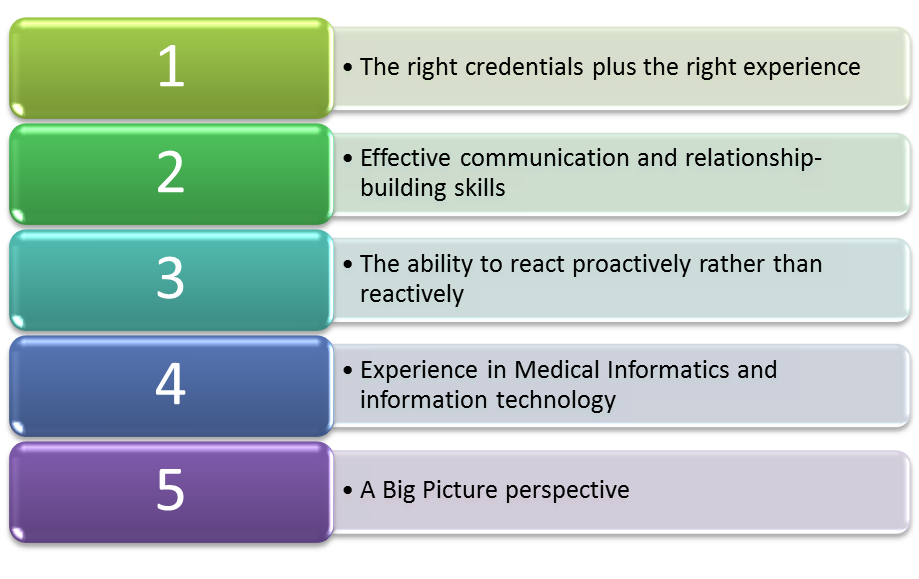 Examining the 5 Key Characteristics
1- The right Credentials Plus the right experience
No longer does it suffice to have someone with the appropriate credentials. Today's Medical Directors must possess leadership qualities and have experience in the management arena. Kratz recommends the following:
Medical Directors should have formal management training

Medical Directors should understand the business side of organizations and be able to communicate effectively with financial stakeholders
Candidates should ideally have an MBA, MHA, or MMM degree in combination with a Medical degree and board certification
Hands on proven leadership abilities
2- Effective Communication and Relationship Building Skills
The Medical Director is a face forward representative of the organization, driving quality, implementing solutions, and obtaining buy in both internally and externally for organizational policies. As such, the Medical Director can be viewed as a clinical diplomat that not only brings together different departments within an organization, but also communicates with patients, providers, and other stakeholders. To accomplish this, the most successful Medical Directors are able to:
Communicate clearly to vastly different audiences (when addressing financial stakeholders, and when advocating at patient groups it is essential that the Medical Director be able to get their point across in a positive way and effectively address the concerns of these groups)

Nurture and build strong relationships
Influence others positively through leadership skills and provotion of increased understanding
Remain up to date with technology so that their message can be communicated through a variety of Media
Provide ongoing education internally and externally to ensure alignment of organizational objectives, and communication of these goals
3- The ability to react proactively versus re-actively
The onset of MCOs and ACOs have put many organizations "at risk" from a financial perspective and it is more important than ever that the Medical Director have a good feel for the clinical and financial pulse of the organization to ensure that areas of concern can be addressed proactively. This means that the Medical Director should be increasingly focused on management through meaningful data to identify organizational trends early.
Operational Responsibilities and Medical Expertise should be integrated to provide solutions that work in the new healthcare environment

The Medical Director should have thorough knowledge of Standards of Practice, Contracts with the State and other entities, and financial bounds of agreements
Creative thinking and unique solutions that are backed by data and "best practice" standards should be incorporated into the problem solving set of the Medical Director
Data analysis and reporting will be important for trend identification to isolate opportunities and drive change early in the process
4- Expertise in medical informatics and information technology
A Medical Director will not be successful if they are unwilling to embrace and continue to stay abreast of technological advancements in healthcare. From EMH/EHR solutions to the necessity to base decision making on real-time reporting, the Medical Director is in a position to depend more heavily on knowledge than ever. Crucial capabilities include:
A high comfort level with new technology, and a willingness to continue to receive education to stay up to date regarding implementation and utilization of new tools
An understanding of reporting and analysis basics to ensure that they are capturing, reviewing, and basing decisions on "meaningful" data metrics
A strong knowledge of benchmarks for success in their organizational framework and how to use data to continuously drive quality improvement within the organization
5- A Big Picture Perspective
A Medical Director whose sole focus is on the Clinical, without taking into consideration the big picture of the organization will prove to be an ineffective leader and may not be able to drive efficiency in the way that many organizations demand. The most successful Medical Directors have the following:
A broad and deep understanding of the healthcare environment in general, and their healthcare delivery system in particular

A clear understanding of the financial impact of clinical decisions and how quality can be driven by providing the right care at the right time
Regulatory and Accreditation Standards that are essential to quality performance of the organization
delivery system trends, healthcare reform, and healthcare integration
Understanding the Future
Though the role of the Medical Director is changing, this new breed of leader is poised to be more qualified, more effective, and more efficient in the overall goals of providing superior care in a fiscally responsible manner. Those considering this leadership position will need to ensure that they are well rounded in the clinical, financial, management, and political aspects of the role, and training will be crucial as a driver of success for the emerging Medical Director. The Medical Director of the future will not merely be a bridge between the internal and external, but a hub of information that understands and applies big picture knowledge of an organization, coupled with technological expertise in a way that can drive meaningful change that is based on solid data.
image: healthcarebusiness/shutterstock