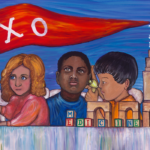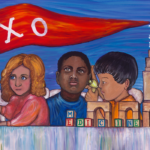 I had the great good fortune of being tagged as an ePatient Scholar for the 2013 edition of Stanford Medicine X. That allowed me to sit at the feet – literally, since the ePatients were the mosh-pit for the three day conference plenary stage – of some of the best and brightest minds in healthcare. And guess what? Many of those best/brightest were … PATIENTS.
MedicineX is the uber Patients Included medical conference. It grew from seeds planted at conferences like Health 2.0 and Patients 2.0, for which seeds-to-beautiful-flowers gardener credit goes to Dr. Larry Chu and his team from Stanford Anesthesiology AIM Lab, who seem to prestidigitate rabbits out of hats without breaking a sweat. Or the hats. Or the rabbits. MedX – in my opinion, at least – trumps every other Patients Included event by not just including patients, but by putting them front and center throughout the program. In fact, I cannot think of a session that I attended that didn't have someone who was there primarily as a customer of healthcare (commonly called "a patient") on the platform, presenting or participating in a panel discussion.
My ePatient socks were knocked off from jump thanks to the opening keynote by Michael Seres and Marion O'Connor on "The New Engaged Patient," which was the opening keynote on Friday. Michael uses his blog as his personal health record, up to and through a lifetime battle with Crohn's disease that led to his becoming the 11th patient to ever receive a bowel transplant, and only the 6th to survive that transplant experience. Michael is hilarious, and Marion is exactly the sort of caring brainiac any patient would like bedside as s/he battled a life-threatening illness. MedX hasn't put the video of that session up on their YouTube channel yet, but keep an eye out for it. The rest of the day played out as a firehose of ePatient awesome, including the first presenter to bring me to tears: Sara Riggare, a brilliant woman who is, among many other things, an engineer and a Parkinson's patient.
During the panel discussion on "The Self-Tracking Patient," and my (somewhat sobby) conversation with Sara afterward, was when I fully realized, even though I'd talked about it last year on one of my blogs, that I had been born an ePatient. Well, maybe not born, but them that brung me into the world also brought me to ePatient-cy. I felt my late father, whose Parkinson's laid him low, and then to rest, over 10 years ago, standing by me as I listened to Sara talk about her own self-tracking and self-advocacy.
My dad was a warrior – literally, a US Navy fighter pilot – and brought that warrior spirit to his battle with Parkinson's. I'd like to think that Big Mike would be proud of the work I do today to bring sense, and sensibility, to the most human of all sciences: medicine.
The Friday sessions ended with a "What If Healthcare …" panel discussion, conveniently tagged for the Twitter-verse as #whatifhc (click that link for a Symplur transcript of the conversation as it unfolded live). This session is the only one that pressed my buttons in a not-good way, and here's why: there were a group of white-dude brainiacs, and one not-a-white-dude, on that panel. Don't get me wrong, I like white dudes. Hell, I've married two of 'em (NOT at the same time!). But I found it sort of anachronistic that, as the "dream big" panel on the first day of a Patients Included medical conference on the campus of a major medical school (Stanford Med), the participants on that panel were so very white-dude, with the notable exception of healthcare artist/activist Regina Holliday. Regina herself mentioned the very-not-diverse makeup of the panel during the session. I made the observation on Twitter, as I listened to the panel's conversation, that healthcare in the US is a great wealth-transfer system … but as a health-transfer system? Not so much. Here's the first-look video of the session via the MedX YouTube channel: Saturday opened with something for which I was utterly unprepared: hearing first-hand about the project that won the 2012 Intel ISEF Prize. Jack Andraka is the 16 year old kid from Baltimore who, at 13, decided that not having a reliable early-detection test for pancreatic cancer was a terrible thing. He resolved to create that test … and he did. It's been patented in the US, and is in the process of being patented globally. Here's the first-look video of his hilarious and inspiring call to action for open science: Frankly, I count hearing that talk, and meeting Jack later that day at the MedX reception on the Dean's Lawn, as the highest high point of my MedX experience. I told Jack that I couldn't wait to see what he did next, but that even if he decided to rest on his uber-science-geek laurels with his mesothelin discovery, he'd given a gift to humanity unlike any other since Jonas Salk. Visit his website to keep track of this approachable, funny, huge-hearted young man who has the mind of a god. The other big high of my MedX time was finally – FINALLY – being in the room with all three of the women who birthed #BCSM, one of the most powerful healthcare communities on Twitter. My ePatient journey may have been started by the voyage with my parents through their health issues, but it was forged into hardened steel by my own breast cancer experience. Connecting with Alicia Staley was one of the things that helped turn my book, Cancer for Christmas, into an Amazon bestseller in '09. I spent much of the conference touching base with the #BCSM crew, who were in attendance in force at MedX. It was #BCSM Summer Camp! The conference closed on Sunday with a keynote by Vinod Khosla, "2025: 20% Doctor Included?" Khosla's viewpoint – which I share – is that technology will provide more reliable and efficient diagnostic tools, removing the mis-diagnosis risk that leads to most medical errors. He also stated that transformation of the healthcare system will not happen from within. Khosla backed up his positions with evidence, and I was nodding so hard in agreement I risked whiplash. It was the perfect close for the epic firehose of forward-thinking that was MedX 2013. Here's the first-look video of Khosla's talk: What will I remember most about my MedX experience? I've listed some of it above, but even as I write this post I realize how much more mental food was served up during those three days. There were the conversations that happened over coffee, during lunch, with a frosty beverage in the Sheraton bar. I met people I'd known online for years, but had not had the opportunity to hug and thank for the impact they'd had on my life until MedX put us in the same room. The Honor Roll there (in totally random order):
The list of people who I had not known before MedX, and who literally blew me away with their heart and insight? Here's another random list:
And the amazeballs of awesome that is Zöe Chu: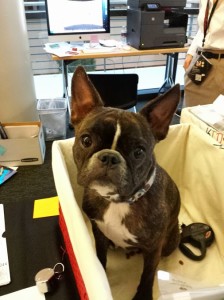 What did I learn at MedX? I learned that there's hope. Hope for healthcare, hope for humanity, and hope for every single person who winds up a patient (and hey, we're all patients, right?). The key is that medicine is a team sport. It requires the full participation of everyone in every health-related transaction. So pick up your ball, and let's play together, shall we?