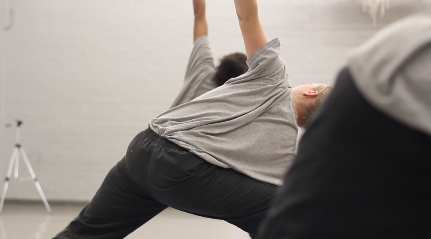 UpRising Yoga at Central Juvenile Hall in Los Angeles
(Editor's Note: Another excellent exclusive from our Person-Centered HealthCare contributor, Jennie Bragg!)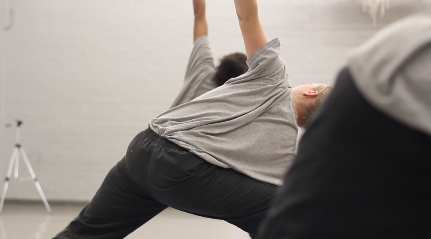 UpRising Yoga at Central Juvenile Hall in Los Angeles
(Editor's Note: Another excellent exclusive from our Person-Centered HealthCare contributor, Jennie Bragg!)
"Breathe in. Breathe out," instructs Jill Weiss, a seasoned yoga instructor in Los Angeles. While the words and the postures remain the same, this Hatha yoga class is a bit different from many of the classes Weiss instructs. Instead of spandex-clad regulars, before her stand six novice yoginis in grey jumpsuits. Tonight, we are in the Alpha ward at LA's Central Juvenile Hall.
Weiss is the founder and director of UpRising Yoga, a program that brings yoga to at risk youth and communities that need it most. She feels a deep personal connection to these girls- a connection most evident when she explains to them that she, too, spent time in Central Juvenile Hall. Yoga, she tells them, made her feel like a whole person. When asked why bring yoga to these adolescents, Weiss simply explains, "We are there to heal trauma. If you are arrested, there is trauma."
But what is trauma? According to the Substance Abuse and Mental Health Services Administration, an agency within the U.S. Department of Health and Human Services, "Individual trauma results from an event, series of events, or set of circumstances that is experienced by an individual as physically or emotionally harmful or threatening and that has lasting adverse effects on the individual's functioning and physical, social, emotional, or spiritual well-being."
Kyra Haglund, a somatic psychotherapist and yoga teacher specializing in trauma, suggests that yoga causes a physiological shift in one's internal space. This usually lowers levels of cortisol, which cause stress. This kind of shift can also increase serotonin and dopamine, which are the feel good hormones.
Since November 2011, UpRising Yoga has reached upwards of 800 adolescents in Central Juvenile Hall alone. Just seven months after the yoga program was implemented, probation officers stated that no violent incidents had been reported.
A former student testified, "this yoga program really helps me with my temper. Every time I get angry I think of the things the yoga instructors showed me and I use it to calm myself down."
Another student told Weiss she liked the feeling yoga gave her so much, when she was released from Juvenile Hall, she planned to quit smoking marijuana and start doing yoga instead.
Yoga has been proven effective for all sorts of trauma, not just the trauma surrounding arrests. Haglund, has worked with victims of trauma ranging from physical and sexual abuse, to those recovering from the scars of war and car accidents, to those with distress from foster care, racism, gangs and economic status.
"Great transformation comes from intense pain," says Haglund. "When you are suffering and in that much pain, people will try pretty much anything just to make themselves feel a little better. In extreme circumstances, people become more receptive to trying new things"
Trauma-sensitive classes are often taught a bit differently than a standard yoga class. Teachers respect physical boundaries, making sure not to touch students who may not want to be touched. And instead of giving commands, the teacher asks permission. "Trauma makes you powerless in your ability to resolve a situation," says Haglund. "Giving someone the opportunity and permission to choose what they do is actually really reparative and establishes some trust between teacher and student"
As a person begins to learn yoga postures, they become more attuned to their body and, often, the stress of trauma slips away. "The postures change when there is more coherence in the muscle," explains Haglund. "Depressed people start to stand a little taller. I have listened to people's voices change. At first they are anxious, babbling, high pitched. After the yoga, they become calmer and drop into a more grounded or lower tone."
It can be difficult to get someone who has suffered a trauma to be open to the idea of freeing his or her body. "But people of all different experiences and backgrounds find the benefits and find the good in yoga," says Haglund. "I have watched my students come back to life. I have watched them expand their capacity to be in the world."
If you like this post, please read other posts in the series on the Person-Centered HealthCare main page. And if you have a story to tell that may be a fit with our series, please comment below or email me at joan@socialmediatoday.com
photo: courtesy Andrew Veis