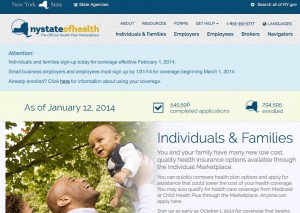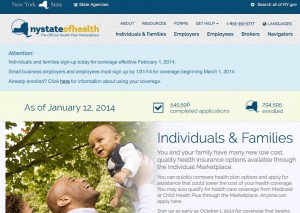 SUMMARY: We were surprised by the companies New Yorkers chose for their insurance providers under the Affordable Care Act. New York state residents, like others in states that built their own health-care exchanges, are signing up for health care under the Affordable Care Act in bigger numbers than those in states dependent on the botched healthcare.gov, the federal exchange. Beyond that, there are a few other surprises.
Here are a few paragraphs from a news release on the 230,000 New Yorkers who had signed up by Dec. 24, 2013:
"Each of the 16 health plans offering coverage through NY State of Health enrolled members into Qualified Health Plans (QHP). Six plans each enrolled 10 percent or more: Empire (18%), Health Republic (16%), Fidelis (14%), Emblem (12%), MetroPlus (11%), and MVP (10%). Six percent of enrollees are enrolled in Excellus, and the remaining 13 percent of enrollees were spread across nine issuers, each of which enrolled one to two percent of QHP enrollees," according to the press release.
I'm surprised by this; I expected Oscar, the new insurance company founded by the serial entrepreneur Josh Kushner on millions in venture capital money, to have cleaned up in enrollments. If they enrolled 2 percent of the total of 230,000, that's 4,600 enrollees.
A New York State official said he and his colleagues weren't surprised; he added that the actual enrollments were pretty much in line with what officials had projected. Consolidation in the industry is expected over the next year, he added.
Enrollment by age: New York was ahead of the nationwide average of under-35′s. That's important, experts say, because younger people tend to have fewer health problems, and getting them to enroll broadens the pool of risk for insurers among people with a lot of health needs and people with few needs.
"Marketplace enrollees include a mix of New Yorkers across all age groups. Approximately 30 percent of New Yorkers enrolled in a Qualified Health Plan are under the age of 35, 16 percent are between ages 35 and 44, 23 percent between ages 45-54, and 31 percent are over the age of 55," according to the press release.
Nationwide, according to The New York Times, "Of those who signed up in the first three months, administration officials said, 55 percent are age 45 to 64. Only 24 percent of those choosing a health insurance plan are 18 to 34, a group that is usually healthier and needs fewer costly medical services. People 55 to 64 — the range just below the age at which people qualify for Medicare — represented the largest group, at 33 percent."
Other odds and ends:
New York State percentage of uninsured enrollees: "A total of 152,249 individuals enrolled in QHPs [qualified health plans] through December 24, 2013. Within that group, 67,225 individuals (44 percent) were uninsured at the time of their application. The others who enrolled in QHPs had insurance previously."
New York State financial assistance: "Many individuals and families are eligible for financial assistance to reduce the cost of coverage purchased through the Marketplace. Of those who have enrolled in qualified health plans, 68 percent have enrolled with financial assistance and 32 percent are paying the full premium."
Here's an amazing interactive graphic from The New York Times team on nationwide enrollments, both federal and state.