I am getting ready for the Walking Gallery gathering in Kansas City, and I thought you might like to see where our Walkers live. I gathered this data using LinkedIn, facebook and twitter so if you see any locations that are out of date or incorrect please let me know in the comment field and I will correct them.
That being said based on current information we have no walkers in 22 states in theUS. I say let's change that! So if you know folks who should join us in the states listed below, please let me know.
There are currently 28 jacket in my to-do pile and hopefully some of them will be from states that do not have walkers, but if you know of excellent walkers or potential gallery artists please send them my way!
Also we only have walkers in 6 countries right now; I bet we can improve on that.
Please keep donating to the
Walking Gallery on Medstartr,
that money will fund patient attendees to The Walking Gallery gathering in Kansas City and support continued spread of this worthy advocacy!
The artists of the gallery:
1. Regina Holliday 159 jackets
2. Isaac Holliday 6 yrs, 1 jacket
3. Becca Price, 1 jacket
4. Miriam Cutelis, 1 jacket
5. Ess Lipczenko, 1 jacket
6. Ben Merrion 1 jacket
7. Courtney Mazza 4 jackets
8. Michele Banks 1 jacket
9. Megan Mitchell 15 yrs 1 jacket
10. Robert J. Filley 3 jackets
11. Anita Samarth 1 jacket
12. Mary Welch Higgins 2 jackets
13. Richard Sachs 1 jacket
14. Jonah Daniel 5yrs 1 jacket
15. Fred Trotter 1 jacket
16. Leela 7yrs 1 jacket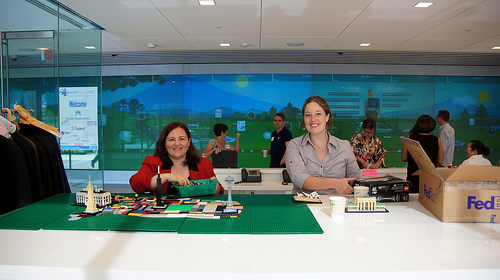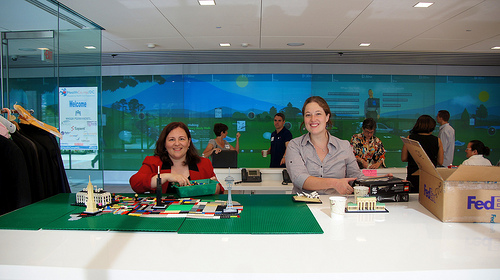 Australia
Heather Leslie, Melbourne
Louise Schaper, Melbourne
Sam Bruinewoud, Melbourne
Carolyn Der Vartanian
,Sydney, NSW
Michelle F Davis,Sydney, NSW
Lissa Smith,Sydney, NSW
Sanya Turalj, Sydney, NSW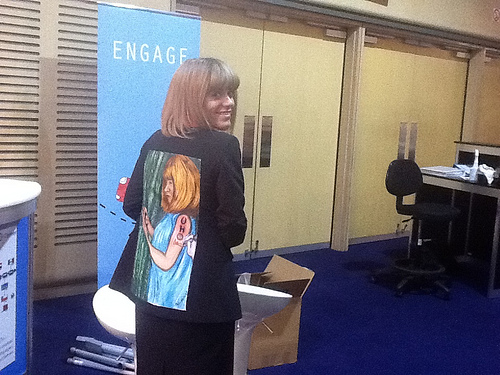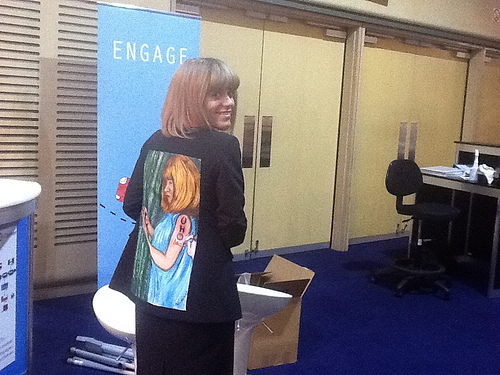 Canada
Collin Hung,Toronto
Colleen Young,Winnipeg
Greece
France
Senegal
Kevin Ado
United States of America: Districts/Commonwealths and Territories
Al Nikolai Kirienko-Berkley
Alan Greene,San Francisco
Matthew Holt,San Francisco
Katherine Arbansin,San Francisco
Karen Herzog,San Francisco
Manny Hernandez
,San Francisco
Danielle Cass, San Francisco
Roni Zeiger, San Francisco
Amy Tenderich, SanFrancisco
Julia Hallisy, San Francisco
Alex Albin,Monterey
Christian Liu,Los Angeles
Matthew Listiak,Los Angeles
Gregg Masters,San Diego
Katerina Jackson-Suchkova, San Diego
Charles Denham, Palo Alto
Kathy Nicholls,Pueblo
Ben Miller,Denver
Valarie Barnes
Ann Bartlett
Siobhan Champ-Blackwell
Jodi Daniel
Jonah Daniel
Ladd Everitt
Lisa Emrich
Ted Eytan
Robert Filey
Susannah Fox
Marsha Goodman-Wood
David Hale
Mary Welch Higgins
Isaac Holliday
Freddie Holliday
ReginaHolliday
Linsey Hoggle
Alisa Hughley
Nicole Kemper
Morgan Stanley-Kominers
Christine Kraft
Marilyn Langfeld
Howard Liebers
Kym Martin
Ross Martin
Courtney Mazza
Robin Miles-Mclean
Ben Merrion
Megan Mitchell
John O'Brien
Todd Park
Elizabeth Prevou
Anita Samarth
Mary Anne Sterling
Marie-Michelle Strah
Lygeia Ricciardi
Leela
Kait B. Roe
Liz Sherer
Chris Timm
Cindy Throop
Carol Torgan
Melinda Whatman
Claudia Williams
Trenor Williams
Eunita Winkey
William Wolf
Whitney Zatzkin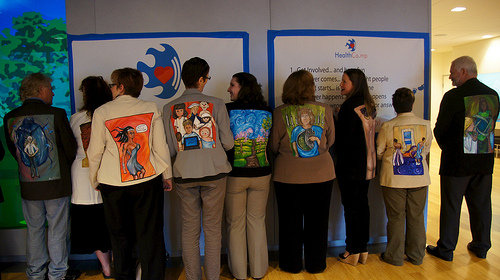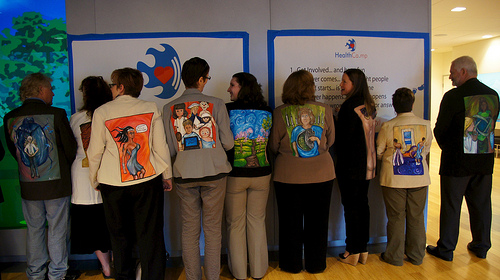 Chiara Bell, Orlando
Carolyn Capern, Orlando
Donna Scott,Atlanta
Michael Millenson, Chicago
Karen Curtiss, Chicago
Amanda Michelle Jones, Chicago
JoAnn Klinedinst, Chicago
Michele Behme,Indianapolis
Andrea Littlefield,Bangor
Maumi JC Chatterton, Baltimore
Mark Scrimshire, Baltimore
Dennis Wagner, Baltimore
Keith Boone,Boston
Abigail Boone,Boston
Alex Drane,Boston
Nate Osit,Boston
Janice McCallum,Boston
David Harlow,Boston
Dave deBronkart,Boston
John Kruger,Boston
Don Fluckinger,Boston
Gary Oftedahl,Minneapolis
Gail Zahtz, Minneappolis
Victor Montori,Rochester
Joe Ketcherside:Kansas City
Tobias Gilk,Kansas City
David Sides,Kansas City
Clay Patterson,Kansas City
Kourtney Govro,KansasCity
Jen McCabe,Las Vegas
Ileana Balcu,Woodbridge
John Phelan,Princeton
Trisha Torrey, Baldwinsville
WenDombrowski,NY
Matthew Browning, NY
Tiffany Petterson, NY
Jason Bhan, NY
Alex Fair, NY
Dale Ann Micalizzi,Schenectady
Richard Payne,Durham
Lisa Fields, Greensborro
Sarah E. Kucharski, Canton
Liza Sisler, Raleigh-Durham
Andre Blackman, Raleigh-Durham
Sunnie Southern,Cincinnati
Lizzie Dunklee,Eugene
Brian Ahier,Portland
Sue Woods,Portland
David Lee Scher,Harrisburg
Jenny Pettit,Philadelphia
Jane Sarasohn-Kahn
,Philadelphia
Koreen Olbrish
,Philadelphia
Teresa Younkin,Scranton
Pat Mastors,Providence
Helen Haskell,Columbia
Linda Stotsky,Nashville
Fred trotter, Houston
Joleen Chambers, Dallas
Laura Slayton,Austin
Michelle Litchman
,Salt lake City
Casey Quinlan-Richmond
David Collins,Richmond
Richard Upton,Richmond
Angela Lynn- Charlottesville
Heidi Sitcov, Springfield
Wendy Sue Swanson, Seattle
Sherry Reynolds, Seattle