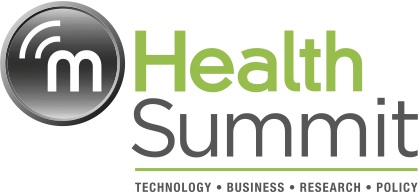 Day 2 at the Summit. Fascinating, exciting and innovative companies exhibiting here at the Summit conference – here are just a few of the amazing exhibitors: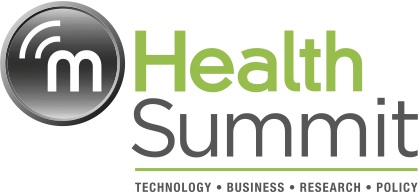 Day 2 at the Summit. Fascinating, exciting and innovative companies exhibiting here at the Summit conference – here are just a few of the amazing exhibitors:
Remote Patient Monitoring
I went to the Fierce Health breakfast meeting and listened to a great panel discussion on Remote Patient Monitoring. Thoughts were that monitoring must be easy to use, interoperable and HIPAA compliant. Data must be customized and screened and able to be accessed remotely. Alerts must be given if necessary.
eCaring and CareTracker and CareManager- Really very cool extremely user-friendly color-coded icon-equipped, cloud-based patient diary including vital signs, intake and output, mood evaluation, incidents, etc. that can then be sent to providers in a separate format that organizes the data. Stay tuned for a separate video post on eCaring!
BeClose-Excellent sensor system for in-home monitoring. Motion sensors, bed and chair sensors, alert system and panic button pendant – all works on 3g – no internet required for set-up. Can be accessed online by out of town family or friends to check on their loved ones.
GeriJoy – Virtual doggie that can be petted and talked to – and that talks back! Perfect gift for Grandma for the holidays!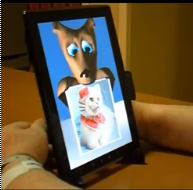 Fitness and Wellness Apps

Fitness and Wellness apps can help people maintain their health and guard against obesity and the onset of chronic health problems. Look at the chart below showing the increase in obesity from 1994 to 2009 (courtesy of the CDC via Jock Putney of WellFX). This is pretty appalling!

BodyMedia – This device is so cool that I bought one myself! It's a monitor that fits on your arm and tracks activity, exercise (rigorous and moderate), calorie intake (you have to input this), calorie balance (negative or positive) and sleep patterns. Christine Robins was gracious enough to let me record her product demonstration:
Transcript of Video (by TranscriptionStar)
Joan: Hello. This is Joan Justice from HealthWorks Collective, and I'm here with Christine Robins from Christine, what's your company's name again?
Christine: BodyMedia.
Joan: BodyMedia and Christine has a very interesting product here today. It's a gadget that monitors your calorie intake, your activity, your sleep patterns, your vigorous exercise, your not so vigorous exercise, and all sorts of other stuff, so Christine is going to give us the demonstration of the product. And okay Christine, why don't you talk about it.
Christine: Yeah thanks Joan. So yes we're a device that has a software application that allows you to see your data both on the web and on the mobile phone of Android and iPhone. And what makes us really different is the fact that we have a multi-sensor approach to our product. It is a product that's meant to be on the up — worn on the upper arm in contact with the skin. And these sensors are streaming about 5,000 data points in and off the body so it gives us a very clinically accurate, personalized assessment of you know as you said Joan your activity levels how much modern vigorous activity how many calories burnt, how efficient is your sleep, how much sleep are you really getting, all simply by putting it on your arm.
You don't have to do anything else, no buttons, no anything. We've been around for about 30 years. We actually started in the clinical research field in about three and half years ago brought that clinical accuracy and in our outcome studies to the consumer, so you can purchase our product at number of different retail channels like Amazon, Best Buy Target, Costco.com, or we have a number of very nice strategic partners like 24 Hour Fitness through their personal trainers Jenny Craig and their counselors as well as a number of health plans.
IdealLife – Blood Pressure Monitors, Scales, Glucometers, Pedometers all integrate into a cloud-based system that organizes data into a patient-friendly format (for patients and/or family) or a professional format (for doctors and/or other providers). Kiosk can be used for wellness programs. Video conferencing available with webcam-equipped tablet.
Passage – a new fitness app from Aetna that is not yet released will allow users to travel to different places around the world and work on their fitness while doing it.
iHealth – Blood Pressure Monitors and Body Analysis Scales that record weight, BMI, body fat, muscle mass, bone mass and visceral fat and automatically records the information securely (and posts a note in Evernote too).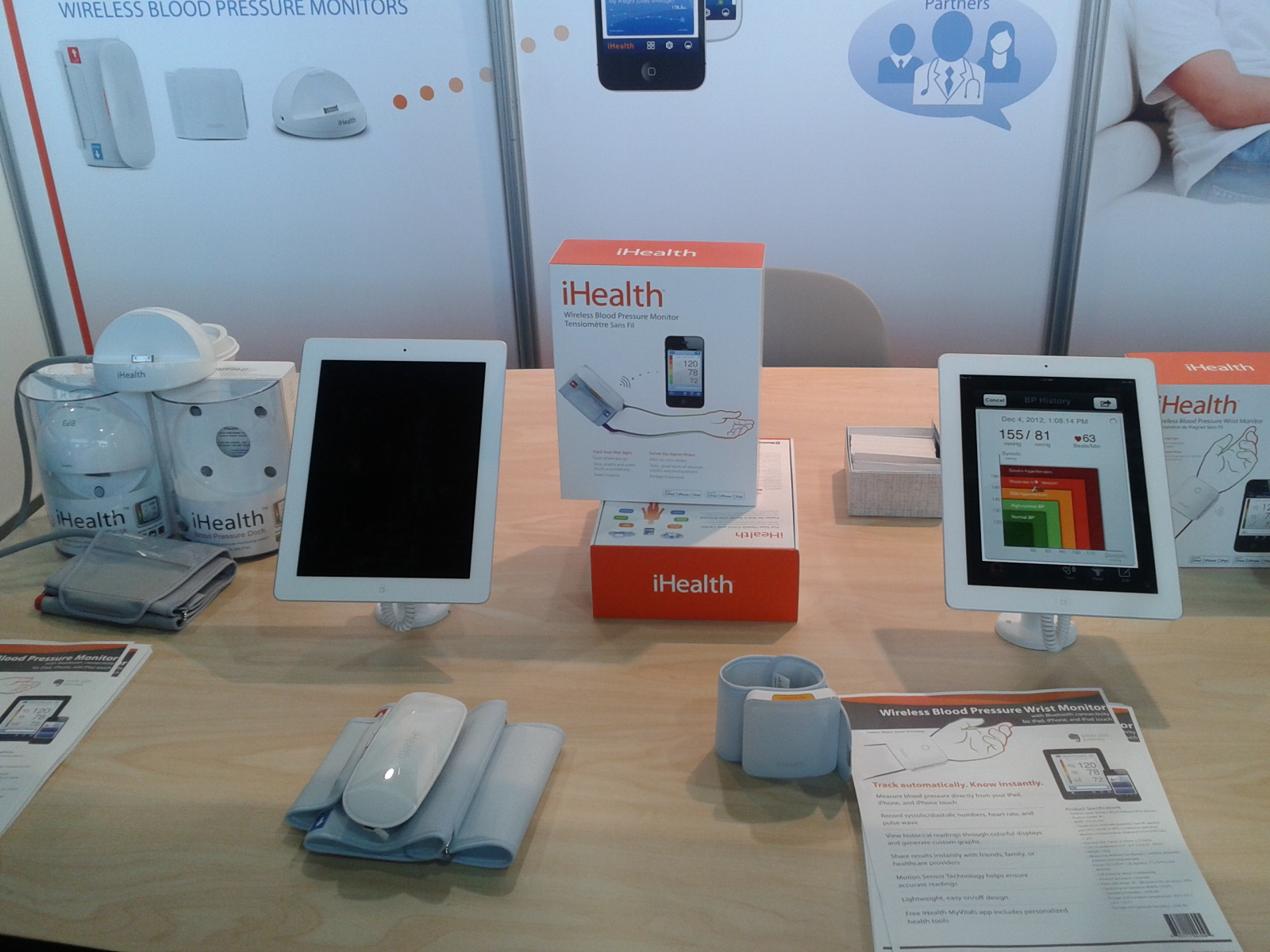 wHealthy Solutions – How to shop for foods that are healthy for you and your customized situation or illness. Foods are screened and rated according to an individual's illness or condition – pre-diabetes, diabetes 1 or 2, hypertension or obesity. Michael Segal, Co-Founder of wHealthy Solutions was kind enough to give me a video demonstration of the product – see below!
Video Transcript:
Joan Justice: Hallo this Joan Justice from Health Works Collective and I'm here at the mHealth summit meeting with Michael Segal from Wealthy Solutions who's is going to talk about an app to make you healthier while shopping. Okay Michael, tell us a little about the app.
Michael Segal: Okay so what we see in Wealthy Solutions is increase in chronic illnesses and health care expenses. We know that the talk on the US economy from obesity alone is $ 190 billion a year, and the economy of diabetics is around $ 170 billion. So it is now more important than ever to help people develop healthy habits, and the food smart application that I'm going to demonstrate to you today that's exactly that. So let's take a look at the typical shopping list of the US house hold which it titled breakfast 2012. So what you see are multiple items here on the list and if you look at one of the items more in detail, which is the fruit loop here. You see that needed in the recommendation is to avoid it and the reason why you want to avoid it, is because it has partially hydrogenated vegetable oil, it has yellow [sticks] [0:01:32] and [blue too] [0:01:36] that are unhealthy ingredients. Further more if we take a look at the product that is healthier such as the golden vegetable pancakes, what we see it is ranked at 89%. Now from the perspective of 78 million pre-diabetics in the US, the ranking is already only at 74% and if you look at the perspective of 60 million people suffering from hypertension, what you see all of a sudden that the ranking is now 24% and the reason being 210 milligrams of sodium, which is definitely not good idea for persons suffering from hypertension. So little by little we are helping people to develop healthy habits and migrate their shopping list to much healthier shopping list that you see here that is titled breakfast 2013.
Furthermore, with 170 million people using mobile devices, it is very important to enable people make healthy choices when they are shopping in the supermarket. So let's take a look using food smart mobile application running on iPhone in this case when we scan a product in the supermarket, we can immediately see all the information which you have seen on the screen for this product. So in this case the product is cashew trail mix, granola bars and it's relatively healthy ranked at 76% and indeed I want to add this product to my breakfast 2013 list. So the product is added to this list you see it here and then you also see the product being added and synchronized to my list on across all the different devices in this case the iPad. So in summary the mission statement of Wealthy Solutions is to enable people develop healthy habits and fight chronic illnesses by making smart nutritional choices anywhere any time. Thank you.
Joan Justice: Thank you so much Michael.
Patient Adherence
mMedPatent – The mMedPatent portfolio is a collection of 5 patents that can be used for remote medication management to increase patient adherence to prescribed medications. According to a recent Frost and Sullivan report, "Medication management remains an emerging, high-interest market in the telehealth industry due to the very high need for medication adherence." These patents can be licensed or mMedPatent will partner to develop a mobile medication management system.
Security and Privacy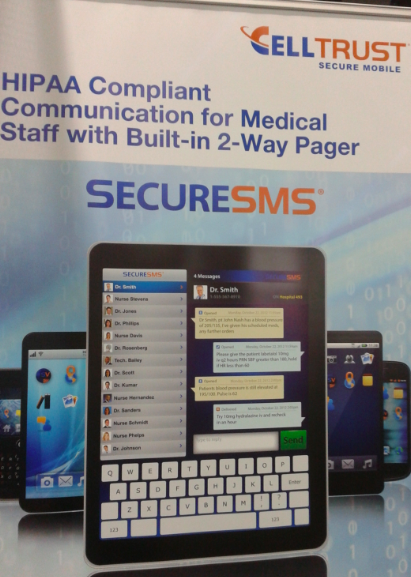 CellTrust – CellTrust is a leader in secure mobile communications and ensures HIPAA compliant information exchange on mobile devices to healthcare providers. CellTrust offers secure pagers that also allow text messages and the transfer of secure information. There are over 3.5 million pagers in use in the US in healthcare and the public sector. Many hospitals prefer to have employees use a hospital system rather than personal mobile devices.
CellTrust also offers SecureSMS which is an app that will work on iPhone and Droid to encrypt messages for use in healthcare settings.
Humetrix – Takes Blue Button technology and organizes it and categorizes it in an easily readable friendly format.
WellFX – Provider-directed community for patients to meet and share experiences while accessing provider created education and healthcare content. Because it's provider-directed, it's secure and information is moderated and screened by the provider. Patients can join groups and interact with other patients with the same illness or condition, and all interactions are secure and information is validated by the provider.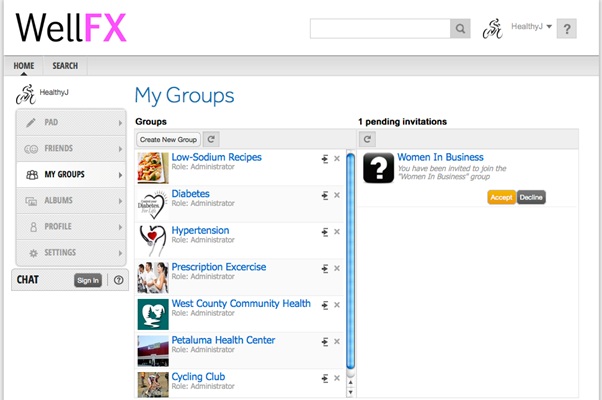 Incubators
Aging 2.0 – Aging 2.0 really doesn't "fit" into any specific category (and the 2 founders, Katy Fike and Stephen Johnston like it that way). Aging 2.0 is a network of innovators around the globe that focuses on the 50+ market. They have identified 4 main areas of focus: Connected Independence, Empowered Caregiving, Ageless Syle and Lifelong Wellness. Aging 2.0's online presence includes videos, reports and social media covering innovation around the world in the 50+ market. They have a growing database of over 1,000 innovators from more than 20 countries. I really enjoyed talking to these folks and don't hesitate to get in touch with them if you are interested in this market.
This was a tremendously great conference and I loved being here. Thanks to Bonnie Knight from HIMSS who did a fantastic job organizing and pulling off a wonderful conference!
Video transcript