With changing times, the healthcare sector is becoming more dynamic and adaptive and, most importantly, more people-centric. This is mainly because of the increasing global awareness among people and their rising demand for quality healthcare services.
Owing to this factor, healthcare institutions and practitioners are compelled to evolve their practices and processes and become more efficient, transparent, and accessible. This only goes to prove that people's mindsets are a highly influential factor with the capability to reshape the trends and paradigms of an entire industry. It is through this influence that healthcare institutions like clinics and hospitals are more patient-centric than ever before.
One of the most influential mindsets in this aspect is Generation Y, also popularly known as the millennials. Speaking factually, Millennials form the majority of the global adult population, accounting for as much as 23% of the total share.
Therefore, it is safe to say that the opinions of millennials is a major determining factor in how the healthcare sector will operate. This blog will provide complete information on ways in which millennials will change the healthcare sector and will influence its growth. Let's start the blog by understanding where exactly the healthcare sector stands at present.
The Current Position of the Healthcare Sector
The healthcare sector has faced tremendous growth and revolution in recent times and has become more efficient. Moreover, owing to the recent pandemic, the healthcare industry has witnessed a surge in demand that was never seen before. The 'high demand and low supply gap' is one of the major challenges that the industry continues to face.
The present-day healthcare institutions, as well as physicians, are aware of the increasing demand for their services and of the rising need for quality healthcare. In order to meet this demand, the industry is adopting more innovative and patient-friendly approaches. This includes utilizing technology, increasing transparency, and a lot more. 
Let's understand the critical role of millennials in the healthcare sector in the upcoming section.
Millennials & Healthcare

It is a commonly known fact that the preferences, likes, and dislikes of the millennial generation are highly different from their previous generations. In contrast to the older generations, which are Boomers and Gen X, the millennial generation is more reliant on things like technology and seeks convenience over convention.
One of the major impacts of these preferences is visible in the healthcare sector. It is a commonly known fact that millennials are more conscious of their health as compared to the older generation. This generation is more likely to notice signs of ill health and act upon it in an instance, in contrast to gen X and boomers who seek healthcare only when it is an utmost necessity.
Moreover, the behavior and attitude of millennials play a major role in influencing the direction and scope of different industries. The generation is more aware of what's going around them and is capable of going beyond their ways to change or influence trends and practices of numerous industries.
The Healthcare industry is no exception in this matter and has faced tremendous changes in its practices in order to comply with the demands of millennials. However, what exactly are these demands, and how are they impacting the healthcare sector? Let's find the answer to this question in the upcoming section.
Top 8 Millennial Healthcare Trends to Look For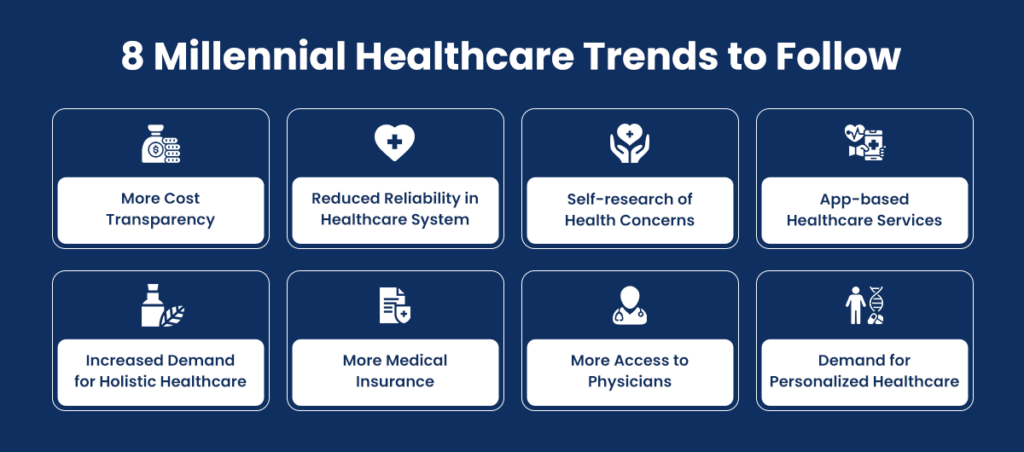 #1 More Cost Transparency
It is a commonly known fact that healthcare services are highly expensive, especially in countries like the USA. The high cost of healthcare services is one of the leading reasons for their limited accessibility. As a result, patients usually think twice before actually availing healthcare services.
Another major concern of the millennial generation is the transparency in the cost of healthcare services. Millennials prefer to receive cost estimations of their treatments before actually availing them. This enables them to check whether or not the treatment they are planning to avail fits their budget.
Moreover, millennials also use this information to compare the cost of healthcare services with different healthcare institutions. This enables them to determine which healthcare provider is the best fit for their requirements and optimize the cost of healthcare services.
#2 Reduced Reliability in Healthcare System
By now, we are sure you are aware of the fact that millennials are highly self-independent and rarely rely on external help. One of the best pieces of evidence of this statement is visible in the way in which millennials receive healthcare services.
To explain, millennials are less likely to rely on a healthcare service provider they are not satisfied with. Moreover, the generation is more likely to utilize its current knowledge and understanding of healthcare, owing to the increased awareness of healthcare concerns.
This is proven by the fact that a majority of the Gen Y population does not has a primary healthcare provider or a physician. As a result, for healthcare institutions to remain profitable, it is essential that they deliver services that are at par with the patient's requirements and meet their expectations in terms of quality and affordability.
#3 Self-research of Health Concerns
We discussed earlier that millennials are highly tech-savvy and are familiar with the latest technologies and their uses. One of the many ways in which millennials utilize this tech knowledge is in understanding healthcare at their own level.
This includes understanding healthcare concerns, their symptoms, possible treatment options, pathological examinations, etc. Overall, this information is useful for the patients to provide a primary medical prognosis that creates a foundation for further diagnosis by a physician.
This self-research of health concerns empowers the millennials and prevents them from being looted, which is often the case when patients are unaware of their health concerns. Moreover, based upon this understanding of healthcare concerns, the patients can also determine the severity of the disease and whether or not it requires professional attention.
This trend has majorly influenced the healthcare sector and has transformed it to an extent. Today, healthcare institutions are compelled to be more transparent about their treatments, as all the information is available to the patient within the blink of an eye via the internet.
#4 App-based Healthcare Services
The modern-day healthcare sector relies heavily on technology and technology-based solutions, like mobile applications, for optimal functioning. Mobile applications and healthcare have become a popular duo in recent times. This duo has revolutionized the healthcare sector for good and has made healthcare services more accessible and affordable for patients.
This is because a majority of millennials and various other generations prefer convenience, which is a need that mobile apps fulfill. These healthcare applications are a one-stop solution for patients and enable them to book an appointment and consult with physicians digitally, without any physical presence.
Resulting from this, numerous healthcare institutions like clinics and hospitals are investing in developing a doctor appointment booking app and are starting to offer their services digitally. This approach makes it possible for people to avail quality healthcare services by physicians from all across the globe.
Moreover, healthcare applications, when integrated with other advanced technologies, also make it possible for people to improve their quality of life. We will be discussing this topic in detail in the last section of the blog, so make sure to read until the end.
#5 Increased Demand for Holistic Healthcare
The idea of healthcare has shifted from diagnosing and treating illnesses and ailments to preventing them. The present-day generation, which is millennials, believes in preventing healthcare concerns instead of treating them when caused. For this reason, the healthcare sector has shifted from offering mere healthcare services to ones that improve the overall quality of life of their patients.
This is possible by adopting a holistic approach to healthcare, which focuses on different aspects of an individual's lifestyle and habits. Millennials believe that the idea of 'healthy is not ill' is obsolete and focus on creating a lifestyle that involves holistic healthcare practices like exercising regularly and having a healthy diet.
This non-traditional approach to healthcare is being widely adopted in the present time by not just millennials but also by Gen X, and Gen Z. This millennial healthcare trend is significantly contributing to reducing the pressure of the healthcare sector and is making healthcare simpler and easier.
#6 More Medical Insurance
Earlier, we discussed the increasing inflation in the healthcare sector, which is contributing to the limited availability of healthcare services. In this case, healthcare insurances come as a handy instrument that enables people to avail healthcare service without worrying about creating a hole in their pocket.
Millennials hold a crucial role in this aspect, as they are the largest generation at present. One of the latest millennial trends is to shop for healthcare insurance online. While purchasing medical insurance, millennials look for numerous factors like insurance cost, benefits, terms, etc.
Moreover, it is commonly known that this generation is easily inclined to less-costly insurance policies and will change their insurance provider in case they get a better deal at any time. Therefore, even though millennials generally hold a positive attitude toward medical insurance, the companies providing these benefits have to be competitive and offer the best deals for maximum customers and benefits.
#7 More Access to Physicians
It is commonly known that in traditional healthcare, the patient-physician interaction is limited to certain working hours that the healthcare professionals operate upon. However, this is often insufficient to meet the patient's demand from the healthcare service providers. Moreover, certain patients with more severe conditions require immediate healthcare attention in numerous unforeseen circumstances.
In this case, it is impossible for the healthcare sector to be considered 'efficient', as physicians fail to meet the demands of the patients with such limited working hours. This is one of the biggest concerns of Gen Y at present.
However, with changing times, the healthcare sector is becoming more 'available' to patients. The present-day physicians are ready to go a step further and stretch the availability of their services past their working hours.
Today, physicians are available for emergency consultations at any time of the day over phone calls. This enables the patients to manage medical emergencies with ease and receive high-quality healthcare services.
#8 Demand for Personalized Healthcare
It is commonly known that no two cases are the same, and therefore, so aren't their treatments. In this case, it is essential that patients receive personalized attention and treatment for their concerns for the best recovery. However, this objective is often challenging to achieve due to the tremendous demand for healthcare services.
Millennials, on the other hand, have been focusing on the quality as well as the customizability of the healthcare services they are receiving. To elaborate, millennials demand to be heard and counseled with compassion and empathy and be offered support, along with healthcare services.
Numerous healthcare institutions and physicians have acknowledged this demand and have resorted to more patient-centric practices. This enables these institutions and practitioners to remain favorable to the present-day market and deliver satisfactory services, therefore retaining patients in the long run.
These were a few of the many ways in which millennials are influencing the healthcare sector. It is commonly understood that healthcare institutions and practitioners will need time to adjust to these trends and meet the requirements of this generation.
The healthcare industry needs to change its practices and processes in order to meet the market requirements. Digitalization plays a key role in this aspect and is a highly useful concept for healthcare institutions and physicians looking to evolve and adjust to the shifting market paradigms. The upcoming section will thoroughly explain the role of digitalization in making healthcare more millennial-friendly.
Digitalization of the Healthcare Industry: A One-stop Solution

Digitalization is one of the key drivers of numerous industries, like education, manufacturing, logistics, agriculture, and, most importantly, healthcare. Today, numerous healthcare institutions are utilizing digital technology in one form or the other to provide their services efficiently.
Earlier, we discussed how healthcare institutions are resorting to using mobile applications to offer healthcare services, from appointment booking to consultation and diagnosis. This concept of e-healthcare apps is gaining tremendous popularity and is high in demand among consumers. Owing to this demand, the market size for mHealth apps was valued at USD 38.2 billion in 2021.
Mobile applications are just one of the many ways in which the healthcare sector is benefitting from technology and digitalization. Another popular implementation of digital technology is evident through the Internet of Things-enabled healthcare wearables. These IoT wearables are commonly available in the form of wristbands and are popularly used by patients to monitor, record, and maintain their health.
A patient can track their vitals like heart rate, O2 saturation level, glucose levels, blood pressure, stress level, and a lot more through these IoT wearables. This aspect of IoT is useful in predictive and preventive healthcare.
Other popularly used technologies by healthcare institutions are artificial intelligence, which is capable of automating processes and tasks, which in the context of the healthcare sector can include drug reminders, exercise monitoring, nutrition planning, etc. Cloud computing and blockchain are also popularly used by healthcare institutions to record and store patients' data digitally and securely. This not only avoids the accumulation of bulky patient record files in the hospital cabinets but also enables physicians to access patient data from thousands of records with a single click.
A healthcare institution and practitioner can use any of these technologies or a combination of these technologies to keep up with the latest industry trends and demands.
Summing It Up
Millennials have a major impact on reshaping and influencing the paradigms of the healthcare sector. This influence is compelling healthcare institutions to shift from their traditional practices and adopt modern ones in order to survive in the market.
One of the major demands of this generation is to make healthcare more transparent, reliable, and available to people. The sector is adopting these requirements by changing its processes and implementing technology into its practices.
Technology holds an undeniably crucial role in improving the efficiency of the healthcare sector and making it more available and accessible to common people. Tech-based healthcare solutions are known for being economical, reliable, and, overall, a highly useful alternative to conventional healthcare solutions.
Therefore, it is safe to say that it is in the best interest of healthcare professionals as well as institutions to adapt to technology to keep up with the dynamic requirements of millennials as well as other generations and remain profitable.