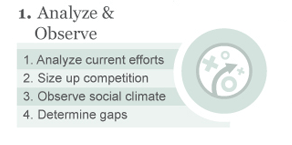 8 Quick Steps You Can Do Today to Set Your Healthcare Practice Up for Gigantic Success
The key with making sure your business is set up for success online is to realize that it shouldn't be something you occasionally work on, it should be a part of your daily activities. Something you block out on you or your staff's calendar, or outsource to a qualified PR company that understands your goals.
As the title of this article mentioned I am going to teach you some real actionable items you can do today to start making a difference. Thanks to Mackenzie Fogelson at MackwebSolutions for the great graphics and inspiration to write this article.
Here we go!
Analyze and Observe
Are your current marketing strategies working? Break out that notepad and write down all your marketing activities over the last year, how much did the cost, and what type of revenue did they bring in.
Were they effective? Probably not as much as you would like right?
If you are still using the old school paper flyers, and TV ads, they may not be bringing in the patients as they one did 10 years ago. Remember your website and online PR is available 24 hours a day, 7 days a week. 85% of people search online now before purchasing any product or service, If your website is antiquated, (developed more than 3 to 5 years ago, it's time to upgrade it) – Need help? Check out Level 2, they design great websites for doctors.
Who is your competition?
How do you compete if you do not know who you're up against? If you ever played sports in high school or college (has it really been that long?) then you know that in order to win that big football game, or the track meet, you and your coaches would watch tapes and discuss strategies for beating the other team.
Well it's the same way for business, and you know what, most doctors rarely take the time to truly develop a plan of action to compete, they just hope. Well it's time to stop hoping, and use strategy.
What is your competition doing online?
You should know who your competition is… But do you know what they are doing online? What websites they are advertising on? Where are they are actively posting comments and engaging their community? If you don't know then you can't beat them can you? Check out the tip below to learn how to spy on your competition.
Using a simple text code you type into Google (See the example below – replace Dr. Treva's website with your own)
CODE >>>> – link: www.drtrevalee.com – Make sure you have a space between the : and the www.
Note: Do not randomly add your website to Junk directory sites, those do not help and could actually penalize or block you from Google all together. Best bet is to create great content and people will naturally share it with healthcare specific blogs.
A blog we at referralMD read a lot is www.seomoz.org, It has some great content that helps you optimize your website for Google and advice on how to rank higher in the search results. One tool we use is called Open Site Explorer, which allows us to determine the strengths and weaknesses of our competitors online. It is a really simple tool to use, add your website, along with your competitors and see how you match up.
You notice right away that www.westerndental.com has a much higher page authority (Prediction of how well a website ranks vs others), then the other dental offices, and many more links promoting it to the top pages of Google.
Why is this important? Well simply put, the sites at the top of Google are visited much more than those that are not, and that translates directly to patient calls, and ultimately money in your pocket.
So by knowing how many links they have, we can design an action plan that gives us a estimate of how many blog posts and partnerships with other bloggers we need to create to compete. This is not an overnight success story, it could take months to years to accomplish. But the rewards are well worth it.
Build Your Online Community
Becoming an authority on any subject can take time and patience, but the benefit is once people trust you, they will stay loyal and refer business your way.
So how do you start? Going back to the school analogy, we are taught new ideas by teachers, families, and peers. So let's start there… Find other websites, that have become successful and reach out to the owner of those sites and ask them to share their best practices with you, and you can do the same for them.
Your new partnership can offer advice on where to post your great articles, and who else to meet that can offer additional help. All you have to do is ask.
Develop Your Strategy Calendar
Have you heard the common adage, if you fail to plan, you plan to fail?
Well trust me when I say this, if you do not sit down and actually develop your goals and what you are trying to accomplish, how much time, money, and who will be doing the work, then you will not achieve the desired results.
So how do you plan?
I like to work backwards, pick a goal you want, like increase patient count by 50 per month in 12 months. Figure out how much revenue that 50 new patients will equal, how much additional staff or time it will take maintain that level of activity.
Simple Economics – Total Revenue – Total Costs = Profit.
You should be allocating at least 10 to 20 percent of profit for the marketing budget to properly generate traffic to your website and your office.
List your company on Google Places – a local search directory owned by Google that helps smaller businesses rank on the first page when a customer types in a search phrase such as "family doctor in San Francisco". If you do anything at all, do this and make sure to fill out the profile completely.
Create the Value
Once you know what you want, its time to go get it. You should focus on creating 5 to 10 articles, videos, Infographics, etc. each month. You want to remain top of mind with both your patients and referral colleagues.
Refine and explain your Blog's Unique Value Proposition
Your goal is to ask yourself, "Why should patients read my blog versus the thousands of choices out there?"
Why are you different?
What do you have to say that no one else is talking about?
Write guides on how to live life better, add value to your reader's lives and they will share you with all their friends.
Create amazing videos that capture your viewers' attention, How to videos work the best.
Do not become just another sales pitch online, its disingeniune, and people will catch on soon enough and not come back to your website blog.
So what types of blogs should you write?
Many bloggers write short 400 word articles that are just fluff, little substance, and honestly are boring and should be erased immediately. While some short articles can be great if they actually teach you something quickly, your focus should be on creating valuable content with these criteria. Thanks www.thinktraffic.net for this snippet.
Write long, through posts
Between 2700 – 3000 words
Extra visual content attracts extra links: posts with videos, images, and lists will attract almost 6 times more links than a plain text post.
Neil Patel says you should write detailed how-to posts with proof and convey authority to ensure blog post popularity. Check.
My first strategic decision was to only write long, well-researched posts with lots of links to sources and great visuals. In order to make reading of these long posts a good experience, I focused on readability.
Font size 16px, since that is what our browsers were made for. That size font on a webpage is equivalent to the way text appears in an average paper book.
Line height 24px to ensure enough white space.
I use Georgia font because it's beautiful and especially designed for computer screens.
New paragraph every 4-5 lines. Empty line between paragraphs. Lots of sub-headlines.
Corbett says 'write epic shit'. There is no way around it. You won't hit the jackpot every single time, but you should aim to.
Get the Word Out!
You just wrote an amazing post, now how do you share it with the world? Great part about technology is it has made promoting so much easier, and less expensive than a few years ago.
I personally love using LinkedIn to reach out to my potential clients, (You the practitioner), How do I do it? Watch this short LinkedIn video about how I went from 0 people a month to 3,500 visitors/month in 10 weeks all by using this little tip.
Another very important promotional activity for doctors is email marketing. You absolutely need to start collecting emails on your website so that your users will come back to you after their initial website visit.
Why is this important?
Well people that visit your website the first time most likely will not call you immediately and will quickly forget who you are, unless you can stay on the top of their mind with weekly updates via email. Eventually if you impress them enough with your great writing or video skills, they may reach out to you and become a patient.
I also use Twitter, Facebook, Youtube, Google Plus etc… I know, I know it seems like a lot to manage, and you know what, it is. But if you develop a strategy before you jump in head first you will do so much better and actually hit your goals sooner.
Monitor & Engage
This is where almost every business fails; you spend all this time, tons of money, and forget to track your results.
How many times have you bought TV advertising, printed flyers, and at the end of the day not kept track of how many new prospects came through your door. Well it's just as important to have an online analytics strategy to know that all this hard work putting together marketing action plan is paying off.
Do you know what Google Analytics is?
If you do not know, you better stop what you're doing and implement it on your website now. Google analytics allows you to:
Track how many people come to your website
What content they liked the most,
How long the stayed
What cities they live in
What key phrases your patients type in search to find you, (ex. Dentists in Palo Alto)
And much more.
Google also has a tool called Adwords which allows you to determine how many people are searching for a particular term on Google. This is valuable because it can help you create content/blogs on your website that match what your readers are searching for.
Measure and Analyze
Once you know who your patients are, where they come from, etc., you can market more effectively to them. For an example. Let's say you produced a video and promoted it, and then a blog a week later. The video had 200 views, 30 shares from Facebook, but the blog only 20 views and no shares.
With these analytics it seems like your users love video more and you should invest more in that medium. Again based on your market you will want to try everything to determine what types of content work best and rotate your marketing plan to make sure it stays fresh
As mentioned previously, www.seomoz.org has some great tracking tools that allow you to track your website and how well its ranking and provides metrics so you can improve it over time.
Whewww! Almost done, well not really.
Congrats! You made it to the end, but technically, it's just the beginning. You have learned a lot, and now it's time to take action and repeat the actionable items in this blog every day so you can start to conquer your online domain.
We wish you luck and if you have any thoughts or suggestions, please leave us a comment below.