Review management for dentists (any doctor really) is a hot topic, as online reviews increasingly have the power to make or break your dental practice. According to MedScape, a recent survey of 50,000 patient reviews found that 25% of patients find healthcare professionals online, including from online reviews. As the number of individuals who find their dentist from online reviews is on the rise, it's vital that dentists know how to manage their reviews to maximize the benefits of good reviews, and minimize the damage incurred by bad reviews.
Listen to this blog post: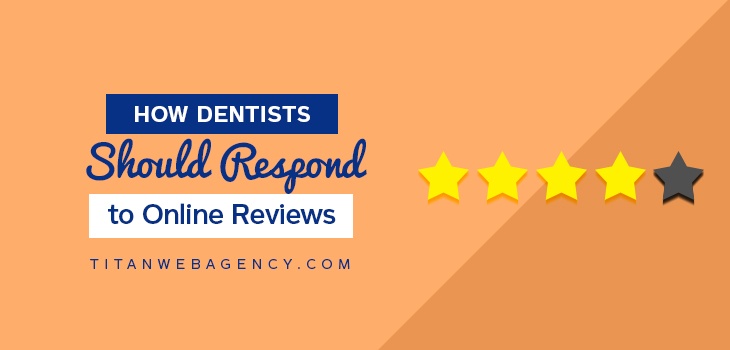 A main aspect of review management for dentists is how you respond to both positive and negative reviews. Read on to learn which review sites you should monitor and the wrong and right ways to respond to online reviews of your dental practice, both positive and negative.
Where to monitor your online reviews
The first step to managing your reviews is monitoring your profiles on all of the review websites so you can see when new reviews are posted. If you haven't already, you need to claim your listings on Google My Business, Yelp, and YP.com, and other business directories, as well as health-specific websites like HealthGrades, ZocDoc, WebMD, and Vitals.
As the below graphic from DentistryIQ shows, Yelp remains the top place patients look at doctor reviews online, though HealthGrades is the most trusted.
[inhype_block type="showcase3″ block_title="Look at these too" block_subtitle="Currently trending on HealthWorks Collective" block_posts_type="random" block_categories="" block_posts_limit="4″ block_posts_loadmore="no" block_posts_offset="4″]
Note that while Google My Business is not pictured in this chart, monitoring and responding to your dental practice reviews on Google My Business is extremely important in regards to your online reputation.
How should dentists respond to positive reviews?
Now that you're starting to monitor your reviews across the web, your next question is probably, How should I respond to reviews? or Should I respond to my online reviews?
First, let's discuss how you should respond to positive reviews. To answer the question of whether a dentist should publicly respond to positive reviews, the answer is yes. As long as you follow a few important rules:
Thank the patient for taking the time to review you and let them know you value their feedback
Keep your response brief and professional
Don't discuss any personal information about the patient or the service you provided them
Don't offer any free service or other benefit as a thank-you for the positive review
Don't ask anything of the reviewer — for example, to "spread the word" about your practice
Don't defend yourself from a minor criticism contained in the overall positive review (this makes you look petty)
When a dentist takes the time to respond politely to a positive review, it shows people (not just the person you're responding to, but everyone reading your profile) that you care about patient opinions and value their feedback. Just don't go overboard with a long response or you will come across as overbearing and unprofessional. If you want to engage in a longer conversation with the patient, you can contact them privately.
Examples: Good and bad responses to a positive dentist review
Example of a good response to a positive review:
Thank you for taking the time to review us.123 Dental values all feedback and uses it to improve our services. Have an amazing day!
The response acknowledges the reviewer but does not violate the HIPPA Privacy Rule, which prohibits you from divulging anything about the patient's health information — including the fact that you treated them.
Example of a bad response to a positive review:
George, you are one of my favorite patients and I'm glad you liked the crowns I did for you. Though I don't think I was really five minutes late. 🙂 Still, I'd like to thank you for leaving this review with a free tooth whitening session.
This type of response is not recommended because it provides personal information about the patient (violates HIPPA), and offering a free teeth whitening could be construed as a bribe or payment for the positive review. The dentist also directly disputes a criticism contained in the review, which is another no-no.
Take a look at some great responses by the office of Adrian Vande Merwe, DDS on their Google + profile.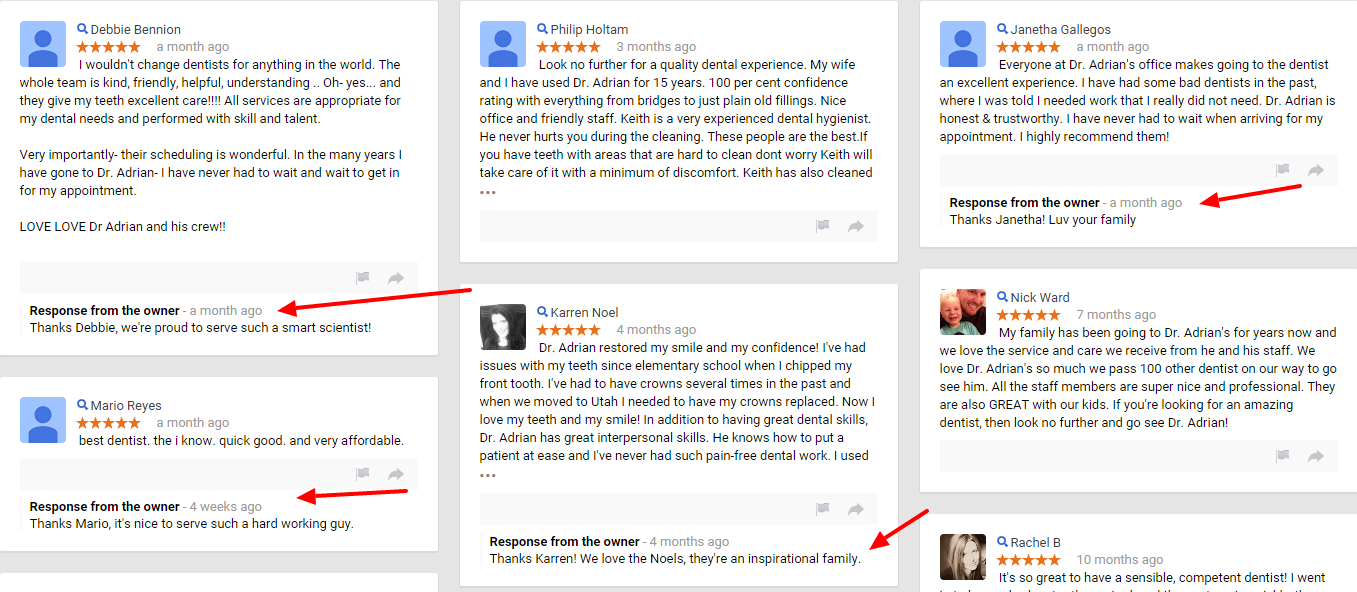 How should dentists respond to negative reviews?
Responding to negative reviews is a bit more sensitive. You have to be very careful when doing this or you will make the situation worse, and potentially even get yourself in some legal trouble. That said, dentists should, in most cases, respond to negative reviews, as this gives you the opportunity to show that you care and to rectify the situation. But you need make sure you respond sensitively.
As with responding to positive reviews, when responding to a negative review, you should keep your response brief, general (not specific to the patient), and professional. Let them know you value their feedback and that you strive to provide a positive experience, then tell them how they can contact you.
Follow these tips when responding to a negative review of your practice:
Never respond when angry or in an argumentative manner
Don't discuss anything specific pertaining to the patient's treatment — this puts you in violation of HIPAA rules
Don't respond at length or multiple times, as this draws more attention to the negative comment
Don't respond at all to "troll" or spam comments (people who are not even patients or completely making things up). These comments likely violate the rules of the review site and you should be able to have them removed by contacting the site's admin.
After responding to a negative review, it's good to follow up with a private message or phone call. While you shouldn't directly ask someone to remove a negative review, oftentimes if you go the extra mile to make the situation right, the reviewer will remove their negative review or change the review on their own.
If the review is especially incriminating or makes inflammatory accusations not about your customer service, but about your medical services or qualifications — for example, accusing you of medical malpractice — then you should not respond at all and talk to legal counsel about how to handle such allegations.
Examples: Good and bad responses to a negative dentist review
Example of good response to a negative review:
Thank you for your feedback. Here at 123 Dental, we want every patient to have an exceptional experience, and we take complaints very seriously. Individuals with issues or concerns are advised to contact us immediately at xxx-xxx-xxxx so we can work to resolve the problem.
This response is brief and professional, and while it demonstrates concern, it does not admit any wrongdoing on your part, or even that you treated the patient in question.
Example of a bad response to a negative review:
Amy, you are completely wrong here. You told me you were very satisfied with your dental implants, and if you were unhappy you should have said something. Unbelievable! I am a terrific dentist and have the right to sue people who make such accusations.
This response is bad because it discusses the patient's medical treatments, and displays anger. This will draw more attention to the negative review, make you look unprofessional, and potentially even have legal ramifications for violating HIPAA.
Here's another example, don't be like this guy. Take a breath, count to 10, do whatever you need to so you can respond rationally.
More online review tips for dentists
Here are a few more things to keep in mind in terms of responding to patient reviews and improving your review profile in general.
Use a real photo of yourself (the dentist) in your review profile
Use constructive criticism to improve your practice and services
Try to get patients who leave negative reviews back in the office to show them the issue is fixed
Using a high-quality photo of yourself in your online profiles adds a personal touch to a dentist's review responses.
Let your patients know how they can review you online
Personally thank patients (offline) for leaving positive reviews
Share positive reviews on your website and social media accounts (with the patient's written consent)
Follow the guidelines for responding to reviews, which may vary from site to site (here's Yelp's guidelines for responding to reviews and here are some tips from Google My Business)
Conclusion — Dentist review management matters
Whether you like it or not, your dental practice will get online reviews. In order to promote positive reviews and minimize the impact of negative reviews, like most business owners, dentists need review management. If you don't have the time to manage or respond to your online reviews, it's important to hire a reputation management agency to respond to reviews. Review/reputation management can also help your dental practice recover from damaging negative reviews and perhaps more importantly, help you to build up hundreds of positive online reviews.
Learn more ways a dentist can build an amazing online reputation.