Children are now spending too much time playing games on a smartphone or watching television. They have very little time for exercise. As parents, we want them to be healthy. However, convincing them to go for a run, pick up an active sport, stop eating junk food, and restrict smartphone and television time is nearly impossible. Even if your kid listens, you will end up having an unhappy child. So what do you do? Indoor gyms for kids can solve this puzzle.
A kid's gym will be like a playground inside your home. The kids can play and get a healthy workout here using home exercise equipment. It will be like an indoor playground right inside the home. They can entertain themselves for hours while developing their fitness skills.
All of us want the kids to be healthy. Research also shows the value of an active lifestyle, even for the kids. If we look around, we will see a lot of kids now who are obese and have health issues. It's a worry. Regular exercising reduces the risk of an illness. It improves health. But you have to make it interesting for them. They are kids, after all, and have different motivations compared to adults.
Often, many parents find it impossible to encourage their children to exercise. Kid's indoor gym equipment can help them train and improve their health with many entertaining and fun activities. Regular exercising will help them develop stronger bones and muscles. Their cardiovascular systems will also improve. It will also improve their concentration and help them focus better, which will show in school results.
There are a lot of options in the children's gym set now. But how do you select the equipment for indoor gyms for kids? This guide will help you –
Choosing the Right Exercise Equipment
A gym with kids at home can be both a very beneficial and fun experience. However, you will want to make it safe above everything else. Here are some things you want to consider to make it safe, practical, effective, and fun. Consider the following before buying the equipment –
What to Consider
You are sure to find a lot of exercise gear in many types, qualities, and prices. You must always ask these questions before selecting –
Do you know already how the equipment is to be used?
Has your child tried it before in a gym or health club?
Have you thought of alternatives?
Are you purchasing based on claims made on advertisements? You must always evaluate before purchasing.
Is there adequate space in your home for the kid's gym?
If yes, then is the place well lit and properly ventilated?
Does your child have a medical condition that may prevent her from doing the exercises?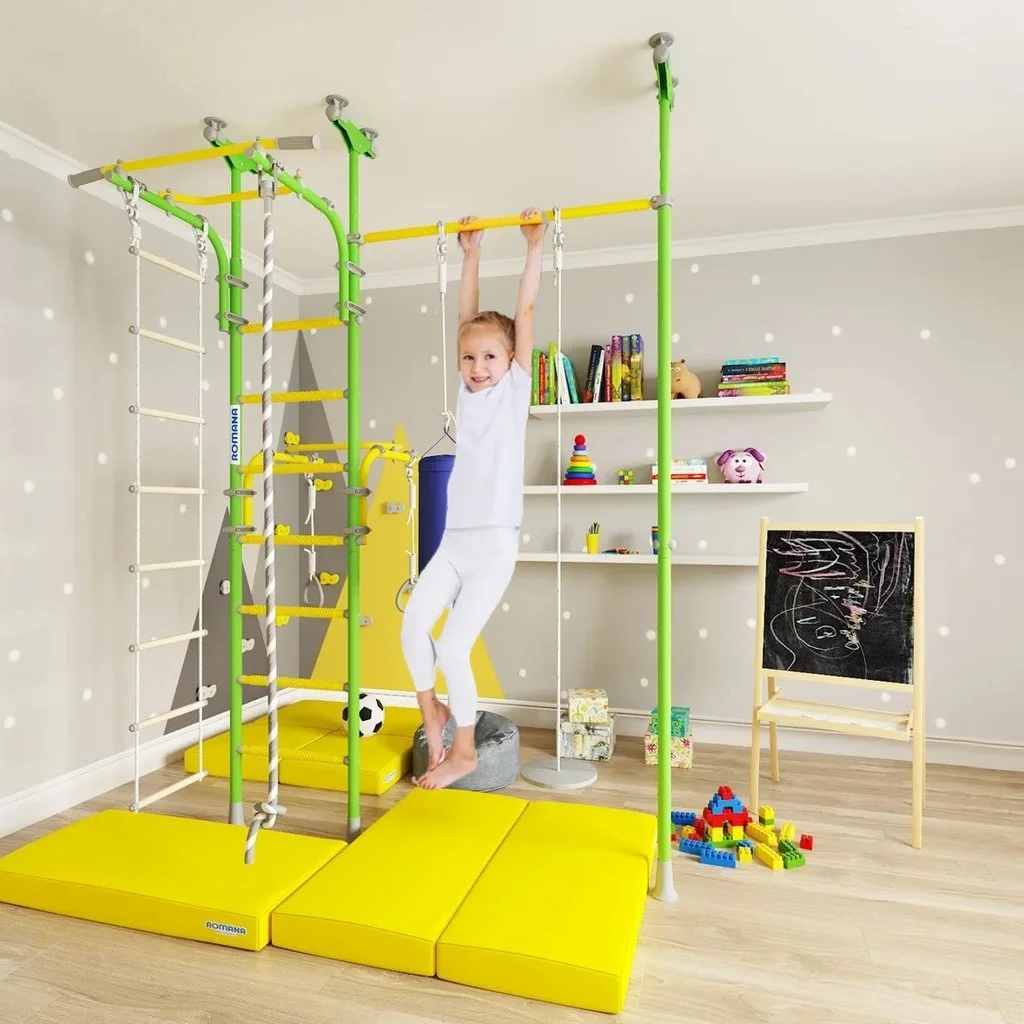 Many parents worry whether their kids have the motivation for exercising regularly before investing in home gym equipment. However, this shouldn't be a worry if you can ensure that the exercises are entertaining and fun. The indoor gym by fitnesskid promises just this.
What Is Your Goal?
Next, consider your goal for getting the children's gym set. For example, there could be several goals or targets like weight loss, improved flexibility, height increase, better cognitive skills, and for children who are in their teens already, perhaps even muscle building. If your son or daughter is showing talent in sports, you may even want to get the kid's gym so that he or she can improve her sporting abilities even more.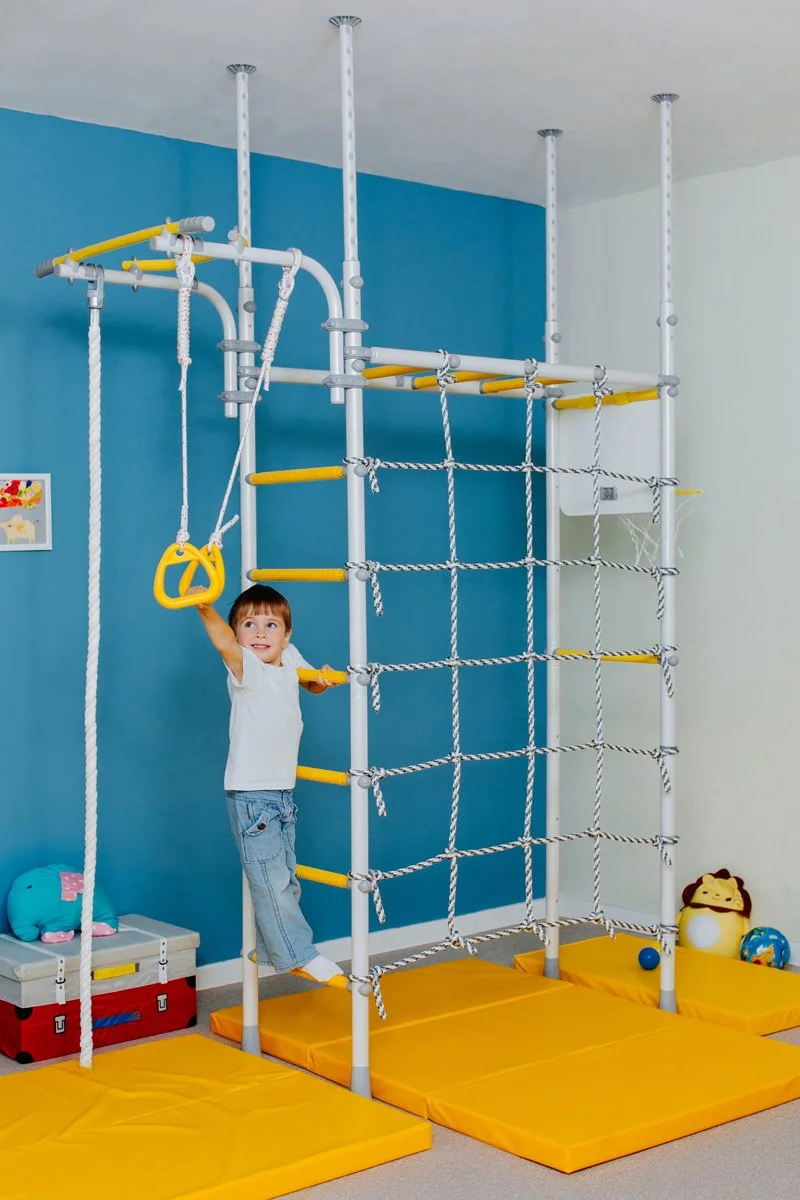 So consider carefully before committing. Once you buy, it is likely to stay with you for many years, until your kid grows up and becomes an adult.
The Fitness Goal
If the home gym is mostly for your child, then your goals are probably weight management, general fitness, and improved flexibility. Some parallel bars, extending steps, and ladders may be enough for you. Spider nets and climbing nets that are specially designed for children come with fun elements, which means, the equipment is probably going to interest your little one. Make it a fun experience and they are more likely to enjoy the fitness training.
You may also need some equipment if you want to target a specific body part. For example, a treadmill or cycle is a good idea if weight loss is a goal for you. But remember, treadmills may not always be safe for small kids. Your son or daughter should be at least 10 years old before you allow the child to get on this training equipment.
How Much Space Do You Have?
Always consider this before you get anything. An extensive ladder set, for example, is always going to occupy more space. So you must have room to keep it indoors. On the other hand, you may be able to attach an attractive and fun ladder to a wall, which means, it is more space-saving.
Also, if you get a big machine, it may squeeze your room so much that there won't be enough space to move around. This is never a good idea. Always make sure that there is adequate space all around your home gym equipment. You don't want the room to become cramped.
Your Budget
Gym equipment is not cheap. You will find a lot of products out there, but sometimes, they can cost hundreds of dollars. Make sure that you are getting a good deal. The FitnessKid website, for instance, offers the option of paying small amounts at regular intervals, so you won't feel the punch.
Can You Install Yourself?
A children's gym set can be extensive with many parts. It has many ladders, ropes, swings, and bars. Children, and even their parents, can use them in different ways for playing and moving. Even simpler equipment may need some assembly. So make sure that the seller is providing a detailed manual, which will help you install the kid's gym at home.
Small kids need to understand the importance of fitness. It is easy to realize that indoor gyms for kids are good, but it may be difficult to decide on the best workout equipment for the home. That's why you need to think deeply and hard before deciding.
Finally, remember, you will see the best results only when the exercise equipment is used regularly. However, if you have the fun element, chances are, your child will stay interested and motivated.