How To Stay Fit And Healthy When Traveling Abroad
Want to be fit and healthy while traveling abroad? Read on for tips on how to care for yourself, your wellbeing, and your health while on the road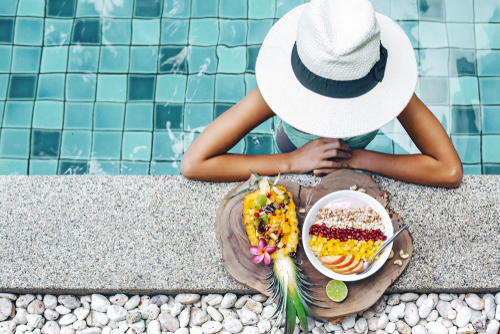 Staying fit and healthy when traveling abroad can sometimes feel like a bit of a challenge. With the temptation of hotel buffets, no access to your favorite gym and the convenience of fast food on-the-go, you may feel like you're fighting a losing battle. But, this doesn't have to be the case, all it takes is preparation and a little research and organization for you to keep your body ticking over while you're away. After all, it would be sad to lose the progress you have made in just a week or two.
Follow these top tips to implement a healthy routine into your travels abroad…
Make use of the hotel facilities
When comparing hotels, be sure to check out the facilities that are accessible to guests. Do they have a gym with the right equipment for you, for example. A swimming pool is a bonus, so research this before you hit the booking confirmation button. While you're away try to resist the temptation to snooze the morning alarm, you'll only regret it later on. Instead, seize the day and hit the ground running with a morning gym session to wake you up. Likewise, if you are heading for a sunny destination and intend to spend the day sunbathing and getting stuck into a good book beside the pool, then lengths are a great way to start, before that well earned rest.
Go for a run
You might not want to spend every morning in the gym or perhaps you can't find the right hotel with the appropriate facilities. Either way, getting up and going for a run is the perfect way to stretch your legs, as you feel the breeze in your hair and breathe in the fresh air. So, pack your trainers and you can explore the destination and take in the scenery as you exercise. Whether you run along the beach as the water laps over your feet or through a forest that is home to local wildlife, you'll cover a lot of ground and never know what you might discover.
Ditch the Uber and walk
When traveling, it's all too easy to make decisions based on convenience and apps such as Uber have made it easier than ever before to jump in a car for a journey that could really be walked. Ditch the app and route your journey using your maps, if it's under 30 minutes then try and make time to walk to your destination. Not only is this the healthy option, you'll also see way more of the city or town you're staying in and you may even discover a few hidden gems along the way.
Enjoy a healthy breakfast
Skipping breakfast is never a good idea – it's the most important meal of the day. A hearty breakfast will provide you with the protein and carbohydrates you need to get through the morning. Skip the sweet stuff (pain au chocolat, we're looking at you) and instead look for options such as overnight oats with fresh fruits or an omelette with a fruit smoothie on the side. This will keep you going until lunch and avoid you wanting to snack.
Consider what you are drinking
Whether you are heading away to party with friends or not, you'll no doubt want to have a few drinks. Clear spirits such as vodka and gin topped up with tonic, rather than sugary mixers, is best for you. You may also like to sip on a glass of champagne, especially if you are celebrating or a light beer. Make sure you have a glass of water between alcoholic beverages – especially if you are in a hot country and particularly if you choose to have a drink during the day. Regardless of whether you are drinking alcohol or not, you should make sure you drink plenty of water to ensure you stay hydrated.
Plan outdoor activities
If you're traveling for pleasure, look into outdoor activities you can enjoy as part of your trip such as kayaking, hiking, cycling, surfing or even rock climbing. It's a great excuse to not only try something new but keep your heart rate nice and healthy. It can be a little trickier when traveling for business, but in this case, you could look to hire a bike or utilize your free time to book an activity or two.
Participate in a morning Yoga class
Yoga is a fantastic exercise for the body and the mind, it can help you to relax and feel at peace. A good stretch will also set you up for the day and avoid aches and pains from all the walking you may well be doing. In areas such as Asia, it's not uncommon to find locals gathering in public spaces to participate in different sports. Lookup the nearby classes and don't be afraid of being the 'newbie' as you'll probably never see those people again.
Conclusion
It's not difficult to stay fit and healthy while traveling abroad. You just need to pack your gym kit and make a plan you are happy to stick to, that fits in with your trip and not the other way around. Finally, don't forget to treat yourself – you are on holiday after all.