Specialty Pharmacy is one of the rapidly growing facets of the healthcare world. It's projected that by the end of 2020 specialty drug spending will total $400 billion, accounting for 9.5% of national healthcare spending*. While these specialty pharmaceuticals require special care and dispensing, many pharmacies will find that to guarantee growth in 2015 onward, they may want to allocate resources for specialty pharmacy accreditation and specialties pharmacy services. Today we will discuss how the fast-growing industry is also paving the way in patient satisfaction and targeted care.
What is a Specialty Pharmacy?
First things first. A specialty pharmacy is defined by URAC as full service pharmacies that specialize "in filling prescriptions for patients who need certain high-cost biotech and injectable medications. These specialty medications help patients with complex conditions including multiple sclerosis, rheumatoid arthritis, certain types of cancer, solid organ transplant, and hemophilia. These drugs can be injected, infused or taken orally, and typically require special handling and other specialty expertise." (Source: URAC)
Targeted Care
Unlike traditional pharmacies, Specialty Pharmacies have been developed to meet the needs of patients who are in need of more complex and high-cost medications. When we talk about targeted care and patient satisfaction, we mean filling the gaps between the specialty care that a patient would receive from their healthcare provider and their pharmacist. Targeted care helps emphasize the importance of advanced knowledge when it comes to specialty medications.
Knowledgeable pharmacists and staff willing to give targeted care means gives peace of mind to patients. By providing targeted high-quality care, in addition to offering specialty services for patients (such as a 24-hour pharmacist, on-staff registered nurse, or a patient education program), Specialty Pharmacies can easily increase patient satisfaction. Streamlining follow-up care and ensuring that patients are using medications safely and correctly will also decrease patient anxiety and stress and result in more satisfied patients. It's also important to note that unplanned re-admissions are largely a result of medication management. Getting pharmacies involved with after-care can reduce the number of readmissions, resulting in reduced healthcare costs.
Patient-Specific Care
Focusing on the individual needs of patients is key to creating loyalty and increasing patient satisfaction. Implementing specialty programs for patients who may need more streamlined guidance can help strengthen the relationship between pharmacist and patient. Practicing quality customer service and building personal relationships is crucial for patient satisfaction. A Specialty Pharmacist who remembers a patient, builds a personal relationship with that patient, and helps cater to that patient's needs will always prevail. In order to achieve this, it could mean improving your customer management software or simply training staff on the importance of patient-centric care.
Accreditation
If you are already a Specialty Pharmacy, your next step in patient satisfaction might be accreditation. Accreditation is a key step for Specialty Pharmacies hoping to increase patient care because it ensures that they follow specific guidelines and procedures when dealing with medications and patients. Gaining accreditation helps to instill trust and build relationships, not only with your patients but also with manufacturers, healthcare providers, and payers. If you think of accreditation as a mark of excellence, to show your clients and patients that you are devoted to high quality service and care, then you are on the right track.
Orginally posted on the BHM blog.
Thinking about Specialty Pharmacy accreditation? Join us 12/19 for our free webinar on The Power of Specialty Pharmacy Accreditation!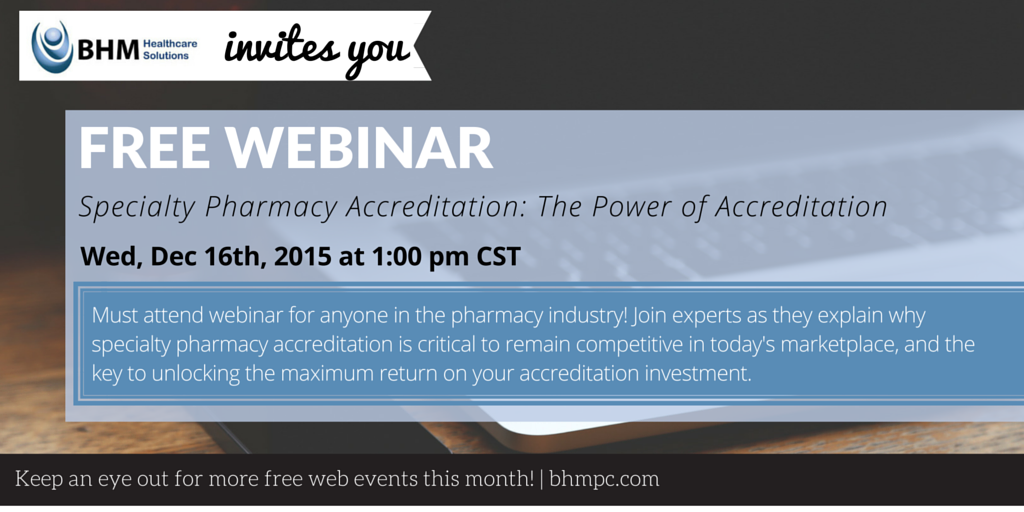 http://bhmhealthcaresolutions.enterthemeeting.com/m/YZUPBQJT