Mushroom supplements are quickly becoming popular as reliable alternatives to regular meds. These items' formulas aim to improve your immune system and rejuvenate your body. Currently, many notable companies have taken an interest in developing these beneficial products.
At the same time, scientists are conducting studies to further establish the effects of various mushroom supplements. Plus, since not all consumers enjoy the natural taste of mushrooms, brands look for ways to enrichen this aspect. For example, the company VidaCap offers an interesting assortment for anyone's taste. Plus, users often cite the mushroom capsules from VidaCap as some of the best in the market. 
We'll touch on the most relevant aspects you should consider when buying mushroom capsules to provide context. Plus, we'll explain the different types and their intended benefits.
What to Look For in the Medicinal Mushrooms Category
Companies often add extra elements to mask the taste or create a more potent blend. However, some aim for a more lucrative outcome when curating a formula. That's why you should do some research beforehand. So, here's what to keep an eye on when shopping for mushroom supplements:
The Origin of the Mushrooms
In general, the best mushroom extracts come from Russia and China. Those countries have a rich history of cultivating these veggies. Also, they opt not to stand in the way of a natural process. Hence, those extracts contain no traces of herbicides or pesticides.
Instead, they focus on providing the best conditions for a high nutritional value. They do this by diligently monitoring each step of the growing process.
Extract Preparation Method
VidaCap uses extracts from sundried mushrooms for all of its offerings. Then, after fueling them with enough solar energy, they produce fine blends from the mushrooms.
Later, users can freely use these extracts as they find them in the capsules. Also, you can mix them with alcohol or water. Hence, there are a lot of ways to utilize their helpful content. Technically, these extracts are rich in nutrients such as triterpenes and glucans.
Third-Party Lab Testing
Next, favor the brands that rely on independent labs to verify the efficacy of these items. At the same time, such results verify the purity of the blend. That's why VidaCap discloses these findings on the official website.
The Type of the Product
You should consider your preferred way of taking these items. They come in three forms: mushroom capsules, gummies, and powder.
You can use the mushroom powder in tea, lattes, smoothies, or food. You just need to add one spoonful of the blend to the beverage or meal.
Types of Mushroom Capsules from VidaCap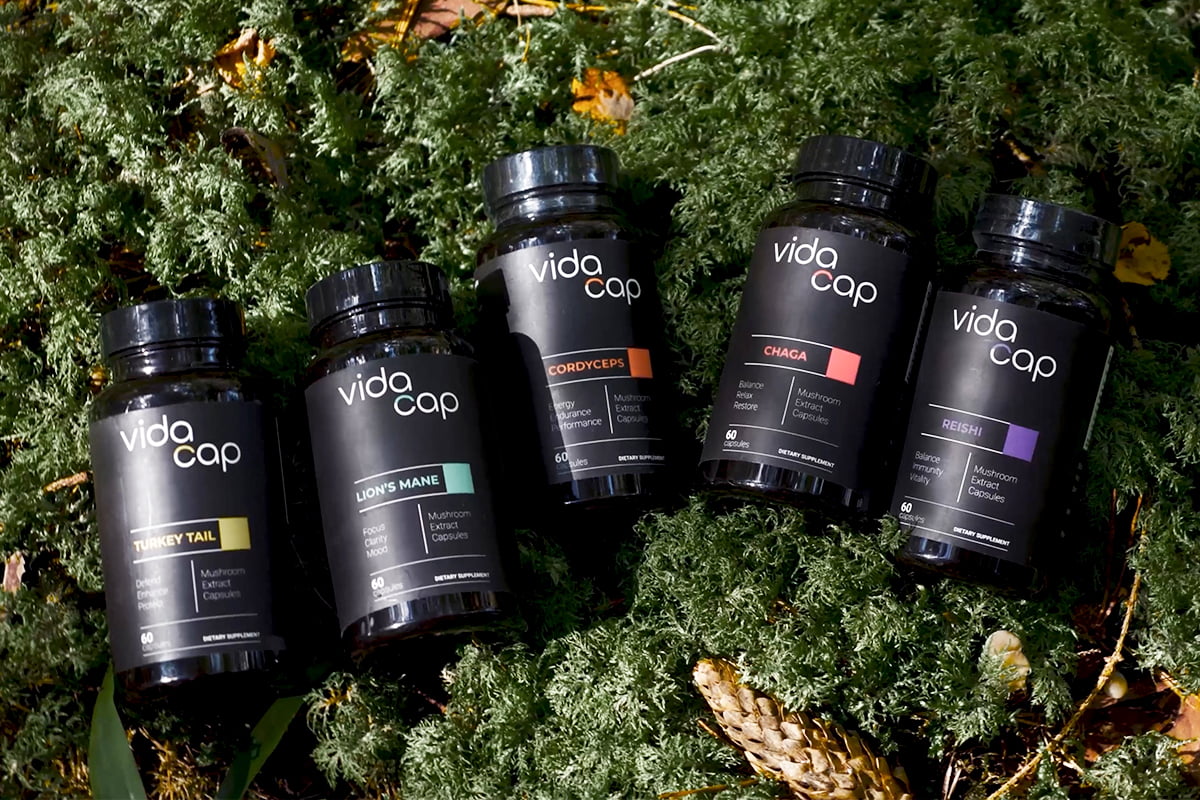 VidaCap offers five main types of mushroom capsules: Lion's Mane, Turkey Tail, Reishi, Cordyceps, and Chaga mushrooms. 
All of these variants offer different health benefits. However, the dosages also vary depending on your body type, medical history, etc.
1. Lion's Mane Mushroom Capsules
You can use the Lion's Mane mushrooms for medicinal and culinary purposes. They come jam-packed with antioxidants and have numerous health benefits. For example, they are great for improving one's cognitive functions.
Lion's Mane mushrooms are great for your brain's health due to their ability to promote the production of myelin and bioprotein. Myelin is the membrane that insulates the fibers of your nervous system. 
As such, this product is helpful for treating neurological diseases such as dementia, depression, Alzheimer's, etc. Plus, this content also helps protect the membrane that lines your stomach, which is useful against stomach ulcers. 
VidaCap's Lion's Mane mushroom capsules come in bottles containing 60 pills with 750 mg of pure organic extract. Also, you can get a 30% if you subscribe to their site.
2. Cordyceps Mushroom Capsules
If you're often low on energy, consider adding VidaCap's Cordyceps mushroom capsules to your diet. This formula supplies your body with energy and speeds up the muscle recovery process. Also, they are very stimulating for your libido. So, if you're an athlete or love working out, you'll find good use in these.
These capsules, too, are available in bottles of 60 servings, each carrying 750 mg of the extract. For these items, VidaCap uses mushrooms grown in China.
3. Turkey Tail Mushroom Capsules
Turkey Tail is also known as cloud fungus, and it's quite rich in beta-glucan. This variant is a common supplement for a better immune system and GI tract in eastern medicine.  
The Turkey Tail mushroom capsules contain polysaccharide-K (PSK), a compound that helps stimulate your immune system. This compound, plus the high amounts of antioxidants, makes this product a helpful remedy when fighting cancer. Turkey Tail mushroom is such an effective supplement that it's approved as a prescription anticancer medication in Japan. 
VidaCap sources these mushrooms straight from China. Later, they package the extracts in bottles of 60 pills each. The proper suggested dosage is one pill per day.
4. Reishi Mushroom Capsules
Aside from looking unique, Reishi mushrooms also have a slew of health benefits. Hence, they're widely used as a med alternative.
VidaCap's Reishi mushroom capsules contain triterpene, a compound with calming properties. This compound promotes a better sleep cycle and alleviates anxiety and depression. Aside from that, these capsules help with weight loss, fight cancer cells, and support your overall immune system.
5. Chaga Mushroom Capsules
The chaga mushroom capsules are very rich in antioxidants. They're the best supplement for fighting inflammations and free radicals. Plus, they lower your body's high blood pressure.
Chaga mushrooms also help fight oxidative stress, which causes skin aging. They also affect your low-density lipoprotein, which is bad cholesterol, and help you fight cancer growth. 
Chaga mushrooms are dark black, and VidaCap sources them directly from Russia. They cultivate them in organic greenhouses to preserve their natural nutritional value. A subscription to VidaCap's site will get you a 30% discount on any purchase you make.
Conclusion
Always ensure that a third-party lab has tested the mushroom capsules you're about to buy. Reputable companies like VidaCap make this a common practice before moving into commerce. Hence, you can inspect the COAs for all of their assortment.
At the same time, consider your current condition before adding mushroom capsules to your diet. Even if these products' popularity is on the rise, you should practice some caution. So, consult your doctor and follow their advice.