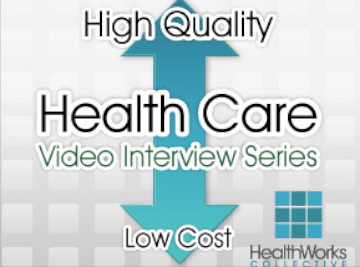 High Quality, Low Cost HealthCare Video Interview Series: Dr Oliver Kharraz From ZocDoc Talks Appointments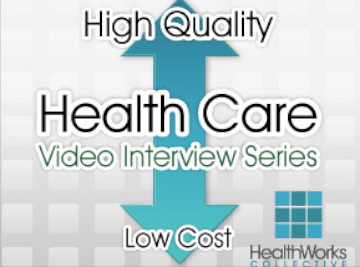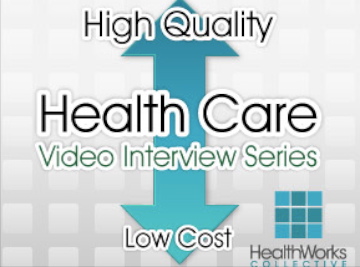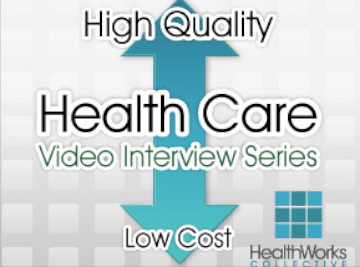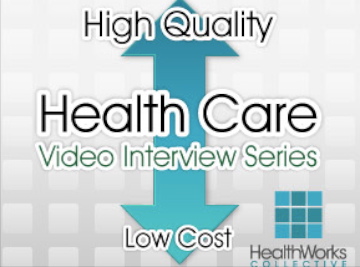 Last week we heard about Nuance voice recognition software from Dr Nick van Terheyden. This week, Dr Oliver Kharraz tells us how ZocDoc helps match up patients who need Doctor appointments and Doctors who have last minute openings in their schedules. ZocDoc is a free (for patients) online and mobile service that helps find doctors and book appointments. ZocDoc has been very successful in this niche market and has been written up by CNN, the Washington Post, Travel & Leisure, The Wall Street Journal and others. Watch the video and let us know what you think!
To see other videos in this series, please go to this page. And if you have a story to tell that can reduce healthcare costs and raise quality of care, please comment below or email me at joan@socialmediatoday.com Thanks!
Video transcript (by TranscriptionStar)
Joan: Hello. I'm Joan Justice with HealthWorks Collective. And I have with me today Dr. Oliver Kharraz, Founder and Chief Operating Officer of ZocDoc. Dr. Kharraz has a background in medicine neuroscience and global business development. ZocDoc is free for patients. It's an online and mobile service that helps find doctors, and book appointments online.
They've been reviewed and written by the Washington Post to Travel and Leisure, the Wall Street Journal, CNN and others as well. Dr. Kharraz tell us a little bit about ZocDoc and your mission there?
Dr. Kharraz: Absolutely thanks for having me Joan. ZocDoc is patients' health ally. Now, patients use to find a doctor when they need one, and book an appointment online right then and there. Now, they can do a 24/7 or weekends late at night, and they can put up all the things that are relevant. Now, doctors would accept their insurance and the location that's super times [Phonetic] [0:01:08] right away, by clicking one of these times, and they can go to regular checkout process, and get their appointments self-directed.
Joan: Okay and they can get appointments. They usually get appointments 24 to 72 hours is that usually the range?
Dr. Kharraz: Apportionments there will we have and they — in the near future because that's when patients want the appointments and it turns out doctors had these appointments available because they have last minute cancellation no shows from unbook their appointments and so we're really a matchmaker that patients used to find the doctor they would like.
Joan: Okay so they can go online and if they want an appointment immediately if they have an infection that they want to take care of they — there might be a cancellation or no show and they can get an appointment immediately maybe.
Dr. Kharraz: Exactly.
Joan: Yeah that would be great. That would be great. And you also I saw on your website you have a Spanish speaking version. Do you also have Spanish speaking doctors for people?
Dr. Kharraz: Yes in fact 40% of the doctors on ZocDoc is speak Spanish and for the Spanish speaking population when they do a search will actually surface those doctors to the ones who talk so the patient knows that they can communicate with their doctor in their appropriate language.
Joan: That's wonderful. I mean I think that's a big, that's a big help. And now how many patients do you have on ZocDoc would you imagine that are — that have found appointments or that are searching for appointments at any given time?
Dr. Kharraz: So on a monthly basis roughly 2.5 million patients do this to find a doctor and research the doctor and it's the number that's been growing expeditionally. Those patients really love the service and are convenient to the doctors.
Joan: Wow 2.5 million that's wonderful. Now long have you been in business?
Dr. Kharraz: We've been in business for quite a while. We've been around for five years. We initially launched in New York, and we have expanded pretty rapidly. We're now covering now 200 [Phonetic] [0:03:23] cities, 40% of the U.S. population and continue expanding.
Joan: Boy 40% of the U.S. population that's really wonderful and so you help patients find doctors, and get doctors appointments, but I imagine you also help the doctors tell us a little bit about that?
Dr. Kharraz: Absolutely so the average doctors of 10 to 20% want new calculation and those are the rights [Phonetic] [0:03:51] that we help doctor fill these spots without overbooking or negatively impacting the experience of the patient that have been there so in their venue so for the doctor it's essentially a way to find patients so that we could see them. Now, we may need to see them without any major change in their workflow or to their office is that very simple acknowledge your solution for them.
Joan: Okay and I saw also that you — patients can fill out paperwork online. Is that that she I know when you go to the doctor you have a sheet that ask your name and your emedical history and it's usually three to four pages long. Do you have a one size fits all form that the patients can fill out?
Dr. Kharraz: Its actually what the number one reflects the [Indiscernible] [0:04:42] on ZocDoc is let me not fill out the same information [Indiscernible] to the doctor, and so we have taken those experience online, and the way it works is potentially we'll memory the answer that the patient gives, and we go to a different doctor. We'll take the [Indiscernible] [0:04:58] already given. We only ask you the questions whether new and specific on that new doctors for, so now you're broken your leg when you were five years old. Now in this case they're over across every single form.
The benefit to the doctor is and they typically gave more complete patients histories because they can fill it out so when they actually can look at the label of the doctor they're taking there. They're not embarrassed and to potentially mistype the name of the doctor than just as I believe leave it off in the office and they can go and ask their mother and their relatives about their health history and so you get a more eligible, more complete, more in permutation [Phonetic] [0:05:38] and introduce the reword on the patients there.
Joan: I like that. I like that. That's very efficient. How many doctors do you have signed up on ZocDoc?
Dr. Kharraz: So mainly the way that we think about the experience is really from the patient perspective. Now, and so we want the patient to be able to find the doctor on ZocDoc within 24 to 72 hours wherever they are and that means they have right now 7 million appoiinments available to make that possible.
Joan: 7 million appointments available wow that's great. That's I bet those patients are satisfied. Do you ever get any testimonials or does anyone ever write in or say online how pleased they are or do they — you know thank you so much for getting me this doctor's appointment at the last minute?
Dr. Kharraz: Absolutely. I mean we get love letters from our [Indiscernible] [0:06:33] and it's a empowering experience for them, but you know sometimes it would be much smoother for that. But I remember a patient sending us a note that a few months back where she said look, I was trying to go down. My insurance company is west side, and a lot of doctors there are not accepting new patients for the day and moved out upstate or retired and so I called someone quickly, in fact quickly enough to catch cancer at the stage that it was still treatable, and I owe you my life and we're obviously very happy in order to get help in treating patients and really helping in other way [Phonetic] [0:07:12] by even for maximum one day problems like [Indiscernible] [0:07:16].
What we find is that patients are extremely satisfied. We measured something that's called the Net Promoter Score which is a metric of how likely someone used to work in member service to love buns, and I'm happy to say that we're head and shoulders above where the healthcare industry is typically and we're really trying to make the experience that they would — we want it to be even this day [Phonetic] [0:07:45].
Joan: That's great. Thank you so much Dr. Kharraz. I'm sure that some of our readers will bookmark ZocDoc right away. It's a great invention and it's a really helpful way to make healthcare better and a lot more efficient. Thank you so much.
Dr. Kharraz: Thanks so much for having me.