For people who have been diagnosed with diabetes, a standard pedicure can result in the appearance of various nail pathologies.
What are these diabetes toenail problems? How to avoid them? And why is it important for people with diabetes to carefully monitor hygiene during beauty procedures?
All the answers are given in this article.
Diabetics' problems: why total control during pedicure is important
When diabetes mellitus is diagnosed, life changes 180 degrees. A diabetic needs to monitor nutrition and come to terms with the changes that occur in his or her body.
The first is the loss of sensitivity of the feet.
During the procedure, the visitor will not be able to react in time to a change in temperature in the bath or a cut during cuticle removal or rough skin from the lateral nail folds.
Burns and cuts on a diabetic's body are hotbeds for infection, which lead to the appearance of pus.
The second is the deterioration of blood circulation.
This causes the healing process to be longer and more painful. This is due to the fact that blood contains substances that are necessary for wound healing, and it does not reach the damaged "location".
Third, nails become a health indicator.
You can tell what is happening in the body of a diabetic, judging by the nail plate shape and colour:
nails become pale: this is a sign of the development of anaemia;
the nail plate is deformed and grows inside: this is a "warning shot" that you need to get tested for cancer and check the condition of your lungs and bronchi.
The fourth is the susceptibility to fungal infection.
The risk of catching fungus increases by 50%. In case of infection, diabetic nails become dense and brittle. And, it is possible that the sharp edge will damage the skin, and make the body susceptible to further infection.
How to properly do a pedicure for a diabetic
First you need to establish and adopt several important rules.
Monitor the condition of the nails and the skin of the feet permanently
Why it is important: the appearance of cracks on the nails, calluses and corn on the feet is a "good" start for the development of infectious diseases (onycholysis, fungus).
Thus, diabetic nail care should include creams, wax or other means to nourish and soften the nail plate.
Moisturising and nourishing creams are selected for foot skin care. Small roughness on the feet is removed by using a fine-grained pumice stone. It needs to be changed every three months.
Choose a special set of tools carefully
Special attention should be paid to the tool for correcting the shape and length of the nail plate. It depends on this tool how damaging the procedure will be.
The best toenail clippers for diabetics is a tool with thin working parts. Durable, practical, with comfortable handles.
A similar tool is available in the Zamberg brand. It's called toenail clippers for diabetics.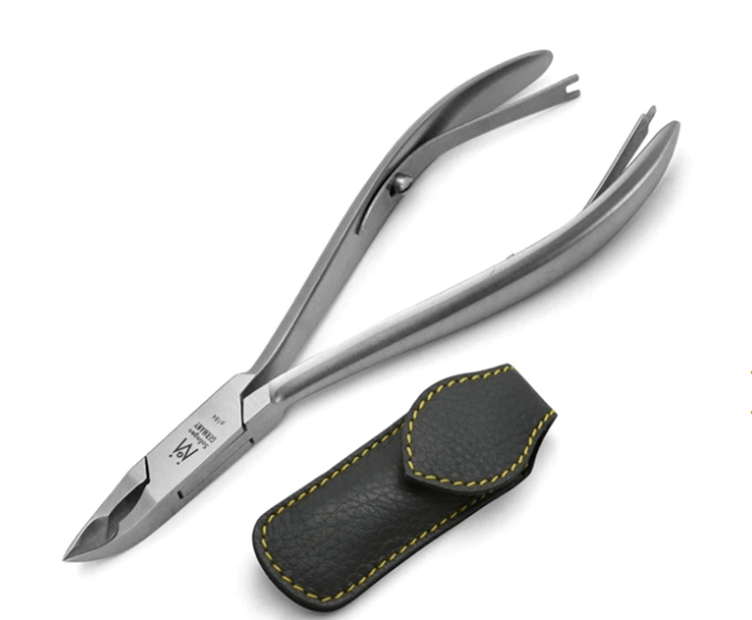 It can be used when performing a pedicure at home.
Pay attention to disinfection of the tool
If you do a pedicure at home, after the procedure, the tools should be soaked in a concentrated solution for 15-20 minutes. After that, wash the remains of the solution off under running water and wipe dry.
Keep clippers, scissors and other pedicure devices in a separate case.
For those who do pedicures in a beauty salon, it is a little more complicated. It is necessary to make sure that the tools have passed two stages:
cold sterilisation: the nail specialist soaks the tools in a concentrated solution;
hot sterilisation: clippers, scissors, spatulas are sterilised in a hot air oven at a temperature of 180-200C.
In this case, the pathogenic bacteria are 100% destroyed.
It's easy to check if this is so: the nail specialist will open a craft packaging with tools that are safe for the health of a diabetic.
You can't believe someone that sterilisation does in fact occur without the craft packaging (though, possible). In that case the tool kit remains unprotected for a while and bacteria can settle on its surface.
Study the correct technique of cutting the nail plate
The fewer movements, the better. Practise precision and accuracy. And make sure that the free edge is at least 1 mm long.
If you cut the nail "at the root", there is a high probability that inflammation or microcracks will appear. This is unacceptable.
Another tip is how diabetics should cut their toenails. They cannot cut their own nails that have grown into the lateral nail folds even 1 mm deep!
Only the podiatrist should do this, using special tools and observing all safety measures.
How to choose a beauty salon: tips for diabetics
You can go to a nail salon, if you do not have time to perform the procedures yourself.
That said, You must make a careful choice. Only visit salons that:
Have a specific method of hot sterilisation, i.e. hot ovens and enclaves. As previously mentioned, clippers, scissors and spatulas must be sterilised inside craft bags;
Employ professionals who know how to work with diabetics. They should know how diabetics should cut their toenails and why;
Consider their visitor's requests. They respect your request to be booked in the morning. During these hours there are less people in the salon, and the pedicure is performed right after cleaning.
What details of pedicure do diabetics need to know
One of the most important points is the cutting of the cuticle. It is better to leave this, since it is a rather dangerous procedure for those with diabetes mellitus.
A small cut can be the beginning of an infectious disease.
Thus, the cuticle should be gently pushed away with a spatula or an orange stick.
The second point is that it is impossible to use products with a high alcohol content when cutting. They can irritate the skin. Choose alternative water-based products.
We have mentioned a number of important issues for diabetics.
We are sure that the information will be useful to everyone who has been diagnosed with diabetes and who approaches their health responsibly.