Original Medicare can be a good start for your retirement health insurance. However, you cannot solely depend on it. As soon as those medical bills start arriving, you'll realize what we actually mean.
Besides Original Medicare, you need some additional coverage to protect yourself from expenses that could potentially reach into thousands of dollars. That said, there are a few options available for you, and Medigap Insurance policy may just be your best bet.
Here's everything you need to know about your Medigap healthcare plan and more.
Medicare & Medigap
Medicare was first introduced in 1965, and it was designed to cover a small part of your health care needs ever since. Original Medicare consists of two parts: Part A, the retiree's hospitalization coverage, and Part B, physician costs and outpatient services. Only a few select services are covered, and all expenses are shared between Medicare and you.
When signing up for Medicare, you'll be choosing from three main options:
Pay what Medicare does not cover from your pocket
Purchase supplemental insurance, e.g., Medigap
Get an all-in-one policy, aka a Medicare Advantage Plan
Medigap is a Medicare supplement insurance policy. It is sold by private organizations and helps cover the gaps in your Original Medicare Part A, Part B, and Part D. So, basically, it helps pay for what Medicare alone won't cover, e.g., coinsurance, copays, and deductibles.
If Parts A, B, and D confused you a little, then it's important for you to note that Medigap plans are typically identified by the following capital letters: A, B, C, D, F, G, K, L, M, and N.
Regardless of your insurance company, each of those lettered plans should offer the same standardized features. Beneficiaries who are eligible for Medicare from January 1, 2020, will not be offered Plans F and C. Those who are already in Plans F and C may continue their insurance coverage as it is.
Here's the Benefits Chart of Medigap plans sold on/after January 1, 2020: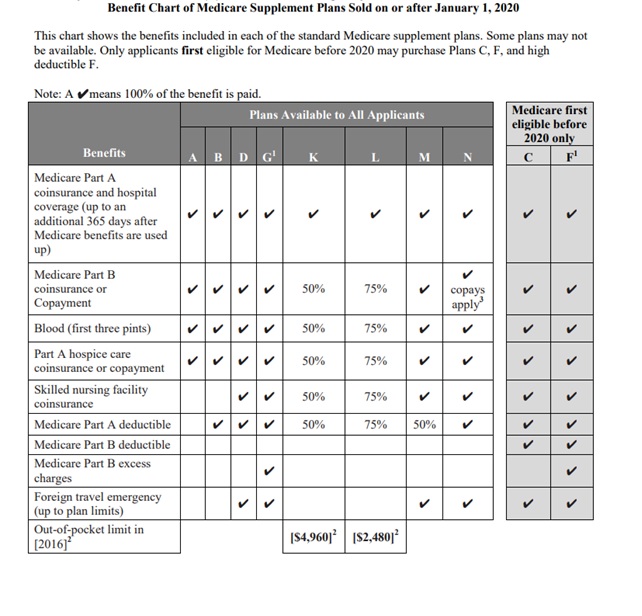 When to Enroll?
If you're new to Medicare, you should enroll in Medigap during the Initial Enrollment Period (IEP). You can obtain Medigap as early as 6 months prior to your Part B start date on Medicare.
If you're not in your IEP (new to Medicare Part B or turning 65-year old), you can still enroll in Medigap anytime during the year, so long as you secured Original Medicare. However, in order for you to be eligible for Medicare when you're under 65, you usually must have a serious health condition or disability, according to eHealth Medicare.
Choosing Between Different Medigap Plans
Some important things need to be considered if you're planning to sign up for a Medicare Supplement Plan in the future.
In 2015, MACRA brought some big changes to Medigap plans. Namely, as mentioned earlier, if you're eligible for Medicare starting from January 1st, 2020, you won't be considered eligible for a Plan C or Plan F purchase.
If you're already in Plan C or Plan F prior to that date, you won't lose your coverage. However, if you cancel it, this will no longer be an option.
Is that a bad thing? Well, yes and no. In fact, there are some great alternatives available that offer much better value compared to Plan F.
People often wonder if the quality and benefits of a Medigap plan vary from one insurance company to another. Our verdict? Probably not.
According to Medicare.gov, all Medigap policies are standardized. What this means is that whichever plan you go with, you'll receive the same amount of coverage— no matter which organization you end up signing up with.
However, don't get stuck with a plan that doesn't fit you well. It's easy to get confused between your coverage options. That's why we recommend consulting a health care market expert who can help research the right plan for you.
You must also remember that although the coverage is standardized, it doesn't mean the premiums will be, too. Insurance companies can set whatever premiums they want (legally), meaning you could possibly end up paying extra for the same coverage.
An often-overlooked factor in the Medigap market is the financial stability of the carrier, as well as how long they have been in the market for and what type of customer service you can expect from them if you need certain queries answered.
Today, we're seeing more and more carriers joining the market. Some are even outsourcing customer service as they cannot afford their own. Oftentimes, these third-party firms can answer the phones representing multiple insurers.
In our experience, the services you get from them cannot match the services you'll receive from a single, stable firm where the employees have control over their company culture. They take great pride in the services which only they can provide by working for the genuine insurer.
When choosing a career, you should consider price, but that's obviously not the only consideration. We've seen many seniors who were approached by agents for relatively new insurance companies with a "low-ball" rate in the marketplace. Without adequate experience, these low rates often lead to rebound rate increases starting in year 2 or 3.
While you could change or sign up for a Medigap plan any time during 2020, depending on where you live, chances are you're limited by the underwriting process needed to do so.
Many times we've seen seniors who originally signed up for "cheap" plans later discovered that, due to poor health, they were unable to switch companies to obtain a lower rate. This is often at the point where their once inexpensive company has exceeded the market average of rate increases.
Wrapping Up
By keeping the above considerations in mind, alongside knowing the changes in 2020, seniors can better navigate the confusing world of Medigap plans. If you need further assistance, feel free to leave us a comment down below. Our experts will respond to you shortly.