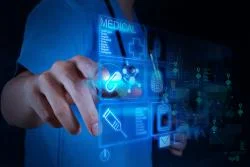 Technology is advancing so fast that it is becoming harder to remember how we used to live. With the emerging technology in medicine, we may soon forget the healthcare delivery we have today.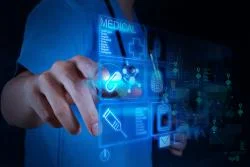 Technology is advancing so fast that it is becoming harder to remember how we used to live. With the emerging technology in medicine, we may soon forget the healthcare delivery we have today.
Nanoscale Technology – The ability to sequence human genome (3 billion pairs), cancer cells, bacteria and proteins. The ability to create stem cells and personalize medicines based on our unique genome, microbiome and conditions.
Big Data Technology – The ability to combine mass amounts of disparate digital data, crunch it on supercomputers and deduce new insight to advance medicine. Once this is combined with digital monitoring, diagnostic devices and our unique contents identified with nanoscale technology, we will get an additional new leap of insight into individual treatments.
Patient Recovery Technology – With 80% of factors in health outcomes outside clinical care, mobile technology is making it possible to monitor and manage the other factors. It is also enabling remote mobile triage and clinical action with patients 24 hours per day and 7 days a week.
Outside The Four Walls
We have a lot of data about patients while they are inside the four walls of hospitals, clinics or physician offices. Until now, there has been little data about what happens to patients outside clinical care. Yet most of patient recovery occurs outside the hospital or physician office. Patients often leave the hospital when their reimbursement runs out rather than when they are recovered. This combined with the fact that 80% of the factors in health outcomes are outside clinical care, the impact of patient recovery technology could be a game changer.
Each of the new reimbursement models that are coming introduce a time element that will necessitate focusing on patient recovery in addition to "the service". The Camden, NJ patient that Dr. Jeffrey Brenner identified as going to the hospital 131 times in one year will be a thing of the past. If more effective patient recovery (including stabilizing chronic conditions) could reduce the cost of caring for the top 1% ($87,570) utilizers of health care services by 25%, the United States would save $65B per year.
Patient Recovery Technology is just now becoming feasible. With 6 billion active cell phones in the world, we can now monitor, educate and treat cost effectively. Patient Recovery Science is clear, we know how to do this. A recent sudy by the Commonwealth Fund concluded 12% of care can be delivered remotely by leverage technology. Here is some of the enabling technology or technology enabled services making this possible
Electronic Health Records (EHRs) – Hospitals and physician offices have been migrating to electronic medical records and will soon be required to share EHRs with the patient. Medicare and insurance companies are providing patients free Blue Button reports of their medical claims history. Companies are providing patients free cloud hosting of theirs EHRs. Providers are providing free portal access to EHRs.
Remote Monitoring – Medication adherence, blood pressure, glucose levels, weight, activity and many more metrics can be measured automatically without the patient typing in any information. The Bluetooth or Wi-Fi enabled devices automatically record the results into remote hosted applications and cloud storage.
Mobile Enabled Devices – Bluetooth enabled ECGs, blood pressure cuffs, home motion sensors. 8 megapixel digital cameras are embedded into phones that take pictures of lesions, ear infections and potentially cancerous skin. Secure encrypted HIPAA compliant communication from text to video conferencing enables communication.
Remote Patient Services – Services outside the physician office or hospital. Automated alerts to nurses when blood pressure readings are outside the desired range. Education and support to ensure patients can take care of themselves and use devices properly. Care coordination to schedule physician visits or engage community services like Meals on Wheels to ensure nutrition during recovery.
Physician eVisits – ATMs didn't replace banks, nor will remote Physician eVisits replace office visits. Like needing cash at 8pm, Physician eVisits offer new capabilities. Like triaging a patients at 8pm, rather than a referral to the Emergency Room. It may be to adjust treatments or eliminating concerns before it spirals into an adverse event.
Education – Decision aids, education videos of conditions and how to treat conditions. Nurses calling patients from their homes to discuss concerns with patients. Patient navigators explaining financial arrangements, treatments and how they may feel during the process.
Big Data – Identify "Super-Utilizers" patients for extra attention, identify potential risks in EHRs, and to determine the best recovery protocols.
It may be hard to imagine life before the ATM, cell phone and internet. Some of us are already afraid to leave the house without our cell phones. We may soon feel the same way about patient recovery technology. We may become anxious without our monitoring devices, or from not having our online EHR current and doctor accessible. It may be soon hard to imagine going without the healthcare system we want.
(new medical technology / shutterstock)