I wrote a post for the HIMSS blog and want to share it with my readers here, as well. Leave your thoughts on the HIMSS post or here!
I wrote a post for the HIMSS blog and want to share it with my readers here, as well. Leave your thoughts on the HIMSS post or here!
Social technologies are becoming common tools in the business of healthcare. They have gone beyond marketing, public relations and branding functions and are more broadly being used for education, support, collaboration, communications, fundraising and engagement. More recent uses also include surveillance, gaming, care coordination, research and intelligence.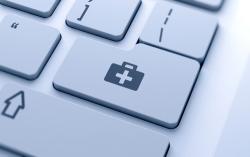 The list of populations benefiting from social tools is endless and multifaceted. Patients and family caregivers are supporting each other on both public social media channels, as well as secure social networks. Employees and contractors are collaborating, communicating and accomplishing the work to be done on a daily basis. Board members and medical staff are using social tools to stay organized and help them more efficiently keep up with growing oversight responsibilities. Perhaps, most importantly, healthcare leaders are engaging their communities and increasing transparency as consumer expectations shift.
Welcome to the new business of healthcare! Those who will be most successful in leading in this environment will be prepared to leverage the available tools, including social technologies and branded social media channels. The most effective of these leaders understand:
With whom to engage
Which tools to apply
When to use
Where safeguards are needed
This new reality isn't without its challenges. If you are a healthcare leader:
Step back and view the enterprise-wide use of social media and the underlying technologies for opportunities to integrate them with complementary systems for seamless access. For example, portals can create more personalized and seamless access by tying the EHR, social networks and other patient-facing systems together.
Harvest information from conversations and integrate social media data into performance improvement activities and business strategies.
Ensure, or create, plans that tie the application of social technologies and channels to the organization's mission, goals, and objectives.
Know your population or communities, realize their perceptions and offer safe networking opportunities that incorporate user-centric design.
Don't let the known and unknown risks stand in the way of improving communication and processes. Recognize that there is risk in everything you do; and as a leader, it is your responsibility to identify and manage those risks.
Be prepared to identify, expose and capture those who will misuse these tools of collaboration.
It is important to maintain a focus on the patient, as well as, the staff and caregivers responsible for care and support processes. In doing so, you increase the likelihood of creating value for users and the realization of sustainable outcomes that contribute back to the business of healthcare.
social media in healthcare / shutterstock