The Walking Gallery: Personalizing Patient Stories [Podcast]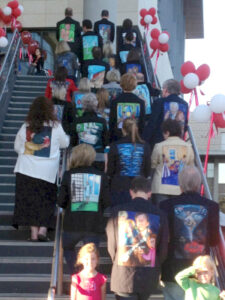 Regina Holliday faced a medical crisis – her husband Frederick's cancer diagnosis – and found that the patient's experience, input or feedback had no place in the healthcare system. After the death of her husband, Regina resolved to speak out about patient advocacy the best way she knew how: with her art. She painted a mural on a gas station in Washington, D.C. illustrating her husband's health journey titled "73 Cents" (the cost per page of obtaining your medical health records in the state of Maryland). Regina founded a patient advocacy movement, "The Walking Gallery" for which medical providers and advocates wear "patient story" paintings on the backs of business suits. The Walking Gallery appears at medical conferences, healthcare institutions and health events to draw attention to the need for patient voices to be a part of healthcare processes and systems.
To hear more about Regina's story listen to the podcast or drop in at the time stamps below: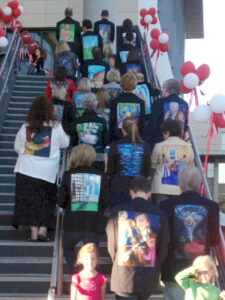 00:00 Introduction
00:45 Meet Regina Holliday, patient rights advocate
01:20 Regina's story
02:50 Can art impact healthcare reform?
03:30 Finding ePatients online
04:27 Creating a 17′ x 70′ mural
06:50 A BP Believer
07:40 "I did not fit in" The start of The Walking Gallery
09:00 Kaiser Permanente display
10:00 How long does it take to create a Jacket
13:18 Accolades and calling out healthcare
14:20 Art can start a movement
15:50 ePatient Dave, Dave deBronkart
16:29 Meaningful Use, Stage 2 – the disconnect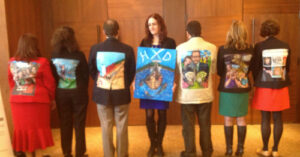 17:21 Open Notes – and adding to a patient's records
20:30 Part of the solution
22:02 Giving into the lack of change
22:35 Mental locks to change
23:20 Regina Holliday – everywhere
23:44 Social Media Tip: Lisa Ramshaw: "Think big"
Visit our
resources
page for more valuable (and free!) resources on social media and digital health.