Beyond the Buzz: What the New Twitter Profile Means for Healthcare Marketing

Have you got it yet? It's bigger, bolder, and brighter. It's the new Twitter profile, and it's coming to a Twitter account near you.

Have you got it yet? It's bigger, bolder, and brighter. It's the new Twitter profile, and it's coming to a Twitter account near you.
Twitter is currently rolling out a profile redesign to all current users (new users will get the profile design automatically). So whether you already have the new profile, or you are still waiting, get ready to take full advantage of the new look for your healthcare marketing with today's tips.
New Twitter profile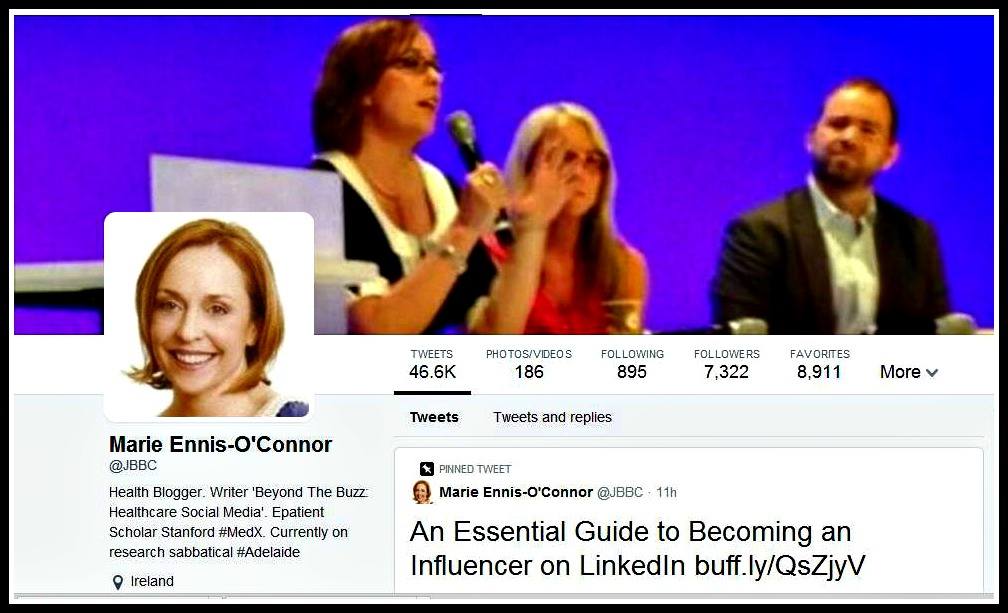 What's new?
Tweets with the most engagement will appear in a larger text size
Better branding opportunities with customizable header image
Visual content will get a bigger boost
Top tweets will be more prominent
New tweet-pinning feature
Larger profile photos
Filtered views
5 Must-Do Changes for Your New Twitter Profile
1. Change your profile photo
Photos are now 400 pixels by 400 pixels, the same aspect ratio as before but with larger dimensions. Your original photo will be automatically resized by Twitter, but you may find you need to update it to an image with a higher resolution.
2. Customize your header photo
Do you remember the Facebook page redesign of header images in 2012? It made them bigger and bolder. The new Twitter header design is comparable as it now spans the browser.
How to add a new header image
Go to profile, click edit profile and you will be prompted to upload/change header image. You will need to upload a 1500 pixel by 500 pixel image to fit the new dimensions. Your current header image might fit, but the bigger scale may make it look blurred or stretched – test to see how it looks.
See this change to header photos as an opportunity to show off a branded message. When someone comes to your Twitter profile for the first time, they should see a design that reflects your healthcare brand. Make it big, bold, and brighter. See the example below by Twitter user @AslanVA:


Here are some more suggestions to try:
Choose an impactful image which shows your passion for what you do
Humanize your brand with a picture of your employees
Showcase your healthcare products in an eye-catching way
Tip: Use a photo editor like PicMonkey to create a product collage.
Bonus Tip. Update your header regularly by customizing it to upcoming events, seasonal changes, special promotions or new products.
Still stuck for ideas to make your header stand out? Browse healthcare brands on Facebook and Google+ and take a cue from them when creating your own Twitter header.
3. Choose a pinnable tweet
You now have the ability to pin any of your tweets to the top of your Twitter profile. Think of it like favoriting one of your best tweets. What do you want others to see? Consider pinning a link to something you've written, an upcoming event or the latest announcement at the top of your stream, or craft a tweet that conveys your healthcare brand's core values.
In the new profile design, some of your tweets will have larger text than others.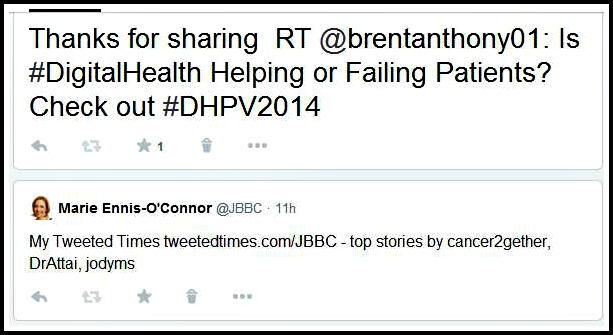 These are your "best tweets" (i.e, a tweet that had a high level of engagement (retweets, responses or favorites). You may wish to pin your best tweets.
How to pin a tweet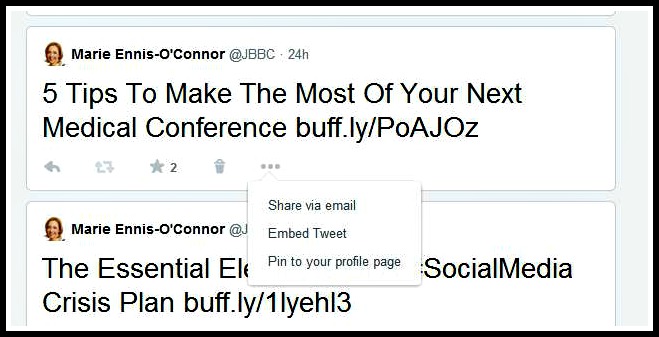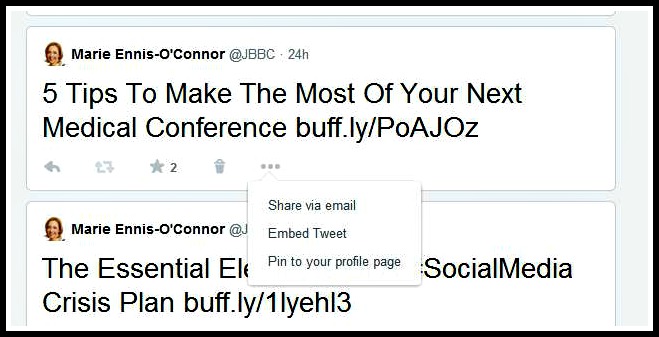 Go to any tweet on your profile page, and click on the … icon below what you've written. When you click that, you see a menu with the options to share via email, embed tweet, and pin to your profile page. Click pin to your profile, and the tweet will remain at the top of your page until you unpin it (using the same process), or pin a new one.
Tip: Rotate your pinned tweets regularly to keep your content fresh
4. Get ready to share more visual content
Photos and video have become more prominent with the latest Twitter redesign. You can see from my profile example at the top of the page that a new Photos/Videos addition has appeared alongside the familiar, Tweets, Followers, Following lists. People who view your profile now have easier access to the visual content that you post which should encourage you to post more visual content.
Buffer released data which shows that adding photos to tweets results in significantly more engagement than text only tweets. Tweets with photos get 18 percent more clicks and 150 percent more retweets.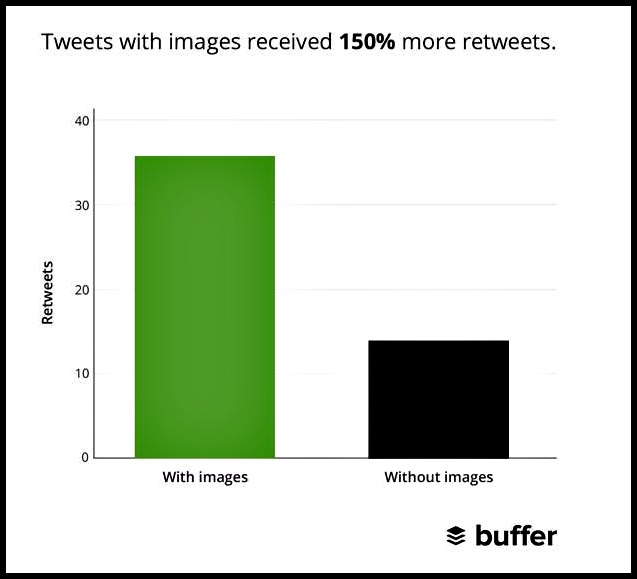 5. Optimize your Twitter bio
This is an opportunity to review your current bio. You get 160 characters to introduce yourself to the Twittersphere, so make it interesting, informative and engaging. A strong bio attracts more followers and lets people know what to expect when they follow you. Give them compelling reasons to follow you – let them know who you are, what your professional interest is, and what makes you unique.
Tip: For best search engine optimization add in keywords to your bio.
What the changes mean for healthcare marketing
The current cosmetic changes offers you an opportunity to review your Twitter brand and make it bigger, bolder, and brighter. While it may seem that a lot has changed with the Twitter redesign, the way you should use Twitter for healthcare marketing remains the same. Twitter is still all about engaging with your followers, even more so now with increased emphasis on the content that your followers engage with. It's about conversation; it's about making it more about your audience than you. If you aren't already getting engagement on Twitter (i.e. retweeted, replied to, mentioned, favorited, and listed), then it's time to step up your Twitter strategy. Get this right and you are well on your way to a stand-out Twitter profile.
Have you activated your new Twitter bio yet? What do you think about the design changes?
Logo by Marie Otskua