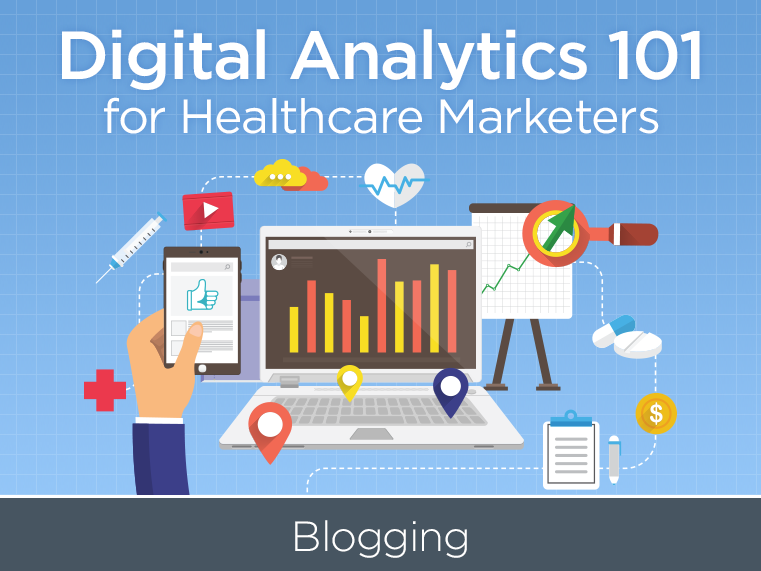 In this installment for our series, Digital Analytics 101 for Healthcare Marketers, we provide short briefs on the What's, Why's, and How's of digital strategy. This posts explores the impact of blogging within the context of your digital marketing strategy.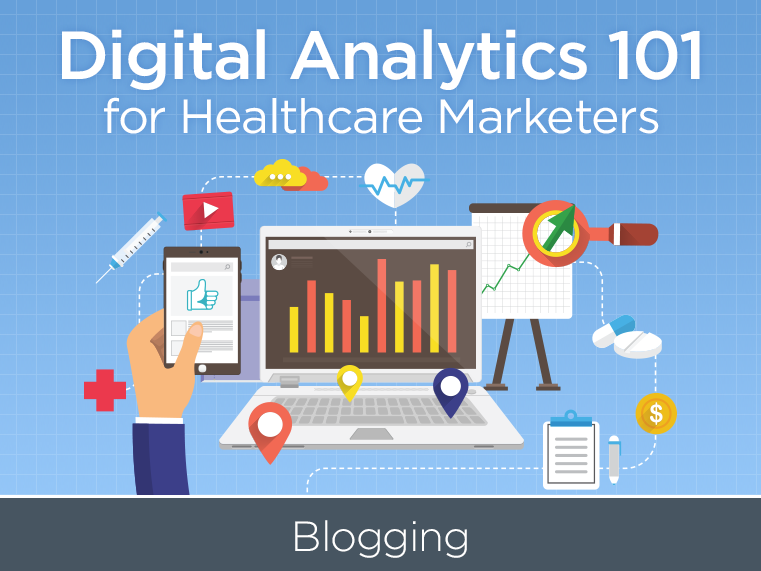 In this installment for our series, Digital Analytics 101 for Healthcare Marketers, we provide short briefs on the What's, Why's, and How's of digital strategy. This posts explores the impact of blogging within the context of your digital marketing strategy.
So far, our series has covered the topics of SEM and Paid Search, Website Traffic, and Social Analytics. This week, we'll take a close look at blogging and explain how it can bolster visibility and positive brand perception across digital channels, ultimately growing your overall sphere of influence and visibility in the all-important online space.
Why is Blogging So Important for Healthcare Marketers?
To grasp how central content marketing has become to healthcare today, there are several factors that industry professionals must understand.
The first and most obvious of these factors is that today, consumers are flocking to the internet for information about their health. A recent study by Pew Research shows that 72% of consumers searched online for health info in the last year — in fact, besides restaurants, consumers are more likely to look for medical practitioners online than for any other type of service or industry, as Bright Local reports.
Simply put, healthcare consumers are hunting for helpful information, and they'll pay a premium in brand loyalty if you make it easy for them to find the right answers for their questions.
Another factor to remember is that good blog content makes your company more visible online. As we pointed out in our article on SEM and Paid Search, a company's Google search ranking is highly dependant on how relevant the search engine determines its content to be. Superior quality and depth results in higher visibility as reader engagement grows.
The third factor is social sharing — 92% of consumers trust "earned media" (shared from friends or family) more than any other type, according to Nielsen. If you want consumers to respect your brand, your content must be worth sharing (online and elsewhere). An important note: inaccurate health information is never well-received and should be considered unacceptable.
In short, there is no better way to satisfy customers and grow influence than by regularly publishing useful, helpful, and relevant content.
How Do You Create Great Content?
The actual quality of content is subjective, but there are a few best practices for producing excellent work. Before you write a single blog post, as the highly-successful Mayo Clinic blog creators note, you must first define what success looks like — where are you focusing on growing brand awareness? With which audience segments? What metrics will you be using to measure performance?
As you build out a strategy, remember that each blog post must retain individual readers for more than just a glance — quick "bounce backs" away from your articles will hurt your Google search rating, according to Search Engine Land. Relevance and accessibility are key.
For Search Engine Optimization (SEO) purposes, posts should aim to contain 3-4 keywords per 100 words — but don't overdo it! This kind of transparent SEO-boosting tactic is called "keyword stuffing," and Google's Hummingbird algorithm was designed to punish publishers who use it. It's also best practice to use keywords tactfully and conversationally, as if you're answering the customer's question. After all, that's why they're coming to you.
Share Stories to Engage with the Local Community
Be sure to include compelling stories on your blog that will resonate with your target audience. At the end of the day, you're trying to build connections with everyday people, and everyday people will always connect better with interesting, relatable stories than cold, hard statistics and facts. Why? Because stories evoke emotional responses, which, in turn, inspires people to take action.
By identifying the key concerns and questions within specific communities and using this information to dictate storytelling on your medical blog, you can develop meaningful relationships with your readers and engage them in a far more personalized manner. This will go a long way in fostering a sense of trust and reliance among your audience, ultimately extending your reach via word-of-mouth referrals and prospective/current patients' personal social networks — people love to share helpful, relevant online resources with friends and family.
At the end of the day, the more engaged your audience is, the more likely you'll see them transition from "prospect" to "patient."
Analyze, Assess, and Reconvene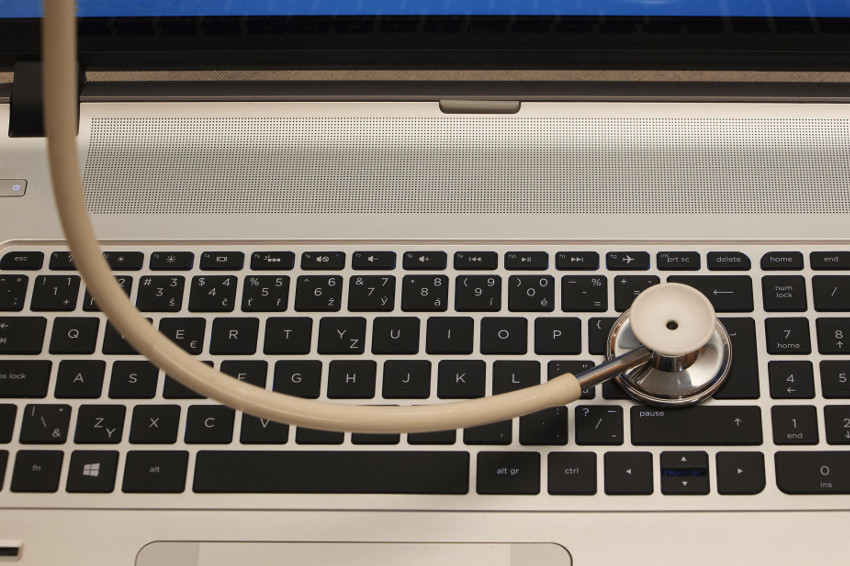 Google Analytics is a great starting point for performance tracking — it tracks features like page views, scroll depth, pagespeed, and pagination, all indicators of reader enjoyment. However, it can be difficult to correlate the page views of a single post to customer conversions. Constantly evaluate how your well-defined content strategies affect online engagement overall, and then tweak your process as needed.
Keep in mind that well-researched thought leadership will gradually gain you more business over time — it takes far more than a single successful post to capture consumer awareness. Above all, demonstrate to your audience that they can count on current and useful health insights, and they'll keep coming back for more.
Effective Content Marketing is tough, marathon work, but the benefit of a loyal base of brand proponents is more than worth it. As your content portfolio and reputation grow, more individuals and media sites will choose to engage with and share your message. Nevermind the Google rankings — learn to embrace your audience and all else will follow.
(Image credit: FidlerJan/MorgueFile)