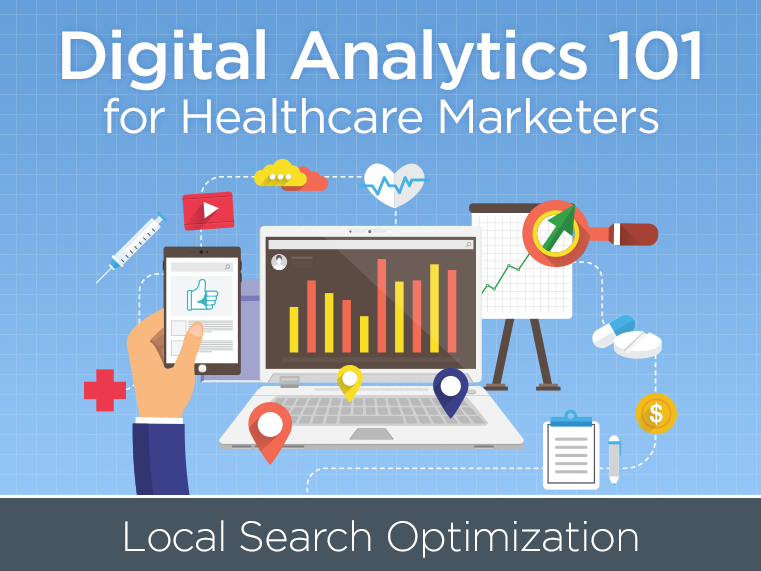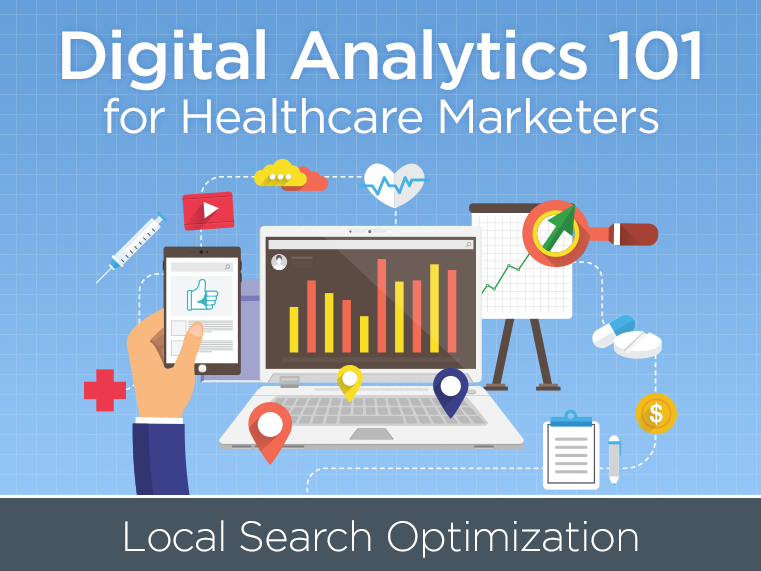 This post is part of our series, "Digital Analytics 101 for Healthcare Marketers," where we provide short briefs on the ins and outs of digital strategy. In this article, we'll discuss why local search optimization is critical for bolstering online visibility, and how you can use it to attract new patients in your area.
The internet has become our go to resource for all things local — from restaurants and concert venues to libraries and sporting goods stores, when it comes to finding goods and services within convenient radius, our first instinct is to take to the web.
Healthcare services are no exception to this trend — 77% of patients conduct an online search before booking an appointment, and 96% of computer owners feel that this should be standard procedure for any local service. Of course, mobile is also having a significant impact on this trend. Nearly 80% of local searches made on mobile result in in-person purchases, according to SearchEngineLand, indicating that when we do search for treatments and healthcare service providers online, we have a high intent to follow through with a visit.
This is critical for medical marketers, who need to capture prospective patients' attention on their phones in order to get them through the door. They'll be pleased to know, then, that local search drives more clicks, calls, and a higher ROI than any other digital marketing channel, according to BrightLocal. As such, its established itself as an indispensable part of any effective healthcare marketing strategy. Here's how to capitalize on this fact.
Landing On the First Page
In short, in order to establish a local search presence, you need to make sure that your brand consistently appears on the first search engine results page (SERP), which tends to garner over 70% of clicks. There are two generally accepted ways to accomplish this goal: search engine optimization and search engine marketing.
Search Engine Optimization (SEO) improves your medical website's unpaid, organic search ranking, or in other words, the degree to which Google's search algorithm finds your site to be relevant to a patient's search term. Google determines this based on a "secret" combination of keywords, content, website quality, office, local directory ratings, and more (although SearchEngineLand reports that location-specific data will soon factor in much more heavily).
To elevate your ranking on Google, along with other search engines like Yahoo and Bing, you generally need to improve in each the areas that factor into their respective algorithms. Creating a solid bank of highly informative, locally-focused content on your blog or your website itself will boost your odds of landing on the first page in two ways: by helping your site match keywords, and by increasing its value and quality from the perspective of both Google and your patients (be sure not to keyword spam, or the algorithm will punish you).
It's also critical that listings for physician names, office address(es), and phone numbers (NAPs) are accurate and up-to-date in local online directories like Google My Business and on location-specific rating sites such as Yelp. Search algorithms also heavily favor those that cater to mobile users with responsive web design or mobile-optimized sites.
Search Engine Marketing (SEM) typically involves sponsoring keyword-driven ad campaigns in order to appear in one of the top three ad positions on a SERP. In light of Google's recent overhaul regarding AdWords campaigns, there are now two tiers of paid ads: three to four relatively expensive, but highly visible top-of-page ads — which garner the overwhelming majority of traffic — and relatively inexpensive bottom-of-page ads, which, naturally, will see lower click-through-rates (CTRs).
Try Before You Buy
In order to optimize for local search, healthcare marketers must roll out a variety of highly targeted ads, consisting of keywords that emphasize local patient demographics and areas. After determining which are most effective, marketers can ramp up their spend on the successful ads and eliminate the low performers. In our experience, top-of-page ads are almost always worth the cost, especially for short-term, high-impact campaigns and patient recruitment drives.
Of course, the most successful local search strategy will include a combination of SEO and SEM techniques, and will likely have to be adjusted over time as patient demographics shift and your business expands its target territory. However, one thing is clear: as patient preferences increasingly lean towards local, personalized experiences, those who optimize their web presence accordingly are the ones who will ultimately achieve long-term, sustainable success.