HealthCare Technology and the DocResponse Revolution – Meet Your New Best Friend in Healthcare
HealthCare Technology and the DocResponse Revolution – Meet Your New Best Friend in Healthcare
I have worked in the healthcare industry for years, and have seen several applications of technology, new ideas, and novel approaches to healthcare come and go, but seldom have I ever been as hands down impressed by something new hitting the market as I was recently by a company called DocResponse and their online symptom checker.
The Most Accurate Online Medical Diagnosis Available
Let me begin by talking a little bit about what DocResponse does. It is a clean, user friendly website with a companion "app" that allows anyone access to a free online medical diagnosis.
You begin by choosing your gender and age, and then select on a visual diagram of the body the area or system that is bothering you. The graphics here are especially phenomenal and really allow all users to pinpoint the area of concern in a way that is easily accessible for any user level.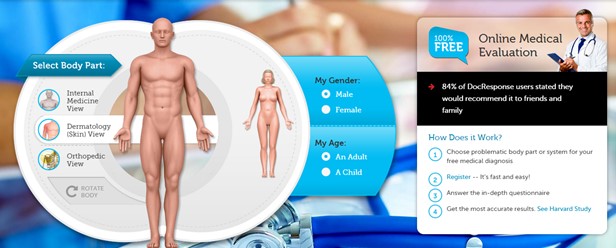 Following this selection, you are guided through a series of questions in a smooth easy to follow format, much similar to the way that your own physician asks you a series of questions when you make a doctors appointment. The guided question series is exceptional thorough, without being cumbersome to the user, and offers a very personal feeling experience.
Once the evaluation portion is complete you simply register with an email address and then rapidly receive your diagnosis. One of the most phenomenal things about DocResponse is the level of detail found in the diagnosis, and the fact that this application offers a differential diagnosis.
In other words you receive a report that tells you what the potential problem could be and the likelihood by percentage that this is the problem. Additionally, and perhaps most importantly, you are provided with a recommended course of care. This is important because it lets users know when they should (or perhaps do not need to) seek medical attention.
There is an additional option that allows the user to specify if they would like to receive additional information about these medical conditions. This is what an example output might look like:

DocResponse Beats Industry Giants like WebMD and Mayo Clinic in Harvard Medical School Study
I have to say, hands down, this is the best online diagnostic tool that I have utilized from a personal perspective, but as a healthcare executive I cannot help but think that the potential business applications of this platform could be astounding, especially as DocResponse has recently been recognized by both Harvard Medical School and the BMJ (British Medical Journal) as the most accurate diagnostic tool on the market according to a recent independent study. Not only did DocResponse outperform the competitive tools of industry giants such as WebMD, iTriage, AskMD, and the Mayo Clinic, but it was the only application that offered a differential diagnosis.
From a numbers perspective the results are shocking: 45% of users surveyed stated DocResponse saved them an unnecessary trip to the Emergency Room or the doctor's office; this translates into savings of potentially hundreds of dollars per year per patient for healthcare organizations who could utilize this tool for their patient populations in order to decrease unnecessary ER visits, and provide a new means of healthcare access for their patient populations.
Applications like DocResponse are the future of healthcare…available today.
Not only can everyone benefit from using DocResponse as their go-to for medical information on the web, but the business applications have the potential to transform healthcare as we know it both in the United States and abroad.
For more information, or to check it out yourself go to DocResponse.com