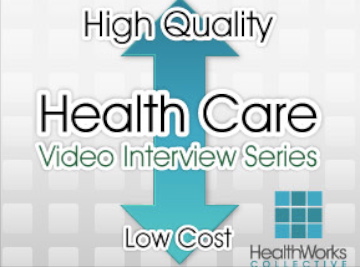 Last week, Dr Ricardo Bello talked about reducing patient re-admissions with GRRAM at Montefiore Medical Center. This week, Kevin Palattao, Vice President of HealthPartners Clinics in Minnesota talks about HealthPartner's Virtuwell, an innovative online diagnostic and treatment service.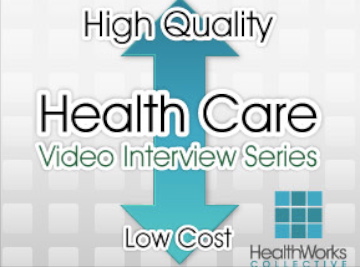 Last week, Dr Ricardo Bello talked about reducing patient re-admissions with GRRAM at Montefiore Medical Center. This week, Kevin Palattao, Vice President of HealthPartners Clinics in Minnesota talks about HealthPartner's Virtuwell, an innovative online diagnostic and treatment service.
I recently wrote a post about the HealthPartners website as I thought it was a great example of how a website should be – clear, uncluttered, easy to understand and comprehensive. Virtuwell is a very cool idea – an interactive site available 24/7 that will put patients in touch with a nurse practitioner to diagnose their illness and then treat it or send them to an available doctor for further tests.
Watch the video and then take Virtuwell for a test drive and see how it works!
To see other videos in this series, please go to this page. And if you have a story to tell that can reduce healthcare costs and raise quality of care, please comment below or email me at joan@socialmediatoday.com Thanks!
Video transcript (by TranscriptionStar)
Joan: Hello I'm Joan Justice, and I'm here today with Kevin Palattao, Vice President of HealthPartners Clinics and Virtuwell, an innovative online diagnosis and treatment service. Kevin has 20 years of experience with healthcare operations and information technology, and he's the one that led the implementation of health record system at HealthPartners. Kevin, tell us how Virtuwell got started, and the successes that you've had so far?
Kevin: Sure. Well, you know a number of years ago we were having a discussion here at HealthPartners, and we concluded that if we keep practicing medicine as we do today, healthcare is going to become a colossal burden for humanity. And we also been spending a lot on studying you know how has technology changed the way that we interact with each other as human beings, and it became clear to us at that point that that the Internet and mobile technology had fundamentally changed communication patterns among humans.
And we were really interested in understanding how could we apply those everyday tools that people have become accustomed to in their lives, in the healthcare context. We were also really I think smitten by the concept of the Triple A meaning how can you simultaneously improve quality, create exceptional experiences and do it all at affordable cost, and so those things were really driving you know our pursuit at developing something new.
And so out of that came the idea of Virtuwell. In Minneapolis, this is a very competitive retail clinic market and we've had mini clinic and target clinic operating here for quite sometime. And frankly, I like to credit them for really uncorking the way that we think about convenience care in the United States. And they brought a consumer lens to an otherwise healthcare experience, and so as we were thinking this through, we thought that using technology we could do even better things than we could do in walking clinics.
And so things combined let us to develop Virtuwell, and we launched in October of 2010 since then we had about 55,000 customers come through and use the service. We've had an equal number of people come through and use the service, and hit one of our safety protocols that suggested in-person care was a better option given their situation and so we treat about 40 common and we really try to limit the things that we do, that we can do safely online, and for those things that require a lab test or an imaging study or a physical exam, we try to redirect those people to the appropriate doctor's office or even a retail clinic.
And so you know all said and done over a 100,000 people have experienced Virtuwell so far.
Joan: I think that's absolutely wonderful. And what about the limitations involved, what about the licenses? I know that doctors aren't supposed to treat patients in another state for instance. Tell us a little about that. What's going on there?
Kevin: Yeah it's a really unique situation in our country. Medical licensing is done at the state level, and every state has its board structure, and there's the medical board which typically governs the nurse practitioners, physician assistants and physicians. There's also the nursing board that's part of the nurse practitioner structure and then there's the pharmacy board and all of them weigh in on topics like internet prescribing and online care.
And so every state has to make its choices about what it considers to be safe and effective approaches to online care. We're very fortunate in Minnesota that this is one of those states that is progressive, and has statutes that allow innovations like this to emerge. Our fellow states in Wisconsin and Michigan are, are progressive that way, and so we're operating now in those three states, and so anyone living in, working in, or traveling to those states can use Virtuwell.
As we look across the country, however not everyone sees the world that way. There are many areas that still consider in-person, face-to-face visits. The only way that care can be delivered, and so they prevent us from prescribing over the internet or even rendering a diagnosis and treatment plan. So we're looking at all of the states out there right now to try to understand which ones are open and receptive to our clinical model and which ones are not. And we'll be interested in expanding where those statutes allow.
Joan: So you're going to expand maybe into Virginia where I am.
Kevin: We'd love to be in Virginia to help you out.
Joan: Yeah I would love you to be there too I think it's a wonderful idea, so you created an electronic record for each patient. Is that correct?
Kevin: Yeah that's right. We take all of our patients that an interactive interview process and as a result of that, we are simultaneously creating their electronic health record that becomes available to them 24/7, 365 we never close Virtuwell. We're always open so if they ever need access to the information in the future appointments we've got that information available if they want to share it with somebody in their family or if there's another care team member that they trust they're free to share that information with those people as well.
Joan: That's great. Now, you can go on to site, and kind of test draw at Virtuwell, right? You don't have to really commit or pay and also visible pricing. Its $40 we didn't mention that, but visible pricing and it can be reimbursed by your insurance or if you don't have insurance you pay the $40 which certainly is reasonable and you can go through I want to tell our readers, you can go through, go to the site, and test-drive it and see what its like, and you don't have to commit to anything until the end. Is that right Kevin?
Kevin: Yeah that's right transparency was one of the design attributes that we had in creating Virtuwell, and so we wanted be very clear upfront about what this would cost, so you're right. It is $40 that's the most it will cost. Many people file insurance with that, so its going to be your copay or whatever your deductible is, so its often times less than that, but nobody will pay more than $40 ever.
We do five claims on your behalf so we'll submit a claim to your instance company. We'll wait for that remittance advice to come back, and once we understand if you have a responsibility we'll just debit your credit card and send you an electronic receipt for that. We did trade and open our contexture on this so, yeah hit this for a [Phonetic] [0:07:10] diagnostics button and take it for a test-drive.
Its — you have an opportunity to see the quality and the safety that's engineered into the system. You might even hit one of our safety protocols that's suggesting person care is a better choice and one of the neat things about our site is that we don't give you general advice. Its very specific. After all you've just taken the time to give us some very specific information about your unique situation, so we'll explain to you if we have to stop the interview why we stop the interview, what we worry about, and what the standard of care is that you should expect for the things that you're presenting with.
Now, a lot of people have doctors, but in our experience more than half say I don't associate with any particular primary care doctor. So we have a nifty provider finder application that allows you to find a provider in your community that can you help with the things that you're presenting with. Just type in your zip code and it will give you a list of doctors that are appropriate.
Joan: I love it. Thank you so much Kevin. I love the HealthPartners website and the idea of Virtuwell, and I'd certainly use it if it were here in Virginia. Thank you so much.
Kevin. You're welcome. Thanks for having us.