Today, it is more important than ever to focus on taking care of our hair holistically, as the health of your hair isn't only down to the products you apply. With a little effort and knowledge, you can tackle all sorts of hair issues by addressing both internal health concerns, such as diet and stress relief and external factors.
In this blog post, we will explore how holistic practices in nutrition, self-care and styling techniques can help you achieve healthier-looking hair overall.
Identify the Root Cause of Your Hair Issue
Many of us have experienced hair issues such as thinning, excessive shedding, or breakage at some point in time. As frustrating as it can be, it is essential to identify the underlying cause to address it adequately. Is your issue related to a lack of certain nutrients or vitamins in your diet? Do you use harsh products that could damage your hair? Asking these questions will help you find the root cause of your issue.
Once you've identified the issue, you can address it by implementing a holistic approach that includes lifestyle changes, nutrition, and hair care practices.
Understand the Role of Nutrition in Hair Health
Nutrition is a critical factor in maintaining healthy hair growth and preventing hair loss. Your diet directly influences the health of your hair, as essential vitamins and minerals work to stimulate new follicle production and strengthen existing strands. Foods rich in vitamin C, such as citrus fruits, are great for naturally boosting collagen production and aiding circulation throughout the scalp.
Conversely, processed foods that contain high levels of hydrogenated oils and carbohydrates can lead to clogged hair follicles which will make it difficult for new hairs to grow. Eating a balanced diet with plenty of vegetables, fish, and non-processed sources of protein will ensure the proper nutrients get to your follicles so they can continue producing beautiful locks.
Using Supplements for Hair Health
If getting nutrition from food is difficult, we recommend trying supplements and incorporating them into your daily routine. Some terrific supplements for hair growth include collagen, biotin, keratin, zinc and iron. Don't forget to also include vitamin C, D and A supplements into your routine as these also will aid in the formation of skin, hair and nail cells.
Remember that it's a priority to tackle any of the initial causes of hair damage, such as poor lifestyle or environment or else supplements won't be as effective. They do not work as a band-aid solution and will only enhance an already healthy system. If you implement all the steps prescribed and use supplements to top it off, you will have great results.
Use Natural Ingredients for Healthy Hair Care
Everyone wants beautiful, healthy hair, but not everyone has the same techniques. When it comes to hair care, one of the best ways to get luscious locks is to use natural ingredients. From apples and egg whites to tea leaves and star anise, there are plenty of options available that can help improve both your hair's appearance and overall health.
Many natural ingredients have been proven to reduce dandruff, restore damaged hair follicles, and promote growth. So don't hesitate and try some natural ingredients today. You could also opt for natural companies such as Kevin Murphy shampoo and conditioner to replace other chemical-laden brands. You might be pleasantly surprised at the results.
Get Healthy Scalp Massages Regularly
Scalp massage is one of the best ways to nurture your skin and hair. By incorporating this simple step into your routine, you can reap numerous benefits, such as improved blood flow, relaxation, better sleep and reduced head tension. Stimulating the scalp can help to unblock blocked follicles and get the oils flowing properly that are needed to keep the scalp moisturised.
Your scalp will also benefit from a massage with an oil or an Ayurvedic blend. Many are readily available on the market today. Not only is it a great way to relax, but it presents numerous other long-term benefits, both physically and mentally.
Incorporate Mindful Practices to Support Healthy Hair Growth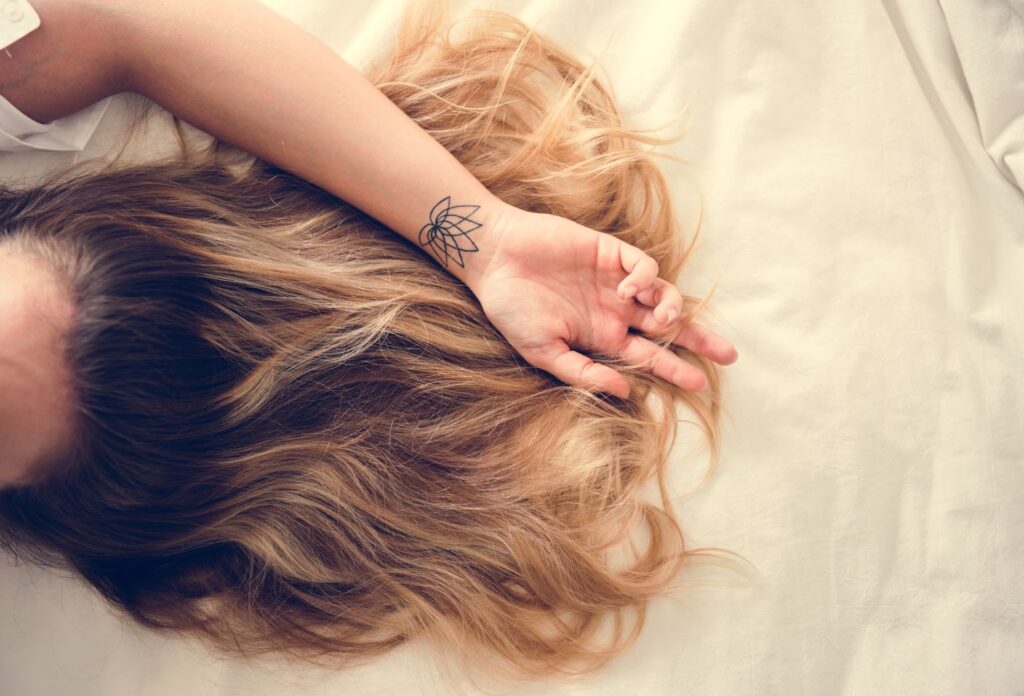 Taking care of your hair involves more than just using the right products. Incorporating mindful practices can also support healthy hair growth. Setting a timer to take regular breaks during the day has been seen to reduce the stress that can affect the scalp. Practising positive affirmations and limiting unhealthy habits like smoking or excessive drinking can make a big difference in keeping your hair looking its best.
Additionally, getting enough rest and staying hydrated will influence healthier hair growth, so you must make those top priorities for yourself too. Incorporating mindful practices into your daily routines helps create an environment for strong hair roots and smoother locks.
Summary
In conclusion, managing your hair health is more than just using the right ingredients and products. We must look at the contributing factors to poor health and address those first, as the products are only the icing on the cake. With the proper knowledge and proactive steps, a flourishing head of hair isn't too far away.