Statista reported that mental disorders became the third most serious health problem in 2021 after coronavirus and cancer. Every tenth person in the world is diagnosed with depression, schizophrenia, alcohol addiction, etc. According to the WHO, one in four people has suffered from a mental or neurological disorder. Since the outbreak of COVID-19, the situation has worsened. During the pandemic, people had to adhere to social distancing. As a result, many felt isolated from society. Mental health software solutions have become more relevant than ever before. Let's consider key mental health apps built by leading healthcare software development companies.
Why are mental health apps so important?
With the spread of the pandemic, millions of people found themselves under lock and key, face to face with their worries and problems. Many felt lonely because they could not communicate with their acquaintances. Some people developed depression, experienced apathy, or suffered from insomnia. Despondency, anxiety, and irritability led to the fact that people used more alcohol or psychotropic substances. Patients needed psychological support, which is difficult to get in quarantine.
For many people, mental health software has become a lifesaver. With the help of mobile platforms, patients contacted psychiatrists, underwent psychological therapy, and learned to manage their conditions and control emotions.
How to arrange mental health monitoring using information technology
Traditional psychotherapy means personal contact with patients to track changes in their behavior and mood. Mental health software enables doctors to bring classical procedures into the digital world. This can be done in five ways:
Mobile health apps
A digital mental health platform is based on tools and functions that help people cope with mental health conditions and correct their behavior. Such apps include questionnaires for determining the symptoms of a disease. Educational articles and audio files describe the symptoms and help patients understand their state.
Such a platform allows you to make an appointment with a psychotherapist, participate in video consultations, and communicate with doctors via online chat. A specialist can remotely prescribe treatment and monitor the progress of psychotherapy. Other important features are a section with tasks and an electronic diary. Patients share the results of self-studies with their attending physicians.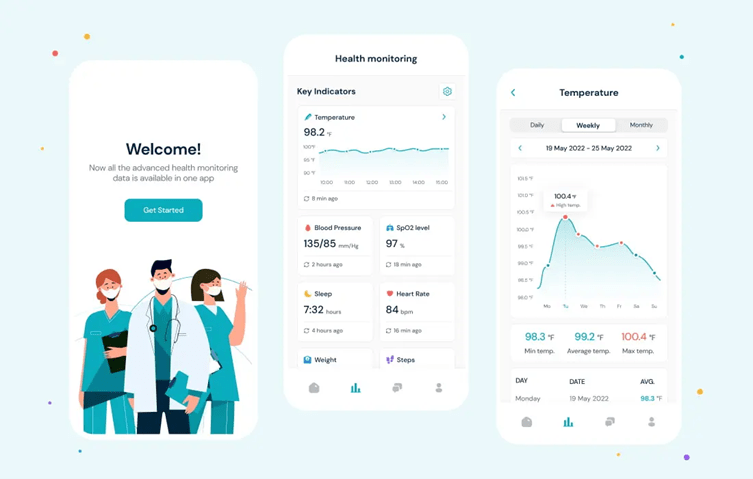 IoT devices
Smartphones, smartwatches, fitness trackers, and connected sensors for measuring physical condition are linked to mental health software. The data collected from these devices makes it possible to determine the emotional state of a person and the level of stress and classify the disease. For example, an app analyzes activity patterns and identifies bipolar disorder. It analyzes human behavior and predicts a change in the state of a person so that the doctor can help the patient in time.
CRM systems
CRM systems allow practicing psychiatrists to manage therapy sessions and automate the implementation of certain procedures (billing, issuing prescriptions, or tracking progress). A doctor writes a treatment plan for each patient, fills out a treatment report after a consultation, and evaluates a patient's progress. A CRM system can be integrated with an accounting system via an API to record the number of sessions and payouts.
Thus, with the help of CRMs, manual work is simplified, documentation is securely stored in digital form, reports are generated automatically, and invoices are easy to track and send to the accounting department.
Video conferencing platforms
Eye contact with patients is very important for psychiatrists. A doctor can thoroughly analyze someone's behavior only during an offline visit, which allows the healthcare professional to draw conclusions about the condition of the patient. Online consultations should be based on high-quality technologies so that doctors can remotely contact patients and provide decent psychiatric care online.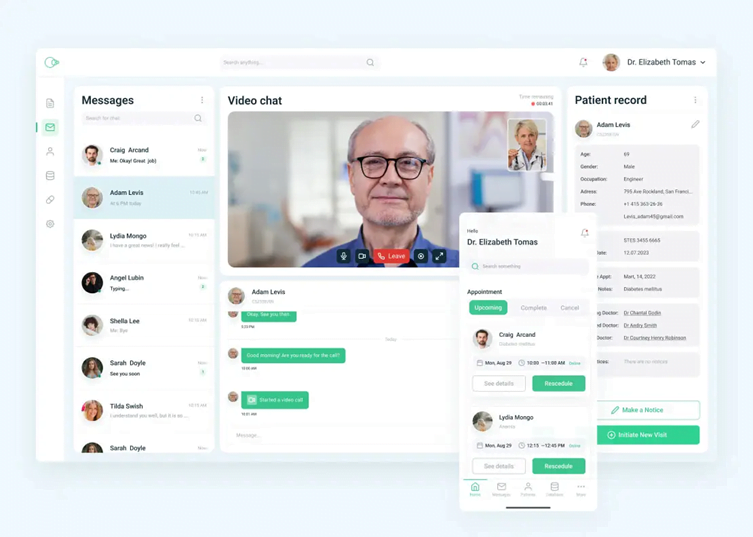 Smart chat-bots
When a person needs psychological support but there is no one around, they can turn to a chatbot. Such a bot imitates communication with a real person by answering the interlocutor's questions. Other virtual assistants ask counter-questions and push people to talk about their problems. They often act as advisers on how to deal with negative thoughts. They offer exercises, self-help techniques, and cognitive behavioral therapy. They can become a sort of conversational diary.
Basically, "digital interlocutors" help people cope with depression and anxiety. Some chatbots teach social skills to children with autism.
Benefits of mental health apps
Mental health apps help people overcome barriers created by the pandemic. They take the treatment of patients suffering from mental disorders to a new level:
Patients can be treated remotely from anywhere in the world. A person does not need to visit a psychotherapist in person to consult with them.
A doctor collects more data about the patient's condition, accurately diagnoses the disease, and plans treatment more effectively.
Such software integrates everything related to treatment (making an appointment, EMR, billing module, issuing prescriptions, etc.).
A digital mental health platform provides 24/7 patient support. Even if a doctor's workday is over, a person can turn to a chatbot, consult with people with a similar problem through the online platform, or read the recommendations posted in the app.
Mental health apps help to solve the problem of lack of specialists. By 2025, there will be a 12% shortage of psychiatrists in the US. Mental health platforms will help bring in experts from other countries to fill the gap. Patients can communicate with doctors online via smartphone, computer, or tablet, regardless of their location.
Conclusion
Mental health software helps people cope with disorders, even if they don't have a mental health facility nearby. They become a tool for remote patient support for those who cannot visit a clinic in person. Such platforms simplify patient care and help doctors remotely monitor the health of their patients.
To create a digital mental health platform with relevant functions, a clinic should enlist the support of healthcare software development solutions. Such an IT partner will research the preferences of the target audience, create a user-friendly UI/UX design and build the functionality necessary for the system to work. Developers will ensure that the app complies with industry-specific customer protection laws (HIPAA, GDPR) so that patients can safely share their personal data.