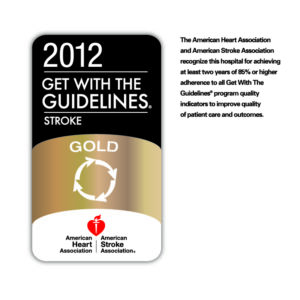 Northwest Hospital Earns Prestigious National Award for Stroke Care
On Monday, July 16, Northwest Hospital officially celebrated its receipt of the
On Monday, July 16, Northwest Hospital officially celebrated its receipt of the Get With The Guidelines®–Stroke Gold Quality Achievement Award. Awarded jointly by the American Heart Association and the American Stroke Association, this honor is presented to hospitals that demonstrate a 85 percent or higher compliance with key national stroke care guidelines for 24 or more consecutive months.
"To earn this award, our stroke team has tangibly demonstrated its commitment to the rapid treatment of patients by consistently meeting rigorous standards," says neurologist Gurdeep S. Ahluwalia, M.D., medical director of Northwest's stroke program. "A stroke is like a heart attack in the brain, and the faster normal blood flow can be restored, the better the chances are a patient can make a full recovery."
Northwest Hospital, designated by the Maryland Institute for Emergency Medical Services Systems as a stroke center, has implemented a comprehensive system for fast diagnosis and treatment of stroke patients admitted to its emergency room. This includes the round-the-clock ability to provide brain imaging scans and having a neurologist always available to rapidly evaluate patients. When appropriate, the hospital can administer medications to destroy stroke-causing blood clots. Additionally, to help prevent recurrent strokes the Northwest team focuses on patient education and offers encouragement and support to help patients quit smoking.
The stroke team celebrated at noon by serving two full sheet cakes in the lobby to employees and visitors.
Later in the day, Senayt Assefa, director of quality improvement at the American Heart Association/American Stroke Association, presented the team with a certificate of recognition.
According to the American Stroke Association, stroke is one of the leading causes of death and serious, long-term disability in the United States. On average, someone has a stroke every 40 seconds; someone dies of a stroke every four minutes; and 795,000 people have a new or recurrent stroke each year.
Get With The Guidelines® is the American Heart Association/American Stroke Association's hospital-based quality improvement program that empowers healthcare teams to save lives and reduces healthcare costs by helping hospitals follow evidence-based guidelines and recommendations. For more information, visit heart.org/quality.
-Holly Hosler