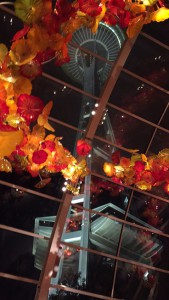 I was fortunate enough to be on the guest list for the event, "An Evening Discovering Scientific Wellness" hosted by Arivale at Chihuly Garden and Glass this past week.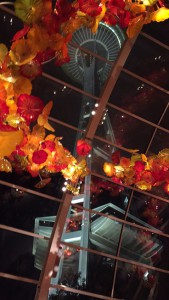 I was fortunate enough to be on the guest list for the event, "An Evening Discovering Scientific Wellness" hosted by Arivale at Chihuly Garden and Glass this past week. The space was packed with over 600 guests, which included students, scientists, nurses, entrepreneurs, investors, doctors, schoolteachers, software engineers and really anyone with an interest in being part of a new transformation in healthcare. My fascination with what Arivale plans to do originates from three different perspectives: as a scientist with an undergraduate degree in Neurobiology, a healthcare provider (Registered Nurse) and most currently as a graduate student in Clinical Informatics with a penchant for technology. Arivale plans to bring together all of my interests in science, clinical data and technology to create a personalized plan to optimize wellness.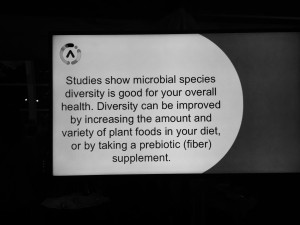 Be forewarned, P4 Medicine (Predictive, Preventative, Personalized and Participatory) is not for the squeamish. Maybe you have seen the funny coffee table book "What's Your Poo Telling You?" Well, now it can tell you more than you ever imagined. Arivale, a new Seattle start-up co-founded by biomedical pioneer Leroy Hood, MD, PhD, actually aims to analyze your microbiome (the polite word for poop and/or the bugs inside you) as one part of their unique approach to transform how we think about our health.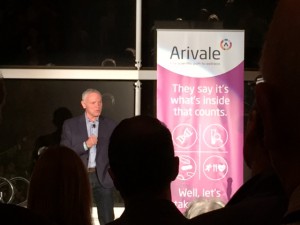 Clayton Lewis, CEO and co-founder of Arivale, introduced co-founder Lee Hood (who probably needs no introduction in Seattle) as a visionary man who "speaks about the future in the present tense." Dr. Hood described how Arivale evaluates samples of blood, saliva, microbiome, genetic sequencing and Fitbit data to give participants an entirely personalized set of actionable health data. The fundamental piece is a personal coach who will create a tailored wellness plan. Not only will the coach call each month to check-in and guide the participant but, they will also integrate any new data and make adjustments to the original plan.
After hearing Arivale's pitch, I do question how they plan to deal with the FDA and providing P4 medicine complete with health recommendations to consumers. This is not entirely dissimilar what 23andMe tried to do 2 years ago – marketing Personal Genomic Services directly to consumers and shortly thereafter, the FDA required them to stop. Since then, 23andMe has gone through several rounds of R&D and now has the official blessing from the FDA. Along with the FDA approval of 23andMe earlier this year, the FDA also announced two important pieces of regulatory information making the path for other companies like Arivale easier.
FDA is [sic] classifying carrier screening tests as class II. In addition, the FDA intends to exempt these devices from FDA premarket review.
The FDA believes that in many circumstances it is not necessary for consumers to go through a licensed practitioner to have direct access to their personal genetic information.
Why is P4 Medicine so important? The crowd of at least several hundred let out a collective murmur of surprise when Dr. Hood dropped the factoid, "living to be 100 is going to be new norm for children being born into the next generation." He jokingly followed with, "We want to get you to 100 and then you are on your own." He pointed out that while our genetics may give us the predisposition for certain diseases, they don't necessarily define our health. If genetic variants are known, you can do something about them. Arivale wants to provide people with meaningful, personalized diagnostic information so as to optimize as many aspects of their health as possible. The goal is to make those 100 years of life full of vigor, fitness and optimal health.
Next, two of the original 100 Arivale pioneers took the stage and spoke about their experiences. The first woman explained her diagnosis of a "suspect immune system" and not having enough T-cells. This came along with a daily dose of antibiotics and lot of 'no's' to activities she enjoyed such as long distance running. The microbiome testing revealed that the antibiotic was not wiping out her endogenous gut flora. Based on genetics, hiking in the woods, not long distance running, was the best exercise for her. With Arivale, she realized her body was resilient, adaptive and was able to literally "start trusting her gut." In describing her experience with Arivale, she ended by saying, "Instead of seeing myself as a sickly, non-running person, I now see a person with a diverse life, a diverse gut and an adaptive life."
The second woman opened by recounting her entertaining experience of giving birth during the 2nd quarter of the Super Bowl last year. Her motivation to join the current cohort of 300 Arivale participants was due in part to optimize her health, but she also wants to be around as long as possible for her child. She is part way through the program, has received stellar results on her blood work and just the day before received her genetics phone call. Her genetics revealed a moderate risk for obesity and that her body had difficulties disposing of toxins. Going forward, Arivale will make recommendations on for life style changes based on these revelations.
Patient engagement is one of the newer buzzwords in healthcare and Arivale really gives it a new spin. We are entering a new era where people have access to the data and tools available to truly be active participants and take more control over their health outcomes. We can no longer lay the blame on genetics because as Arivale is proving, we can now make informed decisions that can alter the expression of our genes and help us to achieve our wellness potential.
After the presentations were over, I went to the Info table to see how I could be part of this second set of 300 beta participants in the Greater Seattle area this fall. Sadly, it is not free this time around. The cost is now $1,999.