The fifty-four year old Dennis Manners suffered from alcoholism and seizures. He was treated 337 times in the Emergency room in less than two years. He racked up $626,143 in charges at the University Hospital in Louisville, Kentucky. With Dennis being homeless, he had no way to pay his bill.
The fifty-four year old Dennis Manners suffered from alcoholism and seizures. He was treated 337 times in the Emergency room in less than two years. He racked up $626,143 in charges at the University Hospital in Louisville, Kentucky. With Dennis being homeless, he had no way to pay his bill.
To address this, University Hospital created a Population Health Management Complex Case Program. In the first 8 months, the program enrolled 18 patients including Dennis. The program eligibility was patients having five or more ER visits in three months and charges exceeding $500,000.
For about $6,000, they found Dennis a primary-care doctor and a neurologist to treat a seizure disorder, enrolled him into a substance-abuse treatment and helped get him an apartment. In the first 8 months in the program, Dennis was back in the ER only three times. He was so grateful for the University Hospital's program. "It's a gift from God," he said. "I was out there, and I didn't have anything. Now I have a chance."
We all know we should not wait for $500,000 of spending before focusing on patient outcomes. So why is this going on? It may be the two prevailing healthcare system cultures: treating conditions and providing services.
These two cultures emanate from a healthcare reimbursement system that pays for services, only if the conditions can justify them. Our technology is built to bring efficiency and effectiveness to treating conditions and providing services. Our scientific research is designed to answer how best to treat conditions and measure service quality. There is little research on patient outcomes such as whether patients walk again after hip replacements.
"Treating Conditions" Culture
We only pay to treat the physical conditions, even when it may only be the symptom. The treatment's effectiveness may be nullified by the non-physical conditions as in the case of Dennis. These conditions include mental health, functional limitations, behavioral, social, economic and environment determinants of health outcomes. When patient's physical conditions are diagnosed, they are counseled on exercise, nutrition and educated on their condition. They are provided interventions associated with their condition:
Cancer – chemotherapy, radiation, surgery, and immunotherapy
Coronary Artery Disease – Coronary Artery Bypass Graft surgery, angioplasty and/or medication (ACE inhibitor, Beta Blockers, ARBs)
Hypertension/High Blood Pressure – medication (Diuretics, ACE inhibitor, Beta Blockers)
Asthma – long-term control and fast acting rescue medications
Can't sleep – prescription sleeping pills
"Providing Services" Culture
We provide services that can be reimbursed. The healthcare providers that provide services that are not reimbursed (i.e., telehealth), may quickly trend toward insolvency. The result is we get more services and less patient outcomes.
Hospitals Admission – treat patient's COPD, Heart Failure or Pneumonia. Provide surgery.
ER Visits – evaluate conditions, treat and release
Physician Offices – evaluate patient, educate, prescribe medicine and provide referrals
Post-Acute Care – provide skilled nursing and home health as approved by reimbursement system
"Patient Outcomes" Culture
The Patient Outcomes culture is emerging in bright spots all over the United States and it is not just for patients that are spending over $500,000. It is a culture that needs to be accelerated if United States Health and Human Services Secretary Sylvia Burwell achieves her goal of 50 percent of reimbursement tied to alternative payment models by 2018. These models include Accountable Care Organizations and Bundled Payments.
While implementing these alternative models goal may be achievable, they will have little impact without a Patient Outcomes culture. Alternative reimbursement models have "shared savings" incentives, yet they require providers to integrate the third culture (patient outcomes) with the prevailing other two (treating conditions, providing services). For providers to be successful and the Secretary to achieve her primary goal, providers will need to thrive in all three cultures.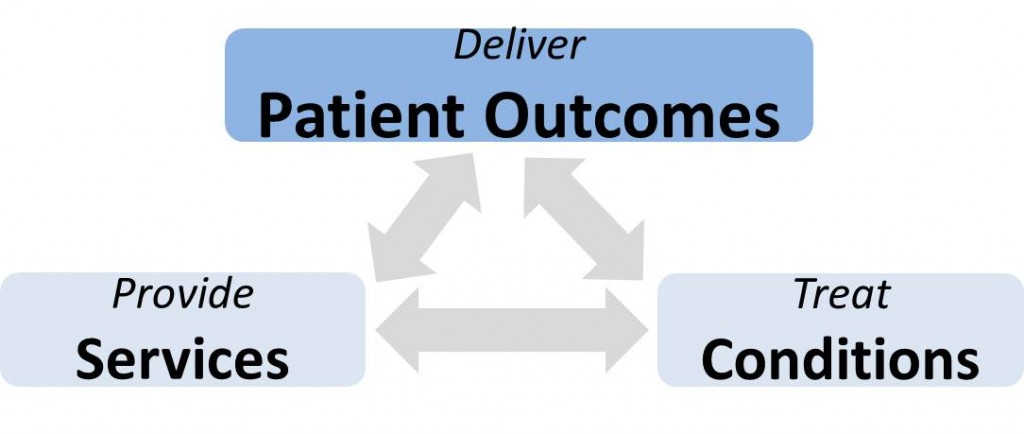 Primary Care Physicians (one third of physicians) will be central to adopting the patient outcomes culture. They will need help as they are already burdened by a reimbursement system that forces them to fill up their waiting rooms to stay in business. They have the lowest physician income, yet they are at the intersection of delivering overall patient outcomes. They will need workforce training, new workflows, technology and science (research) to foster this third culture that requires:
Knowing patients – 100% of the determinants vs. 10% determinants collected today. Synthesizing massive amounts of data for physicians and care managers
Developing Care Plans – including medical, behavioral health and non-medical interventions. Medical and non-medical providers of services. The patient's role and activities.
Monitoring – health coaches and care managers working with patients 365 days per year
Measuring Performance – patient outcomes
While pioneer providers have begun to be rewarded for adopting the patient outcomes culture with the alternative reimbursement models, they are doing it with little help. Once our healthcare workforce, workflow, technology and science become aligned to the new culture, patient outcomes will be a game changer. It will improve patient's well-being and generate savings within our $3 trillion of annual healthcare spending.